Announcement
Santa Barbara Sheet Music's New Owners
Vicki Hays and Gus Detar Excited to Continue 60-year Tradition
Santa Barbara Sheet Music, a sheet-music store in business for over 60 years, has recently changed ownership.
Gus Detar and Vicki Hays are partners in ownership and are very excited to be able to keep this Santa Barbara business alive.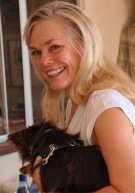 Augustine (Gus) Detar, is a third-generation Beethoven student, graduating Magna Cum Laude in composition and performance from the University of Idaho, Lionel Hampton School of Music. Several of his original compositions are performed in Universities across the country.
As the eldest of ten siblings, Gus has an excellent connection with students of all ages. He is very excited to be the new co-owner of SB Sheet Music.
Vicki has lived in the Santa Barbara area for 33 years and taught music and music activities for over 10 years. She works with preschoolers through the Continuing Adult Education at Santa Barbara City College, has taught art classes in the public schools through the Children's Creative Foundation, and teaches private music and piano lessons.
Vicki has a master's degree in music therapy as individualized concentration and currently studies with Egle Januleviciute.