Food & Drink
Go (Arch Rock) Fish
New "Neighborhood Joint" Hopes Opening Goes Swimmingly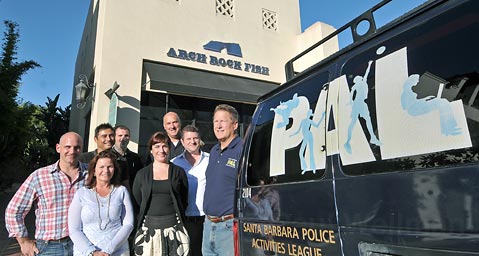 You've got to figure it means something about a new restaurant when it's PAL-sing around even before it officially opens. But that's just what Arch Rock Fish will be doing, as they're throwing a block party to raise money for PAL (Police Activities League) and its youth programs on Sunday, August 22, 2-5 p.m., in the lot behind the not-yet-ready-for-occupancy restaurant on Anacapa Street. That friendliness factor just may have something to do with Jeremiah Higgins, the restaurant's operations manager, who explained during a sneak preview last week, "We're really excited to be opening Arch Rock Fish. It's a dream come true because I grew up in Santa Barbara."
The hometown angle was strong at the event, with representatives from such purveyors as Telegraph Brewing Company and the Santa Barbara Fish Market on hand, not to mention one of the longtime deans of the region's food scene, Pete Jordano, representing his family's 90-plus-year-old food distribution institution. After making some cracks about feeling old for being called "Mr. Jordano," he said, "It's good to see a group realizing it's important to buy locally. I had never been in this place when it was the fondue place principally because they didn't buy locally." Jordano went as far as to imagine the Arch Rock Fish brand growing, like other Santa Barbara-started empires he'd witnessed, from Sambo's to Rusty's to the Habit.
While the restaurant's owners, the HJL Group (which also has a hand in some other establishments, such as Blush, Marquee, and On the Side in Isla Vista), admit they have visions of a host of "neighborhood joints" down the pike, Arch Rock Fish is the first and, for now, foremost focus. It shows in the efforts put into changing the kitchen from the stripped-down version employed by The Melting Pot—the structure's previous fondue-inclined tenant, where the cooking was done at customers' tabletops—to the real deal. "The Melting Pot was only in here for a year, so essentially you have a new restaurant," said James Wilson of Wilco Construction. "We re-purposed to a full cook kitchen." That meant figuring out how to install a cook hood and ventilation system in the first-floor kitchen of a three-story, multi-use building. After much planning and negotiations with the health department, Wilson explained, "We finally came out with a hood solution. Hopefully, anyone who lives on the third floor likes fish is all I have to say."
And they will, once they get a chance to sample Executive Chef Scott Leibfried's cuisine. "Not that the rest of the tour isn't exciting," he laughed while waiting for his Telegraph beer-steamed mussels to warm, "but this is my favorite part." As Gordon Ramsay's sous chef on the TV show Hell's Kitchen, Leibfried brings a celebrity sheen to the project, but also some serious seafood chops. "I was born and raised on Long Island, and a lot of my uncles were clamdiggers on Long Island Sound," he informed. "Ironically, that's where I learned to swim—one of my uncles threw me off a boat. Things like that were funny back then."
The Arch Rock Fish menu is far from a sink-or-swim proposition, though, full of comforting classics like a rich clam chowder (chockful of tender clam and potato) and a lobster roll of perfectly poached crustacean. The emphasis is seafood, obviously—the name references Anacapa Island's most famous feature—but with a very contemporary approach. "We're not going to beat our chests about organics and the farmers' market," Leibfried claimed. "We're cooking in that style as that's our nature."
The approach carries over to the bar list created by beverage director Mike Anderson, who also supervised the fine slate of potent potables at Marquee. During the tour, he provided us with samples of his November Sky, a refreshing mix of 10 Cane Rum, lime juice, cucumber, mint, simple syrup, and fresh melon juice. When asked why November Sky was a greenish-yellow, Anderson replied, "The market had amazing yellow watermelon right now, so I went with what was fresh. In a few weeks they'll be selling red watermelon and the color will be right."
Mixing attention to detail with the ability to shift slightly from the overdone playbook should make this neighborhood joint a gem. It certainly was evident in Leibfried's mussels, as he put a dash of both Dijon and stone-ground mustard in the mix, saying, "For me, it's all about mustard and mussels." Given the earthy, spicy kick, a lot of people will soon be saying the same thing.
4•1•1
See what's delish at Arch Rock Fish, 608 Anacapa Street, 845-2800, archrockfish.com. The restaurant will throw a Block Party for PAL on Sunday August 22, 2-5 p.m., and plans to open on August 30.