Briefs
Fire Breaks out Near Old San Marcos Road
Estimated at Over Three Acres
A brushfire has broken out off Old San Marcos Road north of Cathedral Oaks Road. The fire, named the Marcos Fire, was estimated at three to three-and-a-half acres around 4:05 p.m. Smoke is visible from Highway 101 and helicopters are being brought in to try to stop the blaze before it reaches structures. The fire has apparently reached Old San Marcos Road on one side, according to scanner chatter.
The brush was described as light to medium, and the temperature is warm. According to the CHP's Web site, the fire is moving north. The site also says that a bird hit a power line, which purportedly started the fire.
[UPDATE, 5:07 p.m.]: Things appear to have calmed down considerably reports Indy outdoor writer Ray Ford who is on the scene, as response crews gain the upper hand on the small fire. Described as a grass fire by Ford, the blaze is reportedly easily accessible in a small valley surrounded by roads below the Twinridge estates.
Scanner chatter indicates traffic is being opened back up in the area, and tankers that had been on standby have been called off though spotter planes are still in the air, said Ford
[UPDATE, 6:36 p.m.]: According a press release just issued by County Fire spokesperson Capt. David Sadecki, the Marcos Fire is 60 percent contained and crews have completely stopped its forward progress. First arriving units, which were called at 3:36 p.m. to 1365 San Marcos Road in the foothills above Goleta, said they found a fire burning in light to medium brush with a moderate rate of spread.
Multiple agencies were immediately called in to assist, wrote Sadecki, and a total of seven engines, one water tender, two helicopters, an air attack unit, one dozer, three crews, one investigator, and four chief officers responded.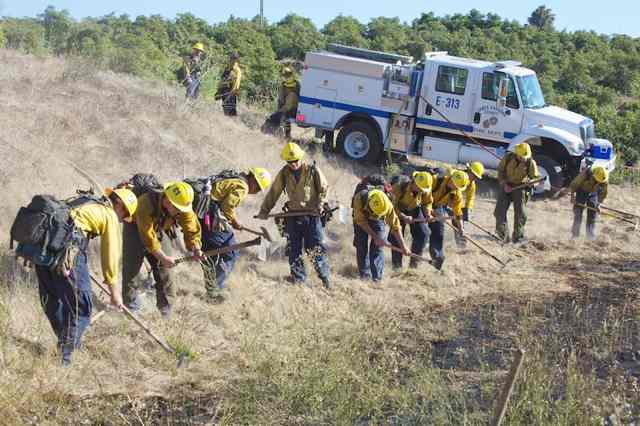 The fire burned a total of five acres and one structure was threatened. Area homeowners had reportedly cleared out defensible spaces around their houses just two days prior, which Sadecki credits with saving at least one house and helping firefighters launch an aggressive attack on the blaze.
The are still downed power lines around, but Southern California Edison is reportedly on the scene and making repairs.
While the cause of the fire is still under investigation, Ray Ford said that a number of birds landed on a power line and created an arc, sparking the blaze.