Food & Drink
More than Four Reasons to Hit the Four Seasons
Chef Alessandro Cartumini's Fine Flavors Land at Butterfly Beach's Biltmore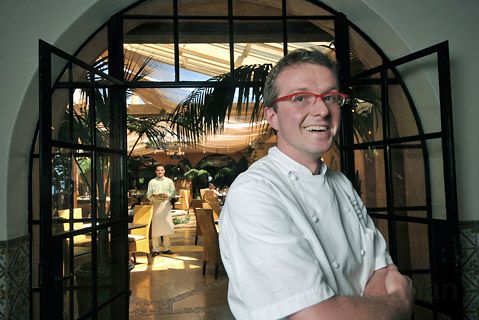 Two weeks ago, just three months into his tenure as executive chef at the Four Seasons Biltmore, Alessandro Cartumini—who promised, "Everything that is food I'm responsible for it, for good or bad"—prepared a luscious five-course dinner for all of the culinarily inclined journalists in town. Beyond knocking every dish out of the park despite the possibly intimidating collective palate-power, the charming Cartumini also told the guests in his sweet accent, "I don't want to make you work for your food—I just want you to eat it." And you will; if you go to Bella Vista, you will.
That food might feature his signature pork ravioli in sage butter, brilliantly set off with a cherry atop (a real one, none of that maraschino gloppiness). Or it might be the wildly beautiful artichoke risotto with mint and pecorino that will convince you not just that green is a flavor but that it's one you've ever craved. Or it might be his roasted halibut, perfectly cooked, of course, set atop a fennel fonduta that will make you think there should be fennel pudding desserts. With that dish, he admits to a bit of a trick: "There are little flowers of fennel on top of the halibut, for an extra kick." It certainly works.
Cartumini comes to Santa Barbara from the Palo Alto Four Seasons, where he was the opening chef for Quattro. "Five years as a chef in one place is a long time," he explained, "but I wanted something bigger, a greater challenge. This is one of the greatest resorts in North America, a great place." Despite his youthful mien, this native of Piemonte, Italy, is a 16-year veteran of the Four Seasons Resorts, having also worked at properties in London, Scottsdale, San Diego, and Milan. "As you're moving up the food chain, as I might say," he joked, "it's not until you're executive chef that you start refining your style and try to be yourself reflected in different dishes. Before that, you can't express yourself totally."
He finds part of that expression in the continually evolving menu at Bella Vista. "We're going to change three or four dishes every few weeks," Cartumini said. "It will depend upon what's available, what's fresh, what's going on at the farmers' market. It's great having fun with what you find and being able to offer it to everyone else." In addition to standard, delicious fare like heirloom tomatoes to star alongside creamy burrata, unusual food is also something for which Cartumini has a hankering. "You're always looking for something you've never seen," he asserted. "Then you think, 'Okay, I've got it,' so you put it on your menu … and then you find out it's only available for a week. But if I see it, I have to try it. It's like a little toy." Of late, such discoveries have included agretti, somewhere between a seed bean and a green, and velvet apricots.
Working as a team is also crucial for Cartumini. "You definitely have to get people who work for you to give input," he insisted. "Even the line cooks help come up with ideas for specials, depending on their expertise and how long they've worked for me. It gets their creative fluids going. It's good to foster that kind of approach in people."
Cartumini and the Four Seasons are also eager to draw locals, as well as resort guests, to Bella Vista. The dining room will continue, of course, its famous Sunday brunch (two words: caviar station!), plus Monday night's Italian dinner buffet and Thursday's seafood dinner buffet with no corkage. Then starting on September 12, Sunday nights will be surf and turf, with a twist, of course. "It will be more of a farmers' market approach to surf and turf," Cartumini said. "It might be something one week like pancetta-wrapped scallop with braised short ribs and a ginger-butternut squash puree. We will definitely use lobster and filets, too, but we will work them in differently."
But with Cartumini as your chef, you shall not want. "I like simple dishes with the most flavor," he explained. "If you don't overwork the product, you get the best flavor." While he remembered a blueberry risotto with mushrooms that was a hit dish in his days in Milan, he also wryly recalled, "In the late '80s or early '90s, we did a strawberry risotto, but that was too edgy." That's not the Bella Vista way, not in an elegant, open-air room with fine food, fountains, fireplaces, and an oceanfront view. There's little doubt we might all say what Cartumini says about his experience at the Four Seasons: "Oh yeah, I love it! I'm lucky to be here."
4•1•1
Luxuriate in Chef Alessandro Cartumini's creations at Bella Vista in the Four Seasons Biltmore, 1260 Channel Drive, 969-2261, fourseasons.com/santabarbara.