Briefs
Capps Welcomes $1.5 Million Airport Grant
Will Go Toward Construction of New and Improved Terminal
Representative Lois Capps joined local officials and airport management Monday afternoon to highlight the $1.5 million in Federal Aviation Administration grant money to construct a new terminal of the Santa Barbara Airport, which she says will benefit the local economy.
The two-story project, that is estimated to cost $55 million, is designed to meet current and future passenger demand, alleviate long lines and overcrowding, and improve operations and efficiency.
"We all know that ensuring reliable air transportation to and from Santa Barbara is crucial to strengthening our economy which is why funding for the new terminal is so important," Capps said.
Last year, about 750,000 people flew in and out of Santa Barbara. Airport official Terri Gibson said that the airport should expect to host the same amount or more this year.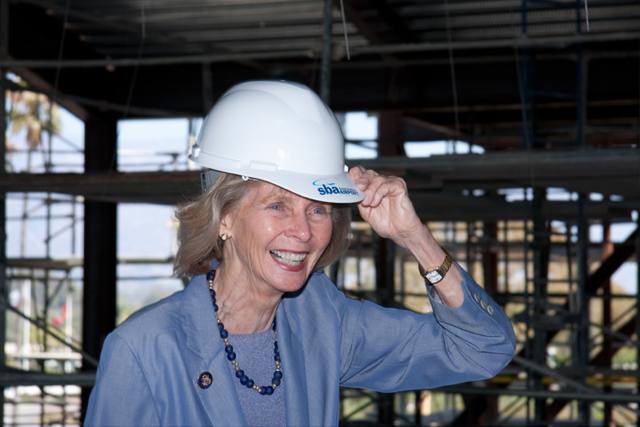 The project, which is targeted for completion by 2012, is also creating jobs for multiple local construction companies.
"We're very pleased to get our local contractors involved," said District Supervisor Janet Wolf.
Capps was also excited to say that the project is well on its way.
"It's on budget and it's on time," Capps said. "We don't hear much of that these days."
The ongoing project is funded by Federal grants, airport revenue bonds and passenger facility charges. Capps — with her hardhat on — toured the construction site that will host area artwork, "local touches," and carry an ocean theme throughout.
"This is going to be a charming and lovely airport," Capps said. "Visitors are going to say 'we're coming back.'"
The boarding area at the new airport will accommodate up to 1,000 people. The two boarding areas of the current terminal can hold up to 150. Passengers will also be able to board their airplane via boarding bridges from the second floor.
The Coffee Bean and Tea Leaf will provide a full service restaurant and bar on the second story for travelers who wish to enjoy a meal and a cocktail while they wait for their flight.
Airport Marketing Director Terri Gibson said that among all accommodations of the new building, frequent travelers of the airport will most appreciate the fact that there are bathrooms beyond the TSA security checkpoint.
"It's inconvenient to go through security and find out that you can't go to the restroom." Gibson said. "If you do, you'll have to go through security again."
Airport manager Karen Ramsdell said that although the new facility will have the potential to host more airlines in the future, the primary focus of the project is to better serve current flyers. Santa Barbara airport currently hosts six airlines.
"It's not a build it and they will come situation," said Karen Ramsdell, Santa Barbara Airport Director.
When the new facility is up and running, the historic facility, which was built by United Airlines in 1949, will be used for airline ticket kiosks and the offices of airport patrol and parking staff.