Angry Poodle
Is There Life After Dog?
WHEN SMOKE GETS IN YER EYES:
WHEN SMOKE GETS IN YER EYES: Like many a sentient soul, I find myself disturbed by the emerging politics of rage and bitterness sparked by recent reports of overpaid government employees who get to retire at the age of 50 and get paid nearly their full salary — and medical benefits — to do nothing but golf — or move to Idaho and fish — 'til their last dying gasp. Bitterness, I discovered, causes premature wrinkles. I much prefer envy and jealousy instead. There's less wear and tear on the soul. When I hear about top managers at the City of Bell, for example, taking down $1.5-million-a-year salaries and bennies, it never occurs to me to demand — voice quavering with righteous indignation — "How dare they?" Rather, I want to know what line I need to stand in to get some of the same. Likewise for the head honcho at the City of Vernon, who makes $1.6 million a year to run a city of just 91 people. Vernon, of course, is a special case. It's where the bodies of dead skunks and raccoons — not to mention all the millions of euthanized dogs and cats — are sent to be transformed into the emulsified fats used to make lipstick and other necessary beauty products at one of Vernon's many rendering plants. It's where dead car batteries will continue to go until the Chinese figure out how to fashion them into children's toys. And it's where they make Dodger Dogs, certainly on everybody's Top 10 list of quintessential California inventions. Special responsibilities like these demand special compensation.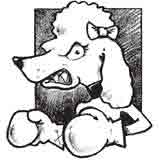 There are times, I admit, when grumpiness manages to creep in anyway. Last Thursday, I spent an hour and 45 minutes listening to Peter Donahue, an economist hired by the Police Officers Association (POA), explain how Jim Armstrong, Jefe del Mundo for the City of Santa Barbara, managed to hide $116 million of tax payer money that could otherwise be spent paying cops' salaries, benefits, overtime, and retirement. Like every other bargaining unit, the cops — most of whom make more than $100,000 a year — are being asked to take a pay cut to help out with city hall's ongoing budget crisis. Very understandably, they don't want to. But unlike every other union representing city employees — which have either accepted 6-percent pay cuts or are about to — the cops are insisting the budget crisis is a total fabrication, a figment of Armstrong's Machiavellian imagination. There were a couple of key asterisks to this astonishing revelation. Donahue admitted he didn't have city hall's most recent financial data yet, so any final conclusions, he conceded, were still premature. In other words, Donahue spent 105 minutes telling me and a handful of other reporters assembled at the DoubleTree exactly the same speculative mumbo-jumbo he'd told us at another edifying event held three months earlier. If you're going to blow smoke up my rectum, make sure tutti-frutti colored smoke rings come out my mouth. I know how to waste time on my own; unsolicited help, I don't need.
I left the POA dog 'n' pony show sufficiently bugged that I shined on a dueling canine-equine celebration hosted by Armstrong later that day for the edification of city councilmembers and insomniacs who could endure a scintillating disquisition on the salaries and retirement paid to city hall employees. Turns out maybe I should have gone. The punch line is that city hall will have to spend up to $4 million more next year on its employee retirement funds as part of a delayed aftershock caused by the stock market meltdown of 2009. That means more than 20 percent of the city's general fund — which pays for cops, firefighters, parks, and libraries, among other things — will be spent on retirement. That's up from about 17 percent now. It turns out that most city workers pay something into their own retirement funds. Cops and firefighters don't pay a dime. That's in deference to the jobs they do. And it's a function of the political muscle of the respective unions. As a result, a paper-pusher making $100,000 a year costs city hall — and the taxpayers — $20,000 a year in retirement. Retirement for a cop or firefighter making the same amount costs city hall $40,000 a year. No wonder the perfidious Armstrong is pushing the POA — and the firefighters — to shoulder a portion of their retirement cost. No wonder the POA is pushing back.
In years past, nobody but cranky Cassandras and crusty old Republicans talked about public pensions. For good reason. The subject is too boring for words. Given that $200 billion — and the economic future of a whole lot of people — is directly tied up in California's biggest pension program, a k a CalPERS — maybe it's time we weathered the boredom. To get the conversation started, we can thank Alfred Villalobos, the former CalPERS boardmember, now being sued by Attorney General Jerry Brown — isn't he running for governor? — for bribing CalPERS investment advisors with around-the-world luxury junkets to direct funds into the accounts of Villalobos's clients. It turns out such junkets are so common place that CalPERS employees no longer feel the need to report them, even though state law mandates any gift larger than $50 be itemized in public documents. Brown is demanding that Villalobos — who earned $50- million commissions from investment houses seeking CalPERS business — pay $95 million in restitution. Villalobos responded by filing for bankruptcy, noting in his forms that he lost $5 million betting in Las Vegas casinos. The Los Angeles Times reported that an associate of Villalobos and a former CalPERS boardmember, Charles Valdes, refused to answer questions under oath 126 times — citing his fifth-amendment privilege not to incriminate himself — when questioned by state attorneys working for Brown. Now, that's not boring.
In the meantime, I'm hoping — for all our sakes — that Peter Donahue is right and that the sneaky Jim Armstrong has squirreled away enough money that all city employees can transition into their Golden Years assisted by platinum retirement benefits. Unlike most city employees, who can retire at 55 — or cops and fire fighters, who can retire at 50 — I will be working 'til I'm 66. That's when I can start dipping into what's left of my Social Security account. Failing that, maybe I'll join the ranks of geriatric desperados who sign up for the 357 retirement plan, named after the caliber of handgun needed to persuade 7-11 counter clerks to part with their proceeds. The good news, of course, is that will make plenty of work for cops.