Arts & Entertainment
Camerata Pacifica Begins 21st Season on Friday, September 10
Hahn Hall Concerts Are First of Seven Scheduled Programs for 2010-2011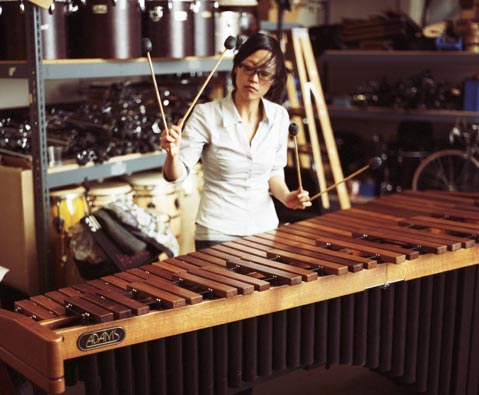 Camerata Pacifica, like every other American arts organization, is feeling the effects of the economic downturn. But check out the acclaimed chamber music ensemble's 21st season, which gets underway Friday in Hahn Hall, and you'll notice that while some things have changed, others have not.
The season has been pared back from nine programs to seven—a significant reduction, necessitated by a drop-off in donations. But the repertoire for those concerts is as quirky and stimulating as ever.
Artistic director Adrian Spence and his ensemble of world-class musicians will perform music by, among other non-household names, Jindřich Feld, Alexander Tcherepnin, Marco Aurelio Yano, and August Klughardt. (And that's just in October and November.) Beethoven is represented on several programs, but it is by his early, relatively seldom-heard string trios.
It is as defiantly idiosyncratic a Camerata Pacifica season as Spence has ever presented. But don't describe it that way to him.
"It's not defiant!" he insists, wondering why people use that word to describe his choices. He then launches into a monologue that reflects his—well, you choose the descriptive word:
"I've never been afraid to lose audience. If you want to hear the same thing again and again and again, do us all a favor and buy a CD. I'll give you a subscription to iTunes! But that's not what Camerata Pacifica is about. It's about a creative process of performance. It's about becoming part of a continuum that is boundaryless, timeless, one that unites us all as humanity."
"Since Western music started to be notated, you have these symbols that capture the emotional history of mankind. That's what we relate to. If you don't want to be part of that, just stay home."
Spence is a pragmatic idealist, a detail-oriented visionary who works tirelessly at implementing his high-minded mission. A conversation with the Northern Ireland native who has long made Santa Barbara his home flows easily from practical concerns to philosophical musings and back again.
Part of his goal has always been to make classical music a friendlier, more accessible art form. He regularly speaks to, and with, his audiences, introducing unfamiliar pieces to them and making them comfortable when confronting the unknown. Gradually, his fellow musicians have begun to emulate him, to the point where "I can't get them to shut up anymore," he says with a laugh.
But there's a steely resolve underneath his warm surface. Spence is determined not only to explore a wide-ranging repertoire, but to do so with the finest musicians possible, in the best possible physical environment. He paid a price for his perfectionism in the mid 2000s, when Camerata moved around from one Santa Barbara hall to another in search of acceptable acoustics. He estimates he lost half his local audience during that period.
At the same time, Spence was expanding the Camerata Pacifica concert series into two new locations—the Huntington Library in San Marino and Zipper Hall in downtown Los Angeles. (The ensemble also performs Sunday afternoon concerts at Temple Beth Torah in Ventura.) And when the 300-seat Hahn Hall opened up on the Music Academy of the West campus two years ago, he finally found the superb Santa Barbara venue for Camerata Pacifica that he had been searching for.
During those years of wandering and expansion (which predate the current economic downturn), Camerata went "strategically into the red," in Spence's words. Thanks in part to staff reductions and salary cuts, he expects to have a small surplus at the end of the current fiscal year. "Our large donations are intact," he says. "Our small donations—under $1500—are up. But those in the middle are down significantly."
The audience has returned: Since July 2008, subscriptions are up 48 percent, and single ticket sales are up 215 percent. "We were selling out at the end of last year," he reports, "and we will sell out regularly this year."
Which is great, but not all that helpful to the bottom line. On a percentage basis, Camerata's income from ticket sales is smaller than most performing arts groups. That's by design. Spence strongly believes chamber music should be heard in small halls, and notes his audience is limited in any case.
"People say classical music is for everybody, but it's not!" he says. "In Santa Barbara, I'm convinced the audience for serious chamber music is somewhere between 400 and 500 people. The only reason people come to Camerata Pacifica concerts is to hear the music. There's no social aggrandizement."
Spence, a flutist, couldn't be happier with his core group of players, which includes pianist Warren Jones, violinist Catherine Leonard, violist Richard O'Neill, and cellist Ani Aznavoorian. "They have their own sensibility, their own identity," he said. "That comes from working together, being friends with each other."
Friday's 7:30 p.m. concert (there is also a shorter 1 p.m. matinee) will feature Jones, Leonard, and Aznavoorian, along with marimba virtuoso Ji Hye Jung, a Korean-American who wowed audiences when she made her Camerata debut one year ago.
"They are a group of true musicians who are serious about music-making, and present the music at the highest level to the audience," guest artist Jung says. "I respect their musicianship very much. And also, they are fun people to work with."
Jung and Spence will perform her own transcription of a Bach sonata for flute and keyboard. Then she and Leonard will perform a world premiere by Chinese-American composer Bright Sheng. He calls the piece, which was commissioned by Camerata Pacifica, Hot Pepper; it is based on a folk song from China's Sichuan province, which is known for its spicy cuisine.
"It's very different than many other pieces that are written for this instrumentation," Jung reports. "It's so unique and fresh. It's so well-written for both instruments, and a great addition to our repertoire."
The program, which also contains a work by acclaimed Argentine composer Osvaldo Golijov, is an example of the growing internationalization of classical music. This trend—perhaps best exemplified by Los Angeles Philharmonic conductor Gustavo Dudamel, a native of Venezuela—is thrilling to Spence.
"We are in the emergence of a second renaissance for this art form," he says. "What once was a Eurocentric art form is now global. The level of creativity has gone way up.
"Classical music rides the back of an emergent middle class. It happened in post-Enlightenment Europe. It happened in the 20th-century United States. And now you see it happening in China." Embracing the results, he insists, is not optional: "If you want to cling to the three Bs, the musical organization I'll compare you to is the band that kept playing when the Titanic went down."
At this point in the conversation, Spence the metaphysical philosopher emerges.
"I think we're in a moment of epochal change," he says. "We live in a time when the population of the planet is becoming aware of the notion that we live in constant flux. We were told 100 years ago, by Einstein, that our notion of linear time is a human construct. We're starting to catch up to that.
"For my kids, change is and will be a constant—in terms of marriages, jobs, economies, climate, religion, everything. The extremist expressions that you're seeing now (in the political realm) are reflections of the fear of that idea. But artists, because we're forced to be constantly in that space, are more comfortable there." Even, it seems, in the middle of a recession.
4•1•1
Camerata Pacifica performs at 1 and 7:30 p.m. Friday in Hahn Hall in Montecito. For ticket information, call 884-8410 or go to cameratapacifica.org.