Briefs
Restoring a Drowned Valley
Mike Marshall and Group Campaign to Drain Hetch Hetchy Reservoir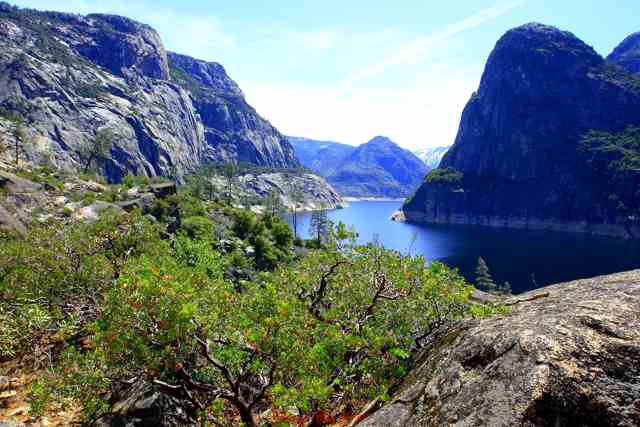 Hetch Hetchy: Yosemite Valley, so beloved, has a long-neglected twin named Hetch Hetchy, now drowned under 300 feet of water. Mike Marshall, of Restore Hetch Hetchy, flew into town on Thursday to raise funds for the campaign to drain what amounts to a reservoir for San Franciscans instead of a park.
Alas, a battle that broke John Muir's heart was lost a century ago when — over great opposition — the valley 20 miles from Yosemite Valley and within Yosemite National Park was dammed. It boasts a similar terrain: waterfalls and towering granite walls. And a river ran through it. Now, O'Shaughnessy Dam rises 430 feet.
San Francisco-based Restore Hetch Hetchy, whose Santa Barbara members include Bob Kallman, are ratcheting up the restoration campaign against long-standing opposition generated by powerful Senator Dianne Feinstein and other Bay Area officials. She has called the plan "crazy."
But if the dam is razed, won't Frisco and other Bay Area towns go thirsty? No, replied Marshall at a Channel City Club luncheon.
All that's necessary, Marshall explained, is to raise the downstream Don Pedro Lake reservoir about 20 feet and catch the Tuolumne River there rather than behind the only major hydroelectric dam in the entire U.S. national park system. Besides, Hetch Hetchy is only one of eight San Francisco reservoirs, he said.
And it wouldn't even be necessary to go to the largely unknown cost of destroying the dam, according to Restore Hetch Hetchy. Just punch a hole in it. Cost of the project has been estimated by environmental groups at $1-3 billion over 20 years, or upwards of $10 billion by the bitterly opposed San Francisco Public Utilities Commission, which has not provided any details to back up the estimate, according to Restore Hetch Hetchy. The PUC insists that the city absolutely needs Hetch Hetchy water.
The money could be raised by a combination of national and international private donations and governmental sources, according to Marshall.
The group plans to place an initiative before San Francisco voters in 2012 aimed at modernizing the city's water system and making it sustainable. If San Francisco can conserve and recycle enough water, capture enough rainfall and recharge its once-generous groundwater basin, the argument goes, in a decade or so the Hetch Hetchy reservoir might no longer be needed. The measure would call for filtering the drinking water and recycling it, not done now, possibly contrary to the California Constitution requirement for efficient water use, Marshall said.
It would also pave the way for improvement of the river system, removal of the dam and actually increase the amount of water available to the city, he said. Presently, the group says, San Francisco sells much of the Tuolumne water it gets.
Marshall likens the restoration effort to the citizen effort that forced Los Angeles to yield on taking Mono Lake water in the eastern Sierra. Although winning Congressional support looks dim, due to Feinstein's determined opposition, the group has linked with a major Washington legal firm on a pro bono advocacy basis. Surprising to some, President Reagan's Secretary of the Interior Don Hodel backed the idea but Congress quashed the plan.
Just as the nation once underwent an era of dam-building, the mood now is to remove certain dams seen as unnecessary or counterproductive. One is Ventura County's Matilija, now about 90 percent silted up. There's general agreement to raze it, but the unresolved stumbling block is where to dump the silt.