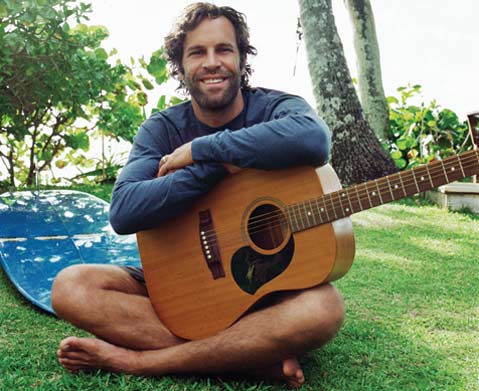 It's a warm afternoon in early March when I park on Larchmont Boulevard in Los Angeles, hop out of my truck, and hear the world's best-selling musician yell "Kettmann!" as I stroll up the street. Jack Johnson is hanging outside his Solar-Powered Plastic Plant—where he's recently put the finishing touches on his fifth studio album, To the Sea—to await an onslaught of West Coast media types who've been invited to interview the mellow music man all at once. Later, he'll play a short set of new songs for about 40 people, but first—while Jack's enduring questions from CNN—I get a personal tour of the green-energy–driven facility by his keyboardist (and Goleta resident) Zach Gill, check out the views of photovoltaics and the Hollywood sign from the roof, grab a beer after the keg is tapped, and chow on some carne asada when the taco truck arrives.
Everyone knows by now that Jack's been around the global block a few times since graduating from UCSB in 1997 and starting a meteoric rise up the pop charts with his 2001 debut, Brushfire Fairytales. But this evening is evidence that he's finally learned the most important lesson of all: how to keep everyone happy, from the pesky press people wanting face-time to the star himself, for Jack's using the night—as well as two previous ones in London and New York City—to handle all of the usual media requests he gets while circling the globe on his summer concert tour. That way, Jack tells me a few hours later upstairs in his manager's office, "The tour becomes a road trip. We're tourists in the day, checking out the Sagrada Família in Barcelona, the Natural History Museum in New York, or, if the kids get sick here and there, we have time to do the normal parenthood stuff. Most of the time, it's good fun." That road trip makes a stop near the native North Shore Hawaiian's occasional Montecito home when it comes to the Santa Barbara Bowl for two sold-out nights on October 13 and 14.
In the meantime, Jack manages to make his legions of fans pretty stoked, too—when To the Sea was released in June, it immediately hit number one on the American charts and remains one of the top-selling albums of 2010. The record offers the stereotypical campfire melodies everyone has come to love, but it also seems like Jack's most fun-loving endeavor yet—it's even prone to big rock-out moments a bit more than his previous, sometimes somber albums. That spirit is echoed in his recent video for "At or With Me," in which he hilariously attacks actor Andy Samberg for mocking him on Saturday Night Live. The lightheartedness is a curious coincidence, considering that the album was inspired—and dedicated to—Jack's iconic father, who settled his family in Hawai'i after sailing across the ocean solo many decades ago. He died in August of 2009, and the songs that became To the Sea approached final writing stages in November.
"I was happy when they started becoming upbeat," Jack said of the songs. "I really do prefer playing songs that are uplifting, but I don't always get to choose. The last album, I wasn't at a place where I could write upbeat songs—losing Danny [his wife's cousin, a UCSB student] and seeing my dad decline in health; that was a different time. This album, even though I was dealing with some of those topics, it became more a celebration of life than about someone slipping away."
Jack's not a songwriter with master plans, but he does recognize some recurrent themes in To the Sea, particularly the idea of love passing from generation to generation. "It's about me feeling like a son and a father in my life and being in this transitional period where I'm trying to find the father in myself more," he explained. "To the Sea refers to getting to the ocean both physically—as a place that my parents took me, and also I take my kids—but also thinking of it as a body of water that represents the subconscious. You can take someone all the way to that point, but you can't make them dive in and go deeper and really learn for yourself."
Another person Jack's keeping happy is Mother Earth, as he was one of the first rock stars to promote large-scale sustainable touring. He continues that message and manner on this tour, donating 100 percent of the proceeds to community nonprofits and demanding that venues recycle, offer refillable water bottles, and host informative booths. "In the past, it felt more like we were lessening the negative parts, whereas now, it feels like there's a really positive impact of our tour," said Jack. "That's more rewarding."
Most rewarding of all, of course, is a high-paying job where you can take your friends and family around the world, play music for millions, and keep most everyone happy. "I'm a pretty logical guy," laughed Jack, upon finishing a taco. "I appreciate the fact that I get to do this."
4·1·1
Jack Johnson plays the Santa Barbara Bowl this Wednesday, October 13, and Thursday, October 14. Openers include G. Love (Wed.), ALO (Thu.), and Zee Avi (both nights). Visit sbbowl.com for info.