Briefs
Shark Attack at Vandenberg Beach
19-Year-Old UCSB Student Fatally Bitten in the Leg
Officials at Vandenberg Air Force Base closed Surf, Wall, and Minuteman beaches because of an apparent shark attack this morning.
The beaches will be closed for at least 72 hours, according to the base's public affairs officer, Lt. Ann Blodzinski. The attack happened on Surf Beach.
The Independent will add updates as more information becomes available.
[UPDATE, 11:54 a.m.]: Though details remain sketchy, sources say that a 19-year-old male body boarder was fatally bitten on the leg at around 9 a.m. this morning while riding the waves off Surf Beach just west of Lompoc.
Long considered a "sharky" area by residents, Surf Beach — which is technically part of Vandenberg Air Force Base but is the primary public access beach for the Lompoc area — has been the site of several shark sightings in recent years including a highly publicized incident in 2008 when a surfer had his board bitten by what experts believed was a great white shark.
Unconfirmed reports say that today's victim was an area college student.
[UPDATE, 2:09 p.m.]: Drew Sugars, spokesperson for the Santa Barbara Sheriff's office, issued a press release stating that the county's coroner's bureau was dispatched to Surf Beach at 8:50 a.m. this morning for a report of a deceased victim of a shark attack.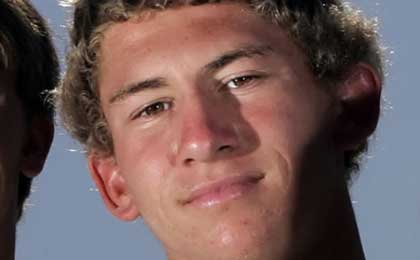 By the time a coroner's detective arrived at the scene, the victim — 19-year-old UCSB student Lucas McKaine Ransom — had already been pulled from the water by a friend and another witness. Vandenberg fire officials, said Sugars, had responded prior to arrival of the detective and pronounced Ransom dead at the scene.
Based on the initial investigation, it appears Ransom, who's from Romoland in Riverside County, was body-boarding 100 yards off the beach with his friend, another UCSB student, when a shark pulled him under the water. Ransom, said Sugars, suffered a massive wound to his leg and quickly succumbed to his injury.
Fish and Game officials are working to identify the type of shark, which was described as being 14 to 20 feet in length.
UCSB spokesperson Paul Desruisseaux said Ransom was a chemical engineering major in his junior year. The school will be providing counseling to the friend present during the attack as well as to Ransom's other friends and roommates.