Announcement
Protect California Deer from Chronic Wasting Disease
Advisory for California Hunters to Prevent Introduction Into California
This autumn, Department of Fish and Game wardens will check hunters at California's border entry points to prevent the introduction of Chronic Wasting Disease. Hunters returning from other states or Canadian provinces with deer or elk are lawfully required to adhere to all DFG regulations that are designed to stop CWD from entering California. CWD is a fatal neurological disease of deer, elk and moose.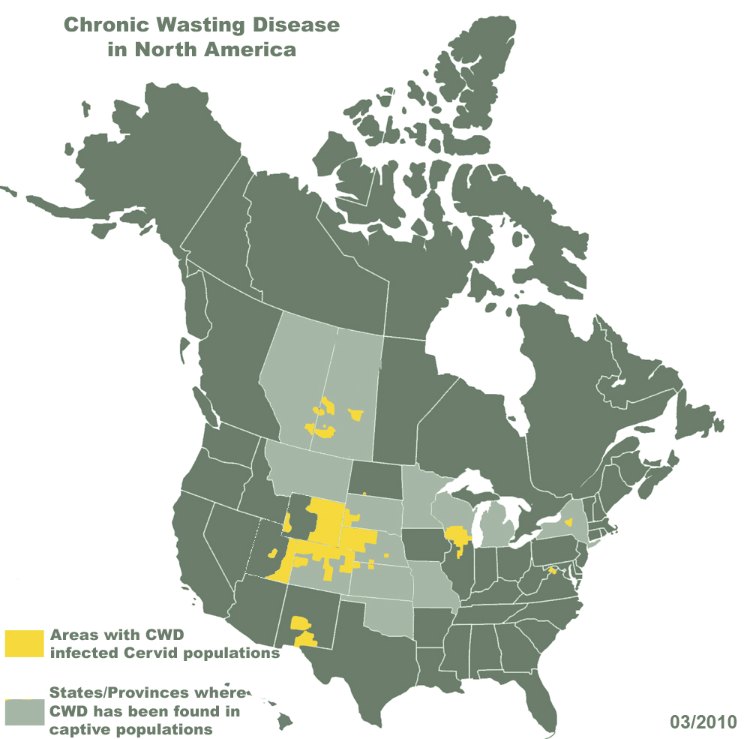 "Cooperation from hunters is critical to keep CWD out of California," said DFG Assistant Chief Paul Hamdorf. "DFG continues to provide hunters with information about CWD and game wardens work in the field to prevent the illegal importation of deer and elk carcasses. California hunters should be aware that other states also have regulations in place to prevent the spread of CWD. Hunters should always review regulations to be sure they are in compliance."
Wardens have authority to inspect harvested game and conduct vehicle stops once successful hunters return to California. Hunters are prohibited from bringing any portion of elk or deer into the state that could contain CWD. The law requires they return the Declaration for Entry into California of Game, Fish, Birds or Animals form , which is available at DFG regional offices and online (PDF)
In other states, CWD has spread through the transport of captive, farmed deer and/or elk. However, California has strict laws on the importation of live animals, and the farming of mule deer, white-tailed deer and elk was banned years ago. According to DFG Wildlife Veterinarian Dr. Pam Swift, hunters bringing in infected carcasses would be a more likely method for CWD to enter California.
"CWD-infected animals carry the disease agent in their nervous tissue, eyes, lymph nodes, tonsils and spleen," said Swift. "Therefore, in known CWD-infected areas, we recommend that hunters bone out harvested animals and not consume those parts that could potentially be infected."
California regulation also bans the importing of brain or spinal cord tissue from deer and elk harvested out of state.
As far as is known, CWD is always fatal to affected deer and elk, although it does not directly affect humans. There is no cure for the disease, which remains resilient and has a long incubation period. If introduced into California deer and elk herds, the disease could severely impact deer/elk populations and devastate those hunting programs. CWD regulations passed in 2002 were updated in 2008 to help protect the state's deer and elk herds. Summaries of the regulations are printed in the 2010-2011 Mammal Hunting Regulation Pamphlet, the California Hunting Digest Big Game issue and are codified in the California Code of Regulations Title 14, Section 712.
Only the following hunter-harvested deer and elk parts are allowed into California:
* portions of meat with no part of the spinal column, brain or head attached (other bones, such as legs and shoulders, may be attached),
* hides and capes (no spinal column, brain tissue or head may be attached),
* clean skull plates (no brain tissue may be present) with antlers attached,
* antlers with no meat or tissue attached, except legally harvested and possessed antlers in the velvet stage are allowed if no meat, brain or other tissue is attached,
* finished taxidermy mounts with no meat or tissue attached (antlers in the velvet stage are allowed if no meat, brain or other tissue is attached), and
* upper canine teeth (buglers, whistlers and ivories).
CWD has been detected in Colorado, Illinois, Kansas, Michigan, Minnesota, Montana, Missouri, Nebraska, New Mexico, New York, North Dakota, Oklahoma, South Dakota, Utah, Virginia, West Virginia, Wisconsin and Wyoming. It has also been detected in the Canadian provinces of Saskatchewan and Alberta.