News
Albertsons Go (Seriously) Green
Local Stores Becomes First in Country to Achieve Zero-Waste Status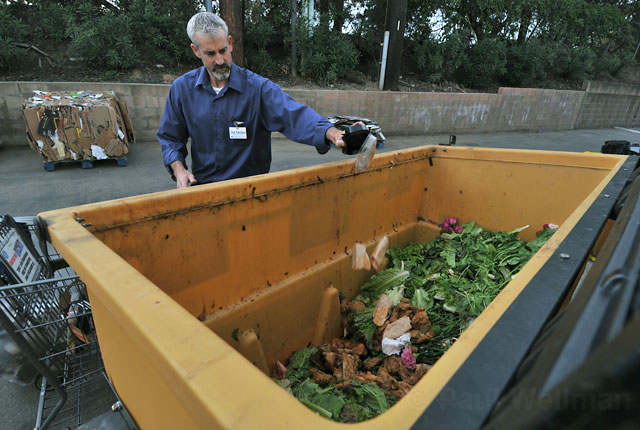 It wasn't Whole Foods or Trader Joe's that raised the bar for food eco-consciousness this week. Instead, two local Santa Barbara Albertsons have made national news by becoming the first supermarket retailers in the nation to achieve zero-waste status. The special qualification means that the stores now keep nearly all of their waste out of the landfills. To "go zero," Albertsons created a three-pronged approach to sustainability: recycling, food donations, and composting. The end result? 95 percent of the store's waste is reused or recycled.
The SB stores — located in Five Points Shopping Center and on Cliff Drive — now recycle two types of cardboard (both waxed and plain corrugated cardboard), all paper products, hard plastic, and "soft" (film) plastic. Paper products are recycled into the store's CleanFlame fire logs. While the stores can make around $80 a bale for recycling cardboard and $300 for soft plastic, the money is redirected back into the store's eco program to pay for things like biodegradable containers for their hot food items.
"This is not profit-oriented," Rick Crandall, sustainability director for Albertsons parent company SuperValu, says emphatically. Before the zero-waste initiative, Albertsons recycled only for a profit; now, they do it "because it's the right thing to do for our business, and it's the right thing to do for the environment."
While recycling takes care of most of the packaging waste (the only things that can't be recycled are wood from boxes and pallets and soft plastic that's been contaminated by meat or other food), Albertsons still has to dispose of expired or "unsellable" food. Albertsons donates all of this food—produce that's too ripe to sell to customers or goods that expired within the last day — to the Foodbank of Santa Barbara. In the back kitchen, Crandall pulled out a ripe pineapple with a bruise on the side, saying that they can't sell this because it needs to be eaten in the next 24 hours; because of demand, though, nearly all of the 150,000 pounds of food they donate each year to the Foodbank is consumed within that narrow time frame.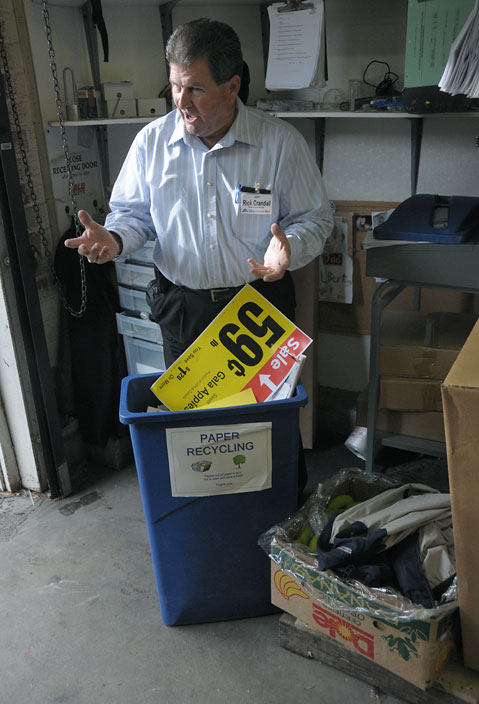 To deal with food scraps and green waste, the stores joined with the City of Santa Barbara's composting program. The bright yellow food scrap bins line the back outside wall of the store, and the city makes collections multiple times a week. The material, which for Albertsons includes everything from meat scraps to dead plants, is turned into compost that is redistributed to local farmers; according to the city's website, more than 3,000 stores and restaurants participate in the program.
At the Albertsons in Five Points, all the store's garbage can fit inside just one four-yard dumpster — a major reduction considering the store produces just 13 percent of the waste of an average supermarket, according to Crandall.
The amount of organic foodstuffs each store provides is based on demographics and trends, and Crandall says there doesn't have to be a direct link between organics and the zero waste plan. "I think this [zero waste] program needs to happen in places like Compton, too," he said, even though the Compton store is heavy on fried and processed food and doesn't carry many organics.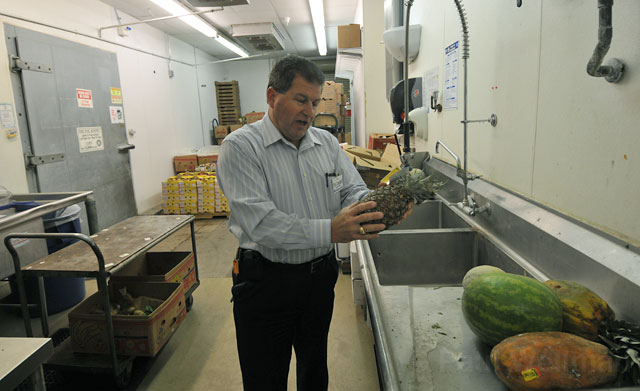 Meanwhile, Santa Barbara's other groceries are taking steps toward sustainability. Lazy Acres, which also participates in the composting program, reuses all of its vegetable oil. Trader Joe's and Whole Foods did not return calls for comment, however the Whole Foods website says that it has eliminated up to 75 percent of their stores' waste through green initiatives.
Though Santa Barbara was the "trial run" for a program they hope to implement at other Albertsons (a brand with fewer than 250 stores nationally), the chain is taking steps to improve their other stores' sustainability. In Orange County, one Albertsons just installed a fuel cell that will supply nearly all of its energy and take it off the electrical grid. "And there are more great things coming next year!" laughs Crandall. "But we don't talk about it. We just do it. It's about action — we're doing what's right."