Sports
At the Gates of Soccer Heaven
How Coach Tim Vom Steeg Built the UCSB Gauchos and Brought the College Cup to Town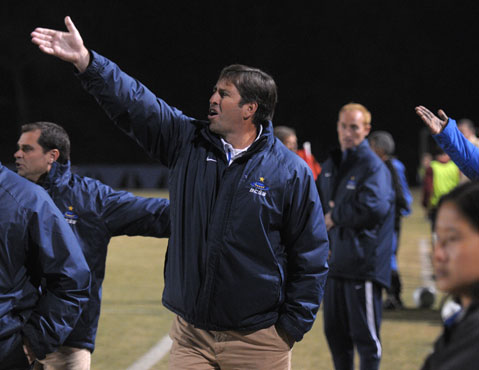 One by one, the players shuffled into an auditorium on the UCSB campus, most with a plate of food in hand, all sporting the same blue UCSB soccer polo. Taking seats in the back rows, they focused their attention to the screen as the 2010 NCAA men's soccer tournament selection show got underway. The Gauchos weren't worried whether they'd make the tourney — they'd just topped the Big West yet again, so that was a sure thing — but the mystery was whom and where they'd play.
This is now a familiar fall scene for the UCSB men's soccer squad, a team that changed virtually overnight from longtime losers to national stars, having made the NCAA's postseason tournament for the past nine seasons. There's pretty much only one reason for this quiet rise, and that's coach Tim Vom Steeg, who's also the biggest force behind bringing the tournament's finals — known as the College Cup — to UCSB's Harder Stadium this weekend.
When Vom Steeg came on in 1999, the Gauchos had never qualified for the postseason tournament, despite 33 years of trying; worse yet, they barely even won games, having finished 2-17-1 in 1998. In Vom Steeg's first season, the team went 13-7 and then never looked back, having since amassed the impressive record of 171-66-25 and always finishing as one of the top two teams in the Big West. They lost the national championship in a game they should have won in 2004 and then won the whole shebang in 2006. And the players don't stop kicking after graduation — since 2003, Major League Soccer (MLS) has drafted at least one Gaucho each year. Perhaps even more impressive, however, are the fans, who once numbered less than 100 per game. Today, a Gaucho game at Harder Stadium features thousands of people in the stands, including a stadium-record 15,896 fans — the second most fans at a college soccer game ever in history — who came to watch UCSB beat UCLA earlier this year.
While this year's postseason ended with a controversially officiated game against UC Berkeley — which scored an overtime goal with one second on the clock, despite UCSB being down a player for more than half the game — the Gauchos' trajectory shows no signs of slipping. Nothing exemplifies that more than this weekend's College Cup, which Vom Steeg had to fight hard for, despite having the three things organizers crave: a stadium that holds at least 15,000 people, enough soccer fans to fill the stadium, and good weather. "I just kept raising my hand, and finally someone said, 'Let's give it to them and see what they do.' If we can fill it and we're not there, that's a statement," he said. "UCSB will be forever on the map for hosting this championship if we do it right."
Tim Vom Steeg came to Santa Barbara in 1985 as a freshman soccer player for the Gauchos. After graduation, he played for Santa Barbara Real in the American Professional Soccer League for a couple years before moving on to teach at Laguna Blanca and coach the freshman team at San Marcos High School.
In the early 1990s, Vom Steeg and others approached Santa Barbara City College to ask why there was no soccer program, and the answer was money. So they raised $20,000 for the men's team, and then another $20,000 for the women's. Relying mainly on area players, Vom Steeg won the conference championship in his first season and tallied a 121-18-4 record in seven seasons.
Eventually, UCSB boosters came knocking, and Vom Steeg took the job, explaining, "I just saw it as a challenge." And it was, for Vom Steeg had no NCAA connections, no involvement at the club-soccer level (where young talent emerges), and no money for his program. He cut much of that first-year team, kept a handful of freshmen and sophomores, and brought in a bunch of area players. He'd also seen an impressive video of New Zealand's under-17 team, and sent an assistant to recruit the defensive back line. All three accepted, but Vom Steeg only had scholarships for two, so those two became the team's backbone. Thirteen wins later, the Vom Steeg era had begun.
But one decent season does not a program make, and Vom Steeg still had to recruit. He looked for kids whom bigger schools like Cal and UCLA had missed, and got "lucky a little bit" in the form of Rob Friend, who was playing at Western Michigan but needed a change of scenery. Friend would be named the Big West's offensive player of the year twice. Vom Steeg also used UCSB's fledgling situation to his advantage, as when he told goaltender Dan Kennedy, "You can go to UCLA and sit on the bench for two years, or come here and be a four-year starter." It worked, for Kennedy was twice named the Big West's best goalie. He also keeps his eye overseas and constantly brings international talent to the UCSB team, perhaps more so than any other program in the country: This past year, for instance, there were four players from Ghana, two from England, and one each from New Zealand, Ireland, Canada, and the Congo.
But players only last four years max, so Vom Steeg also focused on a stable coaching staff, including Leo Chappell (who coached for five years in the mid 2000s, left to be head coach at Columbia, but returned last year), Greg Wilson (also a former Division 1 head coach, who's been around for five seasons), and Stuart Dobson (who played for 15 years as a professional and is in his third season as goalkeeper coach).
As the team scored more goals, more fans showed up, but even that wasn't just a natural growth. Vom Steeg was taking notes from longtime UCSB women's basketball coach Mark French, who'd bring his players into the community for basketball camps, where they'd meet the young girls who'd become their biggest fans. So Vom Steeg followed suit, and now, every September, you'll find Gauchos at more than 100 youth soccer league practices. "It's a culture we've created," said Vom Steeg, but he also gives plenty of credit to the growing legions of Gaucho Locos, the UCSB student fan base. "You give our students something to cheer about," he said, "and they'll support you."
Altogether, the UCSB men's soccer team is the epitome of a complete sports program, drawing fans locally, recruiting globally, and succeeding as a force to be reckoned with in NCAA soccer for years to come. "Programs win games," said Vom Steeg, who shows no signs of stopping the success. "Programs win championships."