Food & Drink
Holiday Recipes from Leading Locavores
A Chef, a Canner, and Three Farming Families Dish Out a Homegrown Seasonal Menu
Fresh from the Fields
Brian Collins, chef de cuisine; Full of Life Flatbread, Los Alamos
Tucked in the farthest corner of the one-lane road that makes up Los Alamos, Brian Collins, his head down, is concocting a new recipe for the weekend menu at Full of Life Flatbread. He blends seasonal ingredients with a selection of beef or chicken delivered earlier in the day to Flatbread's back door by a nearby rancher or poultry farmer.
Full of Life Flatbread—with its on-site vegetable garden and rustic picnic tables—is a destination for pizza lovers and hardcore locavores alike. Under Collins's lead, the restaurant's growing reputation is based on its singular focus on local producers—farmers, ranchers, and fishmongers. Collins changes the menu each weekend when the wood-fired ovens crank out an amazing array of specialty pizzas, topped with ingredients just harvested from nearby fields and farms surrounding Flatbread.
Collins's creative ingenuity is a byproduct of his years at Chez Panisse, where a commitment to land and people is business as usual. Collins himself knows every farmer within 150 miles of Los Alamos and can tell you where and how to forage for wild chanterelle mushrooms and stinging nettles—after a recent afternoon spent foraging, he featured both on a Flatbread pizza along with area leeks. "I'm really lucky. I love what I do," he said. "I know everyone that supplies us food, and it changes constantly. That makes every weekend a new adventure for me."
Roasted Santa Barbara Squid with Shell Beans and Aioli
Cooking the squid requires the use of a barbeque and a cast-iron pan.
Ingredients
Fresh Squid, two lbs., cleaned, bodies cut into 1 inch rings
Cherry Tomatoes, 1 pint, halved
Shell Beans, 1 cup shelled
Shell Beans, 1 cup shelled
Basil, 2 tablespoons, minced
Shallot, 1 tablespoon, minced
Lemon Juice, 1 tablespoon
Meyer Lemon, 1 lemon halved
Olive Oil, about ¼ cup, local extra virgin
Olive Oil, about ¼ cup, local extra virgin
Directions
Place the shell beans in a pot and cover with two inches of cold water. Bring to a boil, then turn to a simmer. Add about one tablespoon of salt to the water. Cook for 15-30 minutes, depending on the variety of shell bean being used. When the beans are creamy/tender, let them cool in their liquid. Strain the beans, discarding the cooking liquid.
Add the minced shallot and the lemon juice to a large salad bowl. Let stand for 15 minutes to let the shallots soften. Add the tomatoes, shell beans, a couple ounces of olive oil, the basil, salt, and pepper. Toss together. Add the arugula, and gently toss again. Divide evenly among four plates.
Light the barbeque, and heat the cast-iron pan on it. Season the squid with salt and pepper, and toss with a one-fourth of a cup of olive oil. Carefully take a hot cast-iron pan off the barbeque, and add the squid all at once. Be sure to do this away from the fire to prevent flare-ups. Once the squid is sizzling in the pan, add it back to the grill, and cover the barbeque for about one minute. Uncover and stir. Cook a few minutes more. When the squid starts to pop, it's ready to go. Divide the squid among the plates. Drizzle with aioli, and squeeze the Meyer lemon juice over everything. Sprinkle the paprika, and serve immediately.
Aioli
Egg Yolk, 1
Extra Virgin Olive Oil, 1 Cup
Lemon Juice, 1 teaspoon
Red Wine Vinegar, 1 teaspoon
Garlic, 1 Tablespoon-pounded smooth in a mortar and pestle
Salt, to taste
Crush a few garlic cloves in a mortar and pestle. Add a pinch of salt will act as an abrasive and help the garlic become a smooth puree. Add the egg yolk and lemon juice to the mortar and mix together. At this point you can continue to use the pestle, or you may find it easier to use a small whisk. One drop at a time add the oil to the yolk mixture, wait for each drop to be absorbed before adding the next. About a quarter of a cup through the oil you can increase the rate in which you add the oil. Once the oil has been added, mix in the red wine vinegar. You want the aioli to be drizzlable for this dish, so you may need to add a bit of water to thin it. Taste and adjust seasoning if needed. Cover and refrigerate until needed. You can make this a few hours ahead.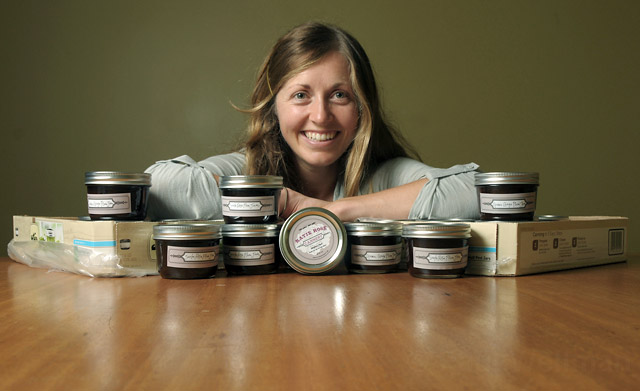 Pick, Wash, Cut, Cook, Can. Repeat.
Katie Rose Isaacson, jam maker; Katie Rose Cannery, Lompoc
After a lifetime of watching her mother make jams, chutneys, and pickles, Katie Rose Isaacson finally canned her first plums. That was a little more than a year ago, and now her Katie Rose Cannery is a fledgling adventure in preservation: that of both her family's ranch history and delicious jams, fruit butters, jellies, and syrups. "As a child, I was often handed a wooden spoon and told to keep the jam from burning," says Isaacson. "I'd stand on a chair, stirring bubbling pots of jam while my mother continued to peel and chop fruit."
Today, her collection of old family recipes and her commitment to heirloom fruit is the foundation for her success. In summer and fall, she stocks up on ingredients from her grandparents' ranch in the San Julian Valley. "I race the birds to save every last apple, plum, and persimmon," she says. Katie Rose Cannery is steeped in tradition, and Isaacson's core values include keeping it local. She sources organic sugar and jars through Isla Vista Food Co-Op and buys organic lemons from Calimoya in Goleta.
But most importantly, it's her commitment to community that drives her passion for canning and preserving. "Around the holidays in our little valley, jars of jam appear on a doorstep or windowsill, each an original recipe from a neighbor who picked the fruit from their own tree and stood over a hot stove," says Isaacson. "This is the craft and tradition that I want to bring to my customers."
Apple Lemon Jam
Ingredients
12 cups Granny Smith Apples, peeled and chopped into small pieces
6 to 7 cups of sugar
3 lemons
Directions
Use a carrot peeler to peel the lemons. Chop the lemon peel into half-inch sections. Juice the lemons, and then combine fruit, sugar, peel, and juice in a heavy-bottomed stockpot. Cover, and let it sit for at least three hours. Bring the mixture to a low boil over medium heat, stirring occasionally with a wooden spoon. Once the jam is boiling, turn the heat to low—you will need to stir constantly to prevent the jam from burning.
Test the jam for setting by pulling the spoon out of the jam and watching the liquid fall from the spoon. Once it falls off of the spoon in a drippy curtain, it is ready to can. Sterilize jars and lids and can according to the health and safety instructions in the Ball Blue Book of Preserving.
An Unrelenting Commitment to Fresh
Jacob Grant, organic farmer; Roots Organic Farm, Los Olivos
Jacob Grant knows how to grow a sweet carrot. That's why chefs, home cooks, and everyone in between call him direct or cluster around his stand at Farmers Markets, plucking produce from the tables, asking his advice on how to sauté Chidori kale, how to pair parsnips, or how he gets his carrots so sweet.
On the leased 25 acres Grant calls Roots Organic Farm, he plants what he likes, changing the variety based on what works best and what's in season. A lifelong resident of Los Olivos, Grant apprenticed with Shu Takikawa, a well-known area organic farmer, taking what he learned from the expert to create a lifestyle and a cult of devotees all his own; he's been farming by himself now for eight years.
What makes Grant famous in these parts is the quality of his product. "I make sure everything I put on my table has been picked that day, and I never sell leftovers," he says. "Shu taught me how to grow with a higher standard of quality than others, and he left me with a lot of tricks on how to keep things fresh." As for his legendary carrots, "They are just far superior in the fall and winter," says Grant. "But you have to know when to pick them; that's the secret."
Rootsy Kale
Ingredients
1 parsnip, grated
1 celery root, grated
3 carrots, grated
1 onion, sliced
1 onion, sliced
½ tsp salt
Two oranges, juiced
2-3 cloves of garlic
1 lb Chidori Kale, stems trimmed
Italian parsley, handful of
Directions
Sauté the grated parsnip, celery root, and carrots with the onion in olive oil and salt. When they're tender and starting to stick, add the orange juice, and then press in two to three cloves of garlic. Add one pound of Chidori kale (stems trimmed), and cook covered for three to five minutes. Remove the lid, stir, and cook another three to five minutes. Sprinkle with fresh Italian parsley when serving.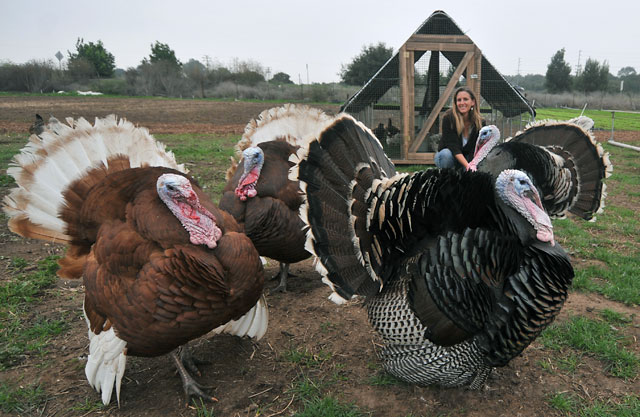 In Support of Poultry
Katherine Anderson, organic pasture farmer; Blue Oak Ranch, Goleta
A visit to Katherine Anderson's Blue Oak Ranch is a lesson in dating. Her heritage turkeys took to me with a peck, a cluck, and a flirty strut. If I turned left, there they were. If I walked right, ditto. "They are full of energy at this age," says Anderson of her flock, a form of Thanksgiving payday; she raises and processes each just in time for the holiday.
Anderson's Blue Oak Ranch provides a local—and organic—alternative to factory-grown turkeys and chickens sold in super markets. Her six acres in the foothills of Goleta provide amble natural grazing for her chickens, turkeys, and goats. They roam freely or in moveable pens that allow constant access to fresh greens and fresh air—something industrial-raised chickens never see. She tends to her flock daily, moving the pens to a new patch of pasture, administering a high dose of tender loving care (instead of antibiotics) and tucking them in at night before she leaves for the day.
Brined Grilled Petit Poussins
Poussins are young, small chickens that generally weigh between 1-1¼ lbs., making each an individual serving. They are very tender, but can dry out rapidly; brining them preserves their juicy tenderness and boosts their delicate flavor.
Ingredients
4 fresh poussins
1 1/2 tbsp fresh minced rosemary
1 tsp fresh minced thyme
Brine:
1/3 cup Kosher salt
1/3 cup sugar
1/3 cup white vermouth
2 fresh bay leaves, torn in half
4-5 cups very cold water
4 cups ice
4 cloves garlic, crushed
1/2 tsp cracked black pepper
Directions
In a large bowl, combine the brine ingredients minus the ice, and stir until the salt and sugar are dissolved. Submerge the poussin halves in the brine, and add the ice. Place the bowl in the fridge, and stir every so often, for two to four hours. Make sure the poussins are either covered by the brine or turned often enough to evenly brine the pieces.
For a wood or charcoal grill, prepare the coals, and when they're ready, push them off to the sides, forming an outer ring of hot coals. For a gas grill, preheat both areas of the grill on high, and then turn one down to low and the other tomedium-high.
Pull the poussins from the brine, and let them drain for 15 minutes at room temperature. Discard the brine. Rub the chopped fresh herbs all over the halves. Place them skin-side-down over the direct heat and grill for about five to seven minutes. Flip the halves over onto the lower heat or indirect heat area, and continue to grill for approximately 15 minutes or until done. Remove to a platter, cover, and let the poussins stand for 10 minutes before serving.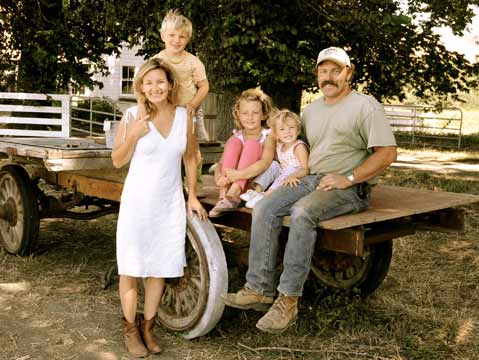 The Little Bean That Could
Erin and Kenny Pata, farmers and ranchers; Jalama Road Family Farmstand, Lompoc
Erin and Kenny Pata love butterbeans, and that's a good thing. Their Jalama Road farmhouse, tucked into the rolling hills of San Julian Valley, is surrounded by 350 acres of the bean. Kenny and his brother, Richard, are the third generation of Patas to farm the land. In this modern day go-around, it's 150 head of grass-fed Black Angus cattle and a little bean that's making a big comeback. "Our butterbeans are freshly harvested and dried so that when cooked, the beans taste like a vegetable, not a starch, and they actually have a flavor," says Erin Pata.
Earlier this year, Erin collaborated with friends to put up the Jalama Road Family Farmstand—a place to hawk their beans along with other produce and artisanal goods from their farming neighbors along Jalama Road and nearby Highway 1. The selection at the stand varies but often includes butterbeans, wild sage honey, canned jams, handcrafted goods, and beef. "This is the only place you can buy a cow and a purse at the same time," says Erin.
Butterbean Hummus
Ingredients
1 pound butterbeans
1/4 cup tahini
1/4 cup lemon juice
2 tbsp chopped roasted garlic
1/4 olive oil
2 tsp cumin
2 tsp coriander
1/2 tsp cayenne pepper
1/2 tsp fresh black pepper
1 tsp salt
1 tsp salt
Directions
Soak beans overnight in eight cups of water. Boil until soft enough to squish with your fingers. Drain beans, and reserve one cup of liquid for thinning later. Place all the ingredients in a food processor, and pulse until smooth. Add some of the reserved liquid to thin the hummus to desired consistency. Serve as a spread or dip with bread or pita chips.