Briefs
Group Gets Store to Stop Selling 'Racist' T-Shirt
Native American Activists Call Cops on Shop Owner During MLK Jr. Day Celebrations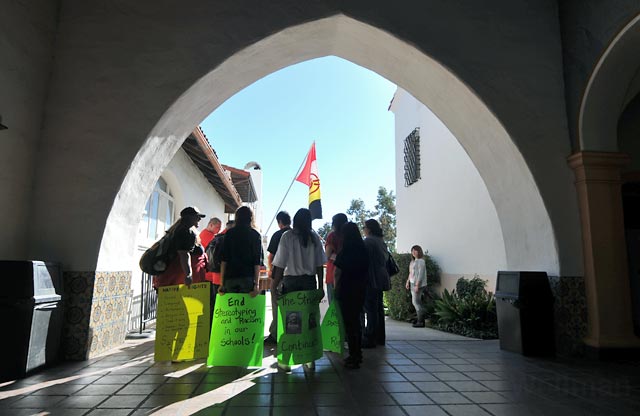 What began as a day to remember the man whose name is synonymous with the peaceful pursuit of civil rights turned into a scene of flailing anger when eight members of the American Indian Movement (AIM) saw something on lower State Street they felt was "racially offensive" and perpetuated "negative stereotypes" against Native Americans.
Santa Barbara's AIM chapter, reads its Web site, works to honor and preserve Native American heritage through activism. "We fight for the spiritual, emotional, physical, and financial liberation of our people," the site says. "We are one, of only a few other voices, that speaks loudly of Native Resistance." Its Facebook page has over 5,000 "friends" and features a quote by Chief Terrance Nelson of the Ogitchida Warrior Society that reads: "There's only one way to deal with a white man. You either pick up a gun or stand between him and his money."
As the group walked down the street to their cars on Monday after participating in the downtown march, they passed Moon River — a novelty clothing store that sells T-shirts often stenciled with off-color jokes and images — and spotted a shirt that read "My Indian Name Is Runs with Beer."
According to a letter of complaint written by AIM representative Corine Fairbanks to Downtown Organization Executive Director Bill Collyer, the shirt's public display not only mocked the "horrific effect" alcohol has had on indigenous people but also made fun of sacred naming ceremonies. "[Alcohol abuse] is not something to be celebrated, much less be used as a marketing gimmick or to find ways to profit from," the letter reads.
Fairbanks said she and the other members of the group confronted the store's employee — "an Asian lady (who refused to give me her name)," Fairbanks noted — and demanded she remove the T-shirt from display, stop selling it altogether, and make a formal, written apology to all Santa Barbara County Native Americans. Until then, Fairbanks promised she and her group would spread the word that Moon River is "a store that promotes racism." The clerk refused, telling Fairbanks and the others there is no law against selling the shirt and that, if they didn't like it up on the wall, they could buy it themselves. She then asked them to leave.
At this point AIM members called the police but "still the employee refused to acknowledge our complaint," Fairbanks wrote in her letter. "Mind you," she went on, "this dialog took place on MARTIN LUTHER KING DAY! What would Dr. King say?" Police Department spokesperson Lt. Paul McCaffrey confirmed officers spent about 20 minutes at the store talking to both parties. No report was filed. The Independent was not able to reach the store owner for comment.
A representative with the Downtown Organization said that after the incident he spoke to Moon River's owner, who has since agreed to stop selling the shirt. The conversation was a "courtesy," the rep noted, explaining the organization is not in a position to dictate policy to businesses owners and AIM's solicitation of its help was "fruitless to begin with." The representative, who requested anonymity, said the store owner didn't realize the shirt was offensive and removed it from his stock just to avoid any future problems.