Film & TV
That Side of a Shadow
An Interview with Ricky Fosheim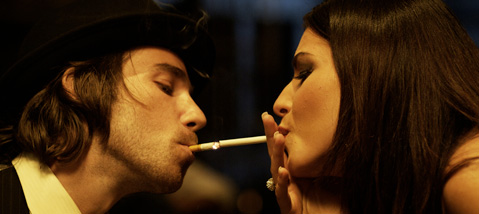 There's an amazing degree of promise in almost every aspect of this drug-addled saga about a down-on-his-luck dude who's put his buddy's life on the line over a gambling debt. With long scenes of intense dialogue reminiscent of Reservoir Dogs and a strung-out realism along the lines of Requiem for a Dream, Ricky Fosheim's feature-length directorial debut shows that he's got the chops for bigger tasks while putting on serious acting displays from everyone on-screen. From the methodically catchy opening credits to the messed-up climax, you can't help but wonder what Fosheim will do next.
The director recently answered some questions from The Independent, and explained that it is part of the Santa Barbara Filmmakers category because associate producer DJ Jiang attended UCSB four years ago.
First off, I liked the movie and thought it showed a tremendous amount of promise for pretty much everyone involved. So where did you assemble your team? How did you find these actors? And where did the script come from?
The script originally started out as a one act play that my co-writer Dillon Tucker had written about three years ago. He graduated from the American Academy of Dramatic Arts as I was graduating from film school at Loyola Marymount University. He approached me with the play, just to see what I thought of it, and I ended up loving it. We then spent the next year developing it into a 95-page screenplay. We opened it up, added more characters and locations, but the thematic core was still there. We actually wrote the screenplay in the vernacular of how we wanted the characters to speak, which is a very taboo way to write in Hollywood because people think you are in a way giving line reads to the actors.
Since the story is so character and dialogue driven, finding the right actors was extremely high up on my list. Even the supporting roles had heavy dialogue and meaty scenes, so we were very careful to make sure we didn't give the roles out to the first actors that impressed us. Luckily Dillon is an amazing actor and the acting school he went to is top notch. We pulled almost all of our actors from his school, which also helped me because they already trusted Dillon, and Dillon trusted me, so the actors were willing to take a risk and work with a young director.
The methodical opening credits sequence really draws you in as well. How did that come to be?
The entire opening scene and credits were twofold. First, I was trying to establish the tempo of the film. The song "Gloomy Sunday" by Billie Holiday really makes you slow down, and the pain in her voice and the lyrics that she is singing is the exact inner monologue that Jimmy (the lead character) is feeling. I also wanted to establish the location in which they are living. There is a certain kind of claustrophobia, grittiness, and urban jungle feel that you get on the East Side of L.A. These characters are trapped in a heat wave, and I wanted the images to reflect that.
The sometimes lengthy scenes with intense dialogue reminded me a lot of Reservoir Dogs. Where do you look for inspiration as a director? Were the actors intimidated by such long takes?
Since the film was based on a play, it definitely has some lengthy scenes, sometimes 12 pages long. Because all of our actors were theater-trained and had worked extensively on stage, I think they were actually looking forward to working on a play/film hybrid. There wasn't a single day where they could slack off or limp through a scene. They had to bring their A-game everyday, which I know was incredibly exhaustive, but this is how theater actors are trained so they've all been through it before. Reservoir Dogs was definitely an inspiration, as well as The Big Kahuna and Tape, which were both based on plays. The film lives or dies with the actors' performances and every department had to make sacrifices, from the production design to the editing, from the cinematography to the sound design, but luckily it paid off and all the actors hit home runs.
Comparisons to Requiem for a Dream are also easy to make. You manage to do strung out realism quite well. Is that based on your own experience, whether with your own drug experiences or watching friends of you grapple with drug addiction? How do you do that so well?
Shadow definitely lives in a world of realism, even though at times it drifts off into a surrealist dream sequence or metaphor. For the most part, we didn't do any crazy camera tricks or heavy sound design to heighten the feeling of being on drugs. It's all in the eyes. If you look into the eyes of someone who is on drugs then you can tell exactly what kind of mental and physical state they are in. I've never had a drug problem, but I've witnessed numerous people who have. Drug addicts aren't always dark, evil, lying, bad people. Many of them are the nicest, funniest, most genuine people you will ever meet. I think that is why the character's drug addictions work in this movie. We weren't glorifying drugs by any means, but we also weren't painting them in a bad light either. We were just being honest with the people and experiences we've had in the past.
Do you think this film could have been made by a larger studio?
The script was actually optioned by a small production company, but we ended up making it on our own. Based on our experience with them, I can kind of judge how a larger company would have received the script, and it definitely wouldn't have been favorable. Because it is based on a play and carries so much dialogue and hidden emotions, it is a very tough read for your typical suit-and-tie executive. I feel that any of the three lead characters could easily have attracted the attention of an up-and-coming name actor, and this would have been the only way a larger company would have agreed to take on this film.
What is the attraction to doing independent films for you?
I love making independent movies because of the entrepreneurial spirit. You don't have to answer to anyone. You do it because you believe in it, not because you're trying to please someone else. Making movies is hard enough, but to have someone breathing down the back of your neck the whole time would make things even more difficult.
What's your next move? Have you attracted any interest from the bigger movie companies?
SBIFF is the world premiere for That Side of a Shadow, so we are hoping to create a buzz and hopefully turn enough heads that people will be interested to see what we have next. Shadow is definitely not the best movie ever made, but I feel confident that the characters we created will be interesting enough to attract some name talent to our next project.
4•1•1
The world premiere of Ricky Fosheim's That Side of a Shadow is Sunday, January 30, 7 p.m., at the Santa Barbara Museum of Art. It screens again on Tuesday, February 1, 10:30 p.m., at the Metro 4. The schedule is subject to change, so see independent.com/sbiff for updates.