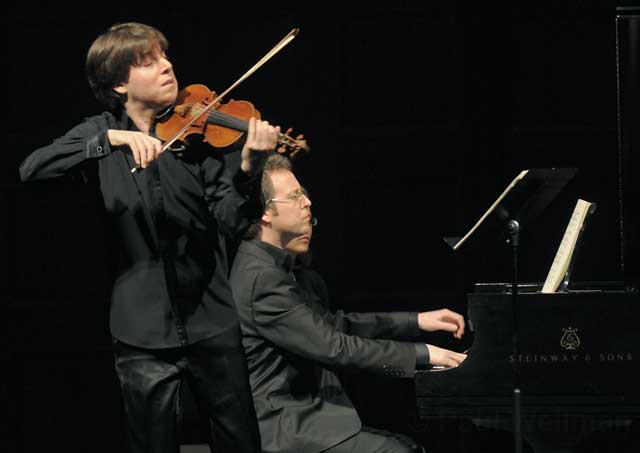 The Granada was filled for this fine recital by mainstream violin superstar Joshua Bell. CAMA President Dolores Hsu introduced Bell from the stage by saying that the evening would deliver "the best of the best" that 19th-century music has to offer, and the artists certainly made good on that promise, with a program that included substantial works by Brahms, Schubert, and Grieg, along with a handful of savvy (and not overly showy) encores. Bell leaves little to chance these days, having virtually perfected the exacting art of the grand recital over the course of more than two decades of constant touring. His opener was the Sonata No. 2 in A Major, Op. 100 of Johannes Brahms. While this relatively familiar piece remains moderate in tempo and songlike in cadence, in Bell's hands, it reveals unexpected depths, especially in the charming third movement. Pianist Sam Haywood and Bell play exceedingly well together, without a trace of strain or impatience on either side. If Bell was perhaps a little tight on some of the early high notes—and who is to say he was?—the memory faded instantly under the warm radiance of Brahms's masterful development.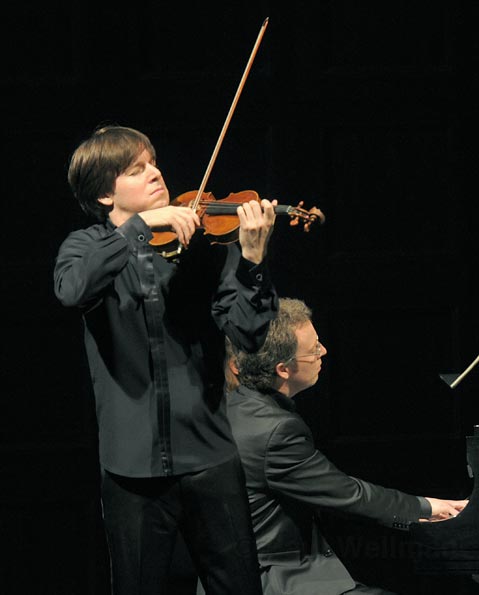 The highlight of the evening, at least for this listener, was the second piece, the Fantasy in C Major, Op. 159, D. 934 of Franz Schubert. Less unified than the comparatively sedate Brahms, this work explores the outer reaches of structure and harmony, yet never departs from a strictly tonal musical language. There are plenty of obstacles in terms of technical difficulty along the way, and the violinist leapt over them all with the grace and verve of an established master. Although the march tempos and dance-like sections may dazzle more, the heart of Bell's sensitive interpretation lay in the slow parts, on which he and Haywood were both superb.
After the intermission, the Sonata No. 2 in G Major, Op. 13 of Edvard Grieg went down like a chilled glass of the purest aquavit. While still operating within the European sonata tradition, Grieg nevertheless incorporates drones, folk melodies, and dance rhythms that are unmistakably Nordic in this piece. It's a great choice for Bell, playing to the strength of his bowing technique on its many singing, mid-tempo, middle-register passages. The evening wrapped up with three crowd-pleasing encores—a short Romance by Sibelius, a fiery Polonaise Brillante by Polish composer/violinist Henryk Wieniawski, and a wonderful Nocturne by Chopin.