Sports
College Hoops
UCSB Men's and Women's Basketball Seek Redemption at the Big West Tournament
All sorts of Western movie titles could describe Big West Conference basketball, from The Wild Bunch to The Good, The Bad and The Ugly. For UCSB's women, it's True Grit. UC Riverside massacred them by an 81-48 score in January. A month later, the Gauchos extracted revenge, a 59-37 smackdown of the Highlanders, and they are still in contention for the championship.
The Gaucho men have been playing in the thriller genre, every game seemingly coming down to the last shot. Inasmuch as the Gauchos were favored to repeat as champions, but now find themselves in the middle of the pack, their story mirrors the current movie Unknown. They are desperate to recapture their identity. "Embarrassment is our motivation," Coach Bob Williams said. "Six-and-six [their Big West win-loss record a week ago], when we're supposed to win this thing, doesn't taste good."
There will be a chance for redemption at the Big West Tournament on March 10-12 at the Anaheim Honda Center (the women's first round will be March 8 at campus sites). In the homestretch of the regular season, the Johnsons will be key players for UCSB.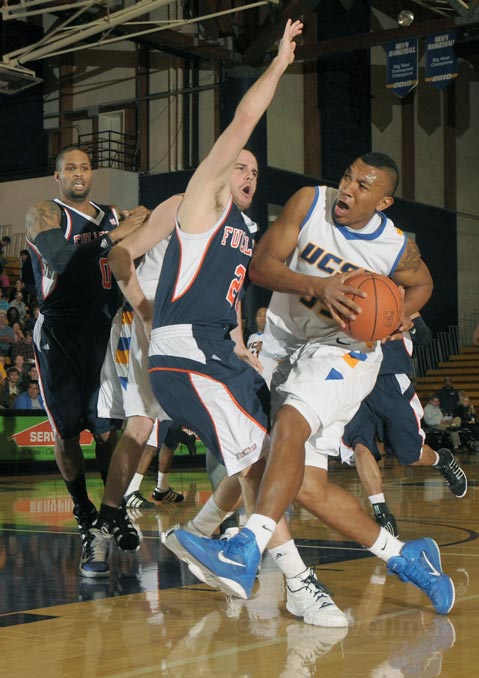 ORLANDO JOHNSON: The 6'5" junior has been doing his part as the Gauchos' go-to man. He leads the Big West in scoring (21.3 points per game) and is in the top 10 in rebounding, assists, and shooting percentages. He has had four 30-point outings, including a school-record-tying 39 in a double-overtime victory over UC Davis. He made a clutch three-pointer with six seconds remaining in overtime to tie the score against Boise State last Saturday, but the Broncos won on a putback at the buzzer. "Things didn't go our way, but we've got to keep fighting," Johnson said. He came out last week with a mohawk on his head. "I tried to give myself a regular haircut, and I messed it up," he said. "I decided to try something different. Maybe it will change our luck." The Gauchos' game at first-place Long Beach State at 5 p.m. Saturday (Feb. 26) will be televised on ESPN2.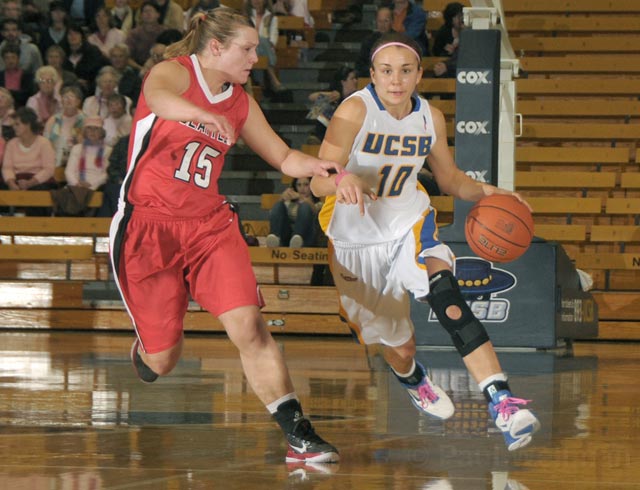 EMILIE JOHNSON: Give her some space, and the 5'6" junior guard will make the Gaucho women's opponents pay. UCSB's leading scorer (13.1 per game) pumped in 18 points in the first half against Seattle last Sunday. "Em has been feeling it," Coach Lindsay Gottlieb said. "Her shot is really fluid." Seattle changed its defense to shut Johnson down, and that opened things up for senior center Mekia Valentine and freshman guard Nicole Nesbit. Valentine is averaging a double-double (10.8 points, 10.7 rebounds) after pulling down 51 rebounds in her last three games.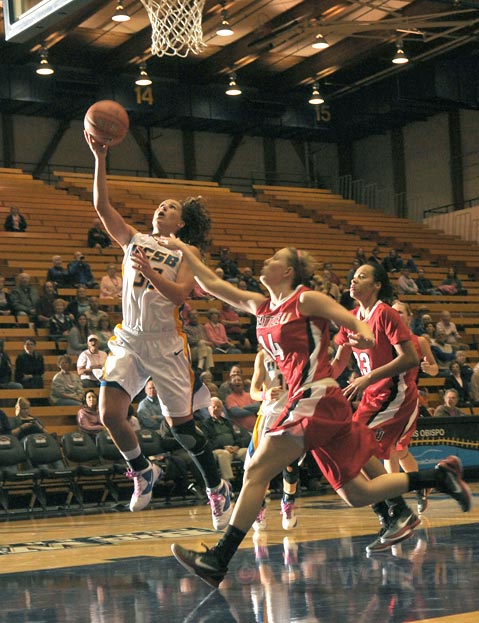 MARGARET JOHNSON: This solid 5'11" senior does UCSB's dirty work—playing tough defense, setting screens, fighting for rebounds, diving after loose balls. "She's our glue," Gottlieb said. "She just wants to win." The Gaucho women, 9-4 in the conference, are a game behind first-place Cal Poly (10-3). They have home games tonight (Thu., Feb. 24) against Long Beach State and at 2 p.m. Saturday against Cal State Northridge, then will visit Cal Poly on March 5.
LEGENDS OF THE DOME: Eric "The Freeze" McArthur, an extraordinary rebounder for the Gauchos when they went to the NCAA men's tournaments in 1988 and 1990, was honored last week when a banner bearing his image was unfurled from the rafters of the Thunderdome. McArthur, who played much bigger than his generously listed 6'7" height, has settled down in Orange County after pursuing a stellar 16-year career in the Japanese professional league. Tonight, a new "Legend" will be christened (that's a clue as to her identity). What the heck; I don't see the point in keeping her name under wraps. Kristen Mann, a fabulous 6'2" forward, made one of the greatest clutch shots ever seen in the Dome, a feathery jumper against Houston that sent UCSB into the Sweet 16 of the 2004 NCAA women's tournament. Mann, a two-time All-American, has since played in the WNBA as well as on teams in Spain, Turkey, Latvia, and France, where she is flying from to appear in tonight's ceremony.
MURCHISON MADNESS: Westmont College concludes its regular season at home Saturday against Concordia of Irvine, which is ranked No. 3 on the NAIA men's national poll. The Warrior teams have both put together winning seasons in the tough Golden State Athletic Conference. The men are assured of a first-round game in the GSAC playoffs at Murchison Gym on March 3. The women are also hoping to secure a home berth on March 2.