Columns
Thematic Dramatics
Sustained Metaphorical Threads on the Radio
The show profiles in the KCSBeat's back pages reveal a fairly common ambition among the station's DJs: Do more themed broadcasts. As a KCSB listener, I never mind simply hearing whichever songs the dude or lady at the microphone happens to feel in the moment, but the sheer challenge of running a single metaphorical thread through two solid on-air hours—especially a metaphorical thread of unusual metaphorical colors or striking metaphorical patterns—makes a sport out of it.
Actual sports get called the last true bastion of unscripted drama, but I remain unconvinced. In the sort of live freeform radio you hear on KCSB, you can root all you want for your favorite DJ to successfully string together enough tracks of the 70s featuring Rainer Brüninghaus on electric piano, or songs about shoelaces originally recorded on 2″ tape—but you're never, ever guaranteed they'll make it.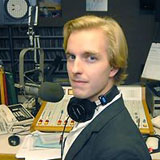 This, of course, provides one compelling reason to, like Dave from the Grave, listen to KCSB around the clock: Who knows what moments of thematic dramatics you might miss, never to be recovered? As one of the station's highest-profile theme-oriented shows, Darla Bea Smith's Rock it Properly (, profiled right here in the KCSBeat last year) has recently dedicated its time slot to specials on "space age" sounds, various pieces of Andy Warholiana, songs whose lyrics themselves talk about dancing, and all things related to legendary novelty DJ Doctor Demento. But permit me one philosophical question: Given that they happen each and every Sunday at 8 p.m.—the next, on Sunday, March 20, covers Irish rock for St. Patrick's day—can I legitimately call them "specials"?
Despite coming from a vastly different sensibility, Dick Flacks's long-running Culture of Protest shows a very similar dedication to the art of the dedicated broadcast. Recent weeks have seen Flacks give his program over to the 1949 Peekskill Riots, the Warsaw Ghetto uprising of 1943, the protests going on even now in Wisconsin, and Bob Dylan's 70th year. Every Thursday at 6 p.m., the show gets deeper into these events, whether past or ongoing, with a mixture of music, documentary recordings, interviews, and on-air discussion.
KCSB's beloved blues shows don't forget to do this, either. On Views of the Blues, which airs every Monday at 2 p.m., Sunnyland Steve has held tributes to players like Howlin' Wolf. Leo Schumaker's Bluesland (profiled in The KCSBeat in 2009) has also turned his show in particular bluesy directions, and sometimes he's even used the first half hour of his Thursday 8-10 p.m. slot to produce Running and Racing, a program dedicated to his favorite sport that often focuses entirely on particular figures in the running world.
That just goes to show that themed specials don't happen only on KCSB's music shows. On Mondays from 11 a.m.-12 p.m., Ted Coe's The Freak Power Ticket often spends the hour in one particular territory on the countercultural map. As previously noted in The KCSBeat, Coe has steered his ship into the worlds of student demonstrations, zombie movies, cult musicians, and, more recently, the work of film composer Ennio Morricone. The theme-intensive standup comedy show Afrotensity has used its midnight Wednesday slot to cover such comedic threads of importance as musical comedy, black comedy, and the bottomless comedy of love and relationships—naturally, a Valentine's Day broadcast.
So I've put out the call to KCSBers and KCSB enthusiasts far and wide: If you plan on using a show to explore a theme, or happen to have heard of an upcoming instance of the very same that you can't wait to tune in for, pass the tip along to colin@independent.com. If all goes according to plan, future installments of the KCSBeat will carry mentions of upcoming special broadcasts right under the main article. That's one way you'll be able to learn more, in the near future, about the upcoming poetic festivities on Friday morning's Frank 'n George, or the complete Motown retrospective to come on Sunday morning's BRB. And as always, keep a browser tab open to KCSB.org