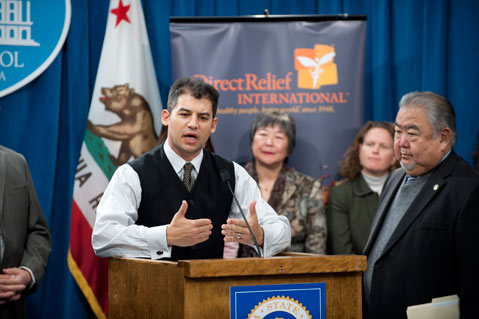 Today, Assembly Speaker John A. Pérez, Assemblyman Das Williams and other members of the Asian Pacific Islander Legislative Caucus joined Santa Barbara-based Direct Relief International — California's largest international non-profit — and the Japanese American Citizens League (JACL) to detail the efforts being mobilized by public and private entities in California to help the people of Japan.
Representatives from Cost Plus World Market and Amgen, which is based in Ventura County, were also on hand to announce their financial support. Direct Relief and JACL have established the Japan Relief and Recovery Fund, to be used solely and exclusively for Japan. This collective effort shows that California can pull together fast and efficiently.
"I am pleased to be a part this very important announcement describing the statewide efforts to help the people of Japan," said Assemblymember Williams. "It is also great to see that this is something that is being spearheaded from the Central Coast."
In addition to Amgen, the Thousand Oaks-based biotechnology company who has donated $500,000 to the cause, Direct Relief International is headquartered in Santa Barbara.
The Speaker, Assemblymember Warren Furutani, and the other participants encouraged all Californians to lend a hand during Japan's time of need. Already the Japan Relief and Recovery Fund includes $1,700,000 in financial support and millions made available in medical supplies with $400,000 having been sent to a local organization in Japan that focuses on helping displaced elderly and disabled persons.
"Japan is clearly experiencing a disaster of epic proportions. As Californians, we have had our share of natural disasters, and we understand how horrific the cost can be—not just in dollars and cents, but in human terms," said Speaker John A. Pérez. "The people of California stand with the people of Japan in their hour of crisis. We understand intimately what Japan is going through, and the long, difficult road to recovery they must now take."
"The natural disasters in Japan have taken a devastating toll, not just on the Japanese community, but the worldwide human family," stated Assemblymember Warren T. Furutani (D-South Los Angeles County). "We all have a responsibility to do everything we can to help our brothers and sisters in Japan. I encourage all Californians to contribute and assist the relief efforts."
"It's so encouraging to see people, businesses, political leaders, civic organizations of all types and communities in California come together in a time of challenges for our own state, to help the people in Japan who are facing unimaginable hardship," said Thomas Tighe, President and CEO of Direct Relief International, which is utilizing its extensive experience responding to large-scale emergencies, including the Indian Ocean tsunami of 2004 and last year's earthquake in Haiti.
"We are happy for this opportunity to partner with a superior organization such as Direct Relief, whose record of efficiency is second to none. Many of our collaborative human and civil rights organizations will be supporting this relief effort. We are pleased to provide an avenue for funds that will go directly to help stricken victims of the disaster, many who are friends and family to our membership," said Floyd Mori, National Executive Director of the Japanese American Citizens League, the oldest and largest Asian American civil rights organization in the United States.
"Amgen chose to support Direct Relief International because of their proven abilities to partner with local agencies to respond to large-scale relief efforts. Our thoughts remain with the people of Japan, whose strength and resiliency throughout this tragedy have been an inspiration to us all," said Jean Lim Terra, president, Amgen Foundation. Amgen announced its donation of $500,000 to Direct Relief International.
"Cost Plus World Market has a decades-long history of working with Japanese artisans and companies. It is important for the company to do our part to help those in need. Our hearts and prayers go out to those impacted by this devastating event," said Barry Feld, president and CEO, Cost Plus World Market. Cost Plus World Market will donate 100% of its net proceeds of sales of all products produced in Japan to Direct Relief International, to aid in the relief and humanitarian efforts currently underway in response to the country's recent earthquake and tsunami.
"I am honored and privileged to have served as Direct Relief's general counsel for the past 5 years. During this time, I have witnessed the collaborative efforts of Direct Relief with different organizations and the impact these partnerships have on their communities. We hope that DRI's partnership with JACL, Amgen and Cost Plus World Market will be able to help those in need in Japan. It is only with the support of my law firm, Brownstein Hyatt Farber Schreck, that my efforts are provided on a pro bono basis," said Michelle Lee Pickett, General Counsel Brownstein Hyatt Farber Schreck.
There are two ways to help:
1) Donate to the Japan Relief and Recovery Fund at www.directrelief.org/Japanrelief
2) Text "Give10" to 20222 to give $10 to Japan.