UP AND INTO THE GREEN: Vermont in spring gives new, deep, and regenerating meaning to that overused word of our day: green. Driving up from Burlington on a festivaling mission to Victoriaville, Quebec, I traversed ever smaller roads and byways up and over, getting occasionally lost or happily diverted along the 105, which traipses and meanders just below the U.S./Canada border. All seemed topsy with the world, except, of course, for the ever-pressurizing hands of time and deadlines. Such is life. Upon crossing the border, small yet substantive changes greet you. While the rural, rambling green terrain remains mostly the same, the language shifts to French and the speed limit signs go to 100 (kilometers per hour, that is).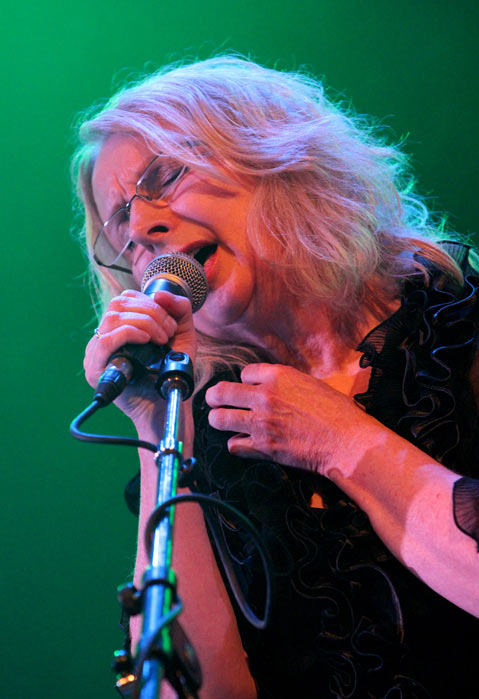 No matter how many times an avid "outside" music fan heads to the May festival in the pleasant little dairy town of Victoriaville (pop. 40,000)—more than a dozen for this devotee—you get hit upside the head with the contrast between the placid place and the extreme culture descending. It's a beautiful paradox, and no small part of the charm in Victoriaville. Here, the world-renowned (well, renowned in this select and esoteric cultural world) festival—aka FIMAV, Festival International du Musique Actuelle de Victoriaville—is the finest place on our side of the Atlantic to hear a concentrated dose of left-end jazz, artful noise, rock of the prog, anarchic and other kind, and ideas with no name or melody in the familiar sense.
On the fest's Friday night, we caught the blissfully anarchic dimensions of an all-star noise fest, with Japan's Merzbow, Frenchman Richard Pinhas and the destabilizing Detroit trio Wolf Eyes cooking up a textured wall—or landscape—of sound in the vast venue of the Colisee (a transformed hockey rink). Big, unruly, and edgy as this music might seem, you can reasonably connect the noise scene with the bucolic and bovine-populated surroundings of the place, following the logic that abstract music is, in fact, more directly connected to nature than are the namby-pamby nature allusions of new age music. (For a local taste of this cathartically abstract subculture, check out the uber-cool radio show "Smoooothe Beatzzz," Thursday afternoon on KCSB, 91.9 FM).
Victoriaville's noise beat continued after midnight with the fascinating dynamic duo of truly gifted turntablist/electronician eRikm and "real time/real tool" percussionist FM Einheit. Einheit, ex of German noise-rock starts Einstürzende Neubauten, answered his collaborator's plugged-in sound-making tool kit with a bracingly real, physical set of instruments—the industrial/construction stuff of smashed bricks, electric drill, and hammers on a huge sheet of metal and a massive, manipulated metal spring. Standard-brand percussion instruments are so bourgeois, you know, and the hardware store teems with percussive possibilities. Seriously.
My thought during this crazed and fine hour of sound, very early on the morning of May 21, was that if Rev. Harold Camping was right and the world was reaching its apocalyptic exit strategy later that day, this would be a great last hurrah to put a smile on my face as I rode into the humanity fade-out. Alas, we have lived to see another batch of days.
As festivals go, variety becomes FIMAV, and its trick is always creating a puzzle whose diverse pieces fit into a workable whole. This year, for instance, the festival opened with Tzadic recording artist Koichi Makagami's "Tokyo Taiga," an experimental ethnic trio of musicians from Japan and Altai (close to Tuva). It closed, four days and 19 shows later, with a tribute to the music of British art rock legend Robert Wyatt, in an ensemble with the likes of Dagmar Krause, Karen Mantler (daughter of Carla Bley, and looking and sounding similar), and drummer Chris Cutler.
Really, though, the big news at Victoriaville in 2011 was the galvanizing presence of two genuine, veteran giants in the free/experimental jazz scene, saxophonists Anthony Braxton and Peter Brötzmann. These old-school free jazz heroes more than satisfied high expectations in a one-two Saturday night special wingding. For the cerebrally inclined Braxton, 65, his real time playing with his septet of young players was mixed with sampled snippets of past Braxton recordings, creating a compelling soup of temporal ingredients, past and very, very present. By contrast, famed German free jazz furnace-tender Brötzmann (now 70) was, expectedly, lost in and also in charge of the almighty moment. He appeared both in a trio (with great Norwegian drummer Paal Nilssen-Love and sludge-sicle electric bassist from Italy Massimo Pupillo) and a masterful solo saxophone concert on Sunday afternoon. There, he ended a set of freewheeling and sometimes ferocious soundings-off—on tenor, alto, and soprano saxes—with the graceful purr of "I Surrender Dear" in homage to Coleman Hawkins.
We can add to this short list of 2011FIMAV highlights the mind-bending Dadaistic vaudevillian virtuosity of the Dutch Jaap Blonk, who does things with his voice and texts (including historic 1920s-era sound poem works by Kurt Schwitters and others) that nobody else does. I felt my mental pores opening up during his solo show, called "Dr. Voxoid's Next Move." Some semi-Godly vision of controlled abandon welled up inside of me. Or maybe that's just Harold Camping putting the religious inklings in me, redirected toward the dada side by the shaman Blonk. It's the kind of epiphany occasionally to be found in this cowtown, although you never know when it will hit and zap your sense of wonder. Such is life.
PRE-FEST FEASTING: According to some of us admittedly fringe-y characters with an inordinate love of music created in the last century, the Ojai Music Festival remains the greatest and most internationally buzz-worthy cultural event in the tri-counties. While the official festival doesn't kick off its four-day fandango of the new and the newish until next week, June 9-12, this Saturday night brings on a pre-party gala of both musical and infrastructural import.
This year marks the unveiling of the new and improved Libbey Bowl, site of this great pre-summer event for decades on end. Yes, we've loved the place's funky edges, but it was overripe for a makeover. Mission accomplished. Saturday's "First Blast" preview concert in Ojai features major figures, including this year's festival music director Dawn Upshaw, stellar and even "accessible" contemporary music group eighth blackbird (music directors two years back). On the menu are famed composer Osvaldo Golijov's Ayre with eighth blackbird, along with other sounds from Latin America, with accordionist Michael Ward-Bergeman, tango pianist Octavio Brunetti, and composer/guitarist Claudio Ragazzi. The pre-festing continues on Sunday with a "Day of Music" with noted Ojai-based musicians and the unveiling of a new sound-based public art piece by Ojai-beloved maverick Trimpin.
For those as-yet unlured into its special world, the Ojai festival, up to its 65th year now but with nary a sign of retirement thoughts, is a thing of cultural wonderment and a top-drawer window on the state of "serious music," living musician division. Rattling off a list of significant composers and music directors over the years is still a good way to telegraph the festival's importance: Igor Stravinsky, Aaron Copland, Pierre Boulez, John Adams, Steve Reich, Gyorgy Ligeti, Olivier Messiaen, Esa-Pekka Salonen, Michael Tilson Thomas, Lukas Foss, and on and on.
This year, we'll get a strong dose of the good stuff, featuring and organized by Dawn Upshaw, and including director Peter Sellars, the Australian Chamber Orchestra (which dazzled us in its CAMA concert two years ago), and a rare regional visit from perhaps the most adventurous big band jazz artist around, Maria Schneider and her great band. Schneider has also penned a new "classical" piece, to be premiered at Sunday night's closing show. Once again, Ojai allures.