Angry Poodle
Seven Habits of Highly Effective Dogs
Poodle Caught Napping as Santa Maria Mayor Threatens Mexican Consulate with Military Action
WE DON'T NEED NO STINKING BADGES: Say what you want about Santa Maria Mayor Larry Lavagnino, but he doesn't waste time on pleasant niceties. When it comes to dissing someone, Larry is all about the economy of word and motion. If brevity is the soul of wit, Lavagnino is wet-your-pants hilarious. Unless, of course, you happen to be the Mexican Consulate stationed in Oxnard. Or any of the thousands of Mexican nationals who live in Santa Maria — a town that worked exceedingly hard to achieve its much-coveted status as an officially designated "All-American City." That's because on April 5, Mayor Lavagnino shot a zinger of an official communiqué to Mexican Consul Rogelio Flores Mejia. In just 102 words — barely enough for me to write a caption — Larry did everything one man can possibly do to create an international incident. That he failed to create much of a stir is hardly his fault. As usual, we just weren't paying attention.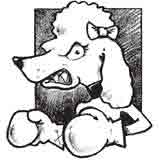 At issue was a planned visit that the Mexican Consul had hoped to make to Santa Maria on May 5 to hold office hours and issue national identification cards to Mexican citizens living in Santa Maria. For a lot of people who helped make agriculture a billion-dollar business in Santa Barbara County, these national IDs, it turns out, are incredibly important. Without a proper ID, it's impossible for migrant workers to open regular bank accounts. Instead, they have to rely on predatory payday lenders, not known for their scrupulous banking practices. For those seeking to establish legal residency and citizenship, a bona fide ID — as opposed to forged documents — is crucial for starting the process. For the past five years, the Mexican Consulate has been dispatching small caravans of employees to Santa Maria on an intermittent basis to handle this need. It was easier, cheaper, and far more convenient than making people drive from Santa Maria to Oxnard. Who knew bureaucracies could be so responsive? At first, these events took place at Santa Maria's Veterans' Hall; after that, they were held in the parking lot of a Wells Fargo bank. These visits typically draw big crowds, ranging in size from 400 to 800 people. Wells Fargo was not up to the task and opted out. So in March, a small do-gooder nonprofit stepped up to volunteer its parking lot for the visit. It was in way over its head. The event proved such a traffic nightmare that people could not drive into the McDonald's next door. There were a whole lot of Unhappy Meals served that day. Mayor Lavagnino definitely got an earful.
In a parallel universe, perhaps the mayor would have helped find a more suitable site — like maybe a fairground or school parking lot. Isn't that what mayors do with their big ceremonial scissors — cut knots and solve problems? But even with Santa Maria's Latino population now exceeding 70 percent, that's not the universe where Larry lives. Instead, he all but declared war. As a matter of international treaty signed in 1871, the Mexican Consulate has the absolute right to minister such services to Mexican nationals living in the United States without so much as a "please" or "thank you." But Lavagnino trumped that. He notified the Mexican Consul that "the City of Santa Maria would formally request ICE (Immigration and Customs Enforcement) to respond to such an event." If threatening to call La Migra wasn't enough to poop the party, Lavagnino also threatened to dispatch Santa Maria cops to the scene. There, he announced, they would cite any and all unlicensed drivers they found. Given that Mexican nationals not here legally are barred by state law from having a valid California driver's license, that would be just about everybody behind the wheel of a car. Given that many cops insist they are required to impound the cars of people driving without a valid license, this was a major threat. (It should be noted that I, myself, was recently stopped for driving with an expired license after having flagrantly run a stop sign, though late at night and in the middle of nowhere. The CHP officer in question duly announced that he could have my car towed. "But that would be a dick-head move," he said — yes, that's an exact quote — before he was gracious enough to let me off with just a warning.) Lest Larry leave the city vulnerable to accusations of racial profiling — "driving while Mexican" — he indicated that such citations would be issued only with "probable cause."
Maybe in some parallel universe all this would be cause for controversy. But this being Santa Maria, Lavagnino actually issued a press release announcing what had happened. But then who can forget how former Santa Maria mayor George Hobbs inveighed against "the Mexican problem" back in 1990? Yes, all the decent sensible people expressed all their usual shock and outrage. But when Hobbs ran for reelection, he got 71 percent of the white vote. It qualified as a good old-fashioned ass-whupping. In 1999, Santa Maria made the mistake of hiring John Sterling as chief of police, a certified cop's cop who held the novel notion that the department could best deal with crime by building strong working relationships with Santa Maria's Latino community. He even meant people who'd been critical of the police department. When Sterling proved that he was serious about this — and good at it, too — the cabal running City Hall unceremoniously fired him. They trumped up some pseudo-reasons, shaky enough that they had to pay him a handsome sum to shut up and go away. Sterling would be replaced as chief by Danny Macagni — the antithesis of a cop's cop. He incited such an uproar among his troops that by 2006, they went public with a host of accusations, including how liberal he'd been with his use of such terms as "nigger," "chink," "stupid wetbacks," and "damn Mexicans."
It's not my intent to wax superior about Santa Maria. That's a cheap stunt, and we have plenty of problems of our own right here. Mostly I feel bad I missed the story. It seems like a big deal. Mayor Lavagnino has given a whole new twist on what it means to be an "All-American City." As such, he needs to be acknowledged. Come on, he even sent out a press release. In the meantime, don't bother looking for me. I'll be asleep at the switch.