News
UC Regents Approve 9.6 Percent Tuition Hike
Second Increase in Eight Months; Professors and Lecturers Weigh In
In 2009, faced with a 20 percent drop in state funding, University of California regents passed a 32 percent increase in undergraduate tuition, activating the avalanche of protests, further cuts, and efforts by the UC system to "trim the fat" from its 10 campuses. At the time, regents argued that by charging about $2,000 more per undergrad, the UC could potentially close the gap resulting from a $650 million decrease in state allocations. At least that's how Yudof and his colleagues explained their unanimous vote (save for Jesse Bernal, the 2009 student regent) in that fateful November 2009 meeting.
Then, this March, the state cut another $500 million. That was after the regents approved an eight percent tuition hike in November 2010 for the 2011-2012 school year. About two weeks ago, the state cut another $150 million, bringing the reduction in state funding for the 2011-2012 school year to a level that mirrors what was implemented in 2009. Regents met in a three-day series of meetings on July 12, 13, and 14, which culminated in an affirmative vote Thursday to increase tuition — for both undergraduate and graduate students — by another 9.6 percent, bringing tuition this fall up 17.6 percent total.
In-state undergraduate students will now pay $12,192 in tuition per year, up from $10,302 for the 2010-2011 school year. The number does not include room, board, and roughly $1,000 in campus-based fees. Meanwhile, CSU Trustees voted Tuesday, July 12, to add a 12 percent increase to the already-approved 10 percent increase on CSU tuition this fall. CSU tuition — like UC tuition — has tripled over the last decade, and will now cost $294 more per semester.
Back in 2009, when the decade-long tradition of state fund decreases and student fee hikes suddenly accelerated, regents' go-to justification for the hike that sent the $7,788 tuition price tag to a number flirting with five digits was that the UC's income is derived from two main sources: state funding and student tuition, the justification being that if one goes down, the other must come up.
Rather than save the ship, the imbalance has only intensified and measures to cut back (by eliminating departments, freezing hiring, increasing overall undergraduate enrollment, bringing in more students from out-of-state, etc.) have invited investigation from a growing, skeptical academic community.
I sat down with Bob Samuels, president of the University Council – American Federation of Teachers (UC – AFT), which represents more than 4,000 lecturers and librarians employed by the UC, to get his take.
"The thing I've focused on is looking at the budget and how much the university spends on undergraduate students," began Samuels, a lecturer at UCLA's writing program and author of popular blog Changing Universities. "It turns out they have a standard calculation… They say it costs $17,000 to educate each individual student." (Samuels added that the calculation is based on highly generalized, abstract numbers.)
"This is for 'instruction and instruction-related things.' The state used to give about $10,000 per student, and each year it goes down a little bit; students pay more and more of that. The problem is, it costs much, much more to educate graduate students than undergraduates. There are 205,000 undergraduate students and 25,000 graduate and professional students, which have the smallest classes and highest paid professors. So what happens is they keep on raising tuition on undergraduate students because they're the only thing that brings money into the university."
"We discovered a couple years ago that when students pay tuition or fees, it all goes to the UC regents," continued Samuels. "Then the office of the president redistributes the money." The formula followed in this process is not public information. So the state auditor approved the most expensive audit the state has ever done. When the state budget review comes out July 28 (which is tentative as the date has been pushed back several times already), it will spell out in detail the inner workings of budget distribution.
What we do know, according to Samuels, is that UCLA gets about $27,000 per student, while smaller schools like UCSB and UCSC — that is, schools that have fewer and smaller graduate programs — get around $16,000 per student. We also know that in the past, tuition fees from all campuses have ultimately subsidized graduate students at campuses like UCLA and UC Davis. That will change this school year, when, for the first time, money generated from student fees will remain on students' respective campuses.
According to Samuels, the problem stems from the way funds are distributed not only by the UC but also by the state. "A few years ago we looked at the [campus tax schedules] … we took state funds, student fees, and tuition. We divided it by the student body and we found these incredible inequalities," he explained. "They've dealt with part of the problem by letting campuses keep the money from fees, but the bigger problem is the state funds not being distributed equally."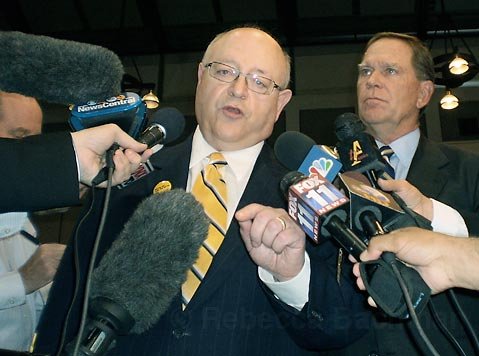 I spoke with several UC professors, both from the Santa Barbara campus and others, and one point unanimously and adamantly made was a commitment to higher public education. When asked, none said they would leave the UC for another, higher-paying institution — though a couple had thought about it.
I asked what differences they've noticed, and almost all responded first by listing negative implications for students. "Classes are larger. Students have more difficulty putting their schedules together," said Michael Meranze, a UCLA history professor whose commitment to the UC began when he was a PhD student at Berkeley. "Students are forced to take jobs because fees are going up, which affects their time and their energy," he went on. "In a class that has 50, 60, 70 students in it, we can engage with the students in a different way than if it's 100. Even a shift of 10 to 20 students in a class can alter the learning experience of students, in a bad way."
UCSB history professor Mary O. Furner echoed Miranze and took points to a national level. "[We're losing] the ability to support graduate students, who are essential to our teaching mission and our next generation of college teachers." She's worried about recruitment of both professors — "We are desperately short-staffed in the History Department," she said — and graduate students.
"We might admit [graduate students], and then they get an offer for five years of full payment from a private university, and they go, even though they know they would get a better education here," continued Furner. The National Research Council recently rated UCSB's graduate history program among the nation's top 10.
Furner is worried about the future. "It's through grad students that fields reproduce themselves… When baby boomer generation professors retire, will there be enough PhDs out there to sustain our commitment to higher education?" Furner also pointed out the "flip-flop" over the last decade in state funding for prisons versus public education.
Other professors added that they see undergraduate students rushing to finish their degrees in order to minimize debt upon graduation, making efforts toward bachelor's degrees stressful, rather than exploratory and fulfilling.
On July 8, bond rating agency Fitch gave the UC's General Revenue Bonds (GRBs) an AA+/F+, meaning GRBs to be issued by the regents for the benefit of UC are extremely stable and promising, both in the long term (for which AA+ is the second highest possible rating) and the short term (for which F+ is the highest possible rating). The bonds, which go on sale on set dates through July, are taxable. According to the report, $935 million of proceeds will help fund the UC Retirement Plan, and $265 million will help the UC cope with state funding cuts.
Like any business, maintenance and growth of the UC relies on borrowed money. Considering the UC's $17 billion in debt, a good bond rating is crucial. Among primary rating rationale Fitch provided in its positive report were the UCs "diverse revenue base" and "ability to raise tuition and fees."
Funding for California's public K-12 schools will be similar to already reduced levels from last year, but, overall, the state budget is such that cuts of an additional $3.5 billion will be taken from California's public colleges and universities over the next two years.
President Yudof insists that he is committed to stabilizing the "yo-yo" for students. Time will tell whether the hikes can truly "help stabilize the University's fiscal situation," in the words of the UC Committee on Finance's report. The general consensus among professors, however, is that they won't.