Columns
A KCSBeat Retrospective, Part I
The Music, the History, the Mysterious Super-Listener
Not that it means anything to you longtime KCSBeat readers, but I've just realized, in this column's final weeks as a going concern, that interested parties who stumble upon these archives won't know what to read first.
In line with what has become established Internet tradition, The Independent's column archives present you with the most recent installments first. Given that readers coming late to the KCSBeat will see these final two columns before they see anything else, it makes only good sense to use them to take an organized look back on the freeform radio-inspired textual content we've accumulated in the past not-quite-two years.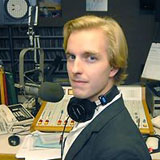 We began our exploration of all things KCSB back in October 2009 with a brief history of the station, though you might argue about whether stretching out to eight parts really remains in the realm of brevity. I accept no blame for this, pointing instead to how many interesting people have passed through the station and how many interesting things they've made happen since it first fired up as a dorm-room experiment in 1961. They've earned legitimate broadcasting licenses, they've endured and reported on the Isla Vista Riots, they've upgraded the station's gear and expanded its programming, they've sought new dial positions and started up 'zines, they've boosted their wattage, they've seen off Sean Hannity, they've argued about their mission, and they've gone online.
As easily as one can get lost in KCSB's historical archives, one can't ignore the goings-on at the station today. I personally managed to avoid ignoring such shenanigans as the resurrection of Livewire, the hybrid schedule and 'zine with origins in the early 1980s, the station's forays into podcasting, and its use of standard technology for much more creative ends. KCSB's history and the KCSB's present came together in a November 2010 Indy cover story on the station's looming 50th anniversary. Alas, I regret not being able to deliver only good news, as I certainly couldn't when Arts & Letters Daily founder and KCSB's first FM general manager Denis Dutton shuffled off this mortal coil later that year.
Amid my research into KCSB, one question kept popping into my mind: What separates the best freeform radio stations — the survivors, the founts of unusual programming who keep pumping out an untainted signal for decades and decades — from the rest? No one answer exists, but I can tell you that a good music library helps. KCSB, of course, possesses one such library, a feature that regularly moves trainee DJs to spend hours digging through it, discovering new and inspiring oddities. I've spent no small amount of hours digging through it myself, on the official KCSBeat business of finding column-inspiring oddities — and, should readers decide to start broadcasting themselves, show-inspiring oddities — from shelves including but not limited to classical, jazz, hip-hop, rock, folk, and blues. These expeditions also took us beyond mere genres to musical trips around the world and into the catalog of ECM, which I humbly consider the finest record label in existence.
It occurs to me that, while I've harvested information aplenty on the creators of KCSB, I may not have talked to as many listeners of KCSB as perhaps I should've. Without the listeners, after all, freeform radio becomes the proverbial tree falling in the woods. Lesser stations know this feeling all too well, but one man singlehandedly ensures that KCSB need not: "super listener" Dave from the Grave, who keeps both his radios tuned to KCSB at all times and calls in to talk to DJs morning, noon, and night, but especially in the lonesome wee hours. I did talk to him, though it first required me to research his relationship with the station and gain his perspective first-hand by listening to KCSB all night. Only then could I obtain deep insights into his life.
But what about all the programs Dave, not to mention every other KCSB listener, tunes into? You'll find an abundance of information on them next week when this wrap-up wraps up — which, if you're one of those latecomers just now digging into the KCSBeat archives, you've already read.