News
Insurance Commissioner Addresses Fire Victims' Woes
Dave Jones and State Staff Members Tour Burned Areas and Hold Town Hall Meeting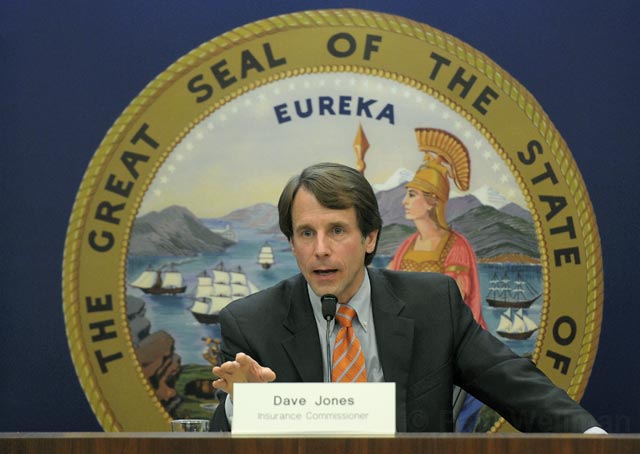 After touring Santa Barbara areas and homes damaged by the 2008 and 2009 Tea and Jesusita fires, California Insurance Commissioner Dave Jones and other state staff members held a town hall meeting in the County Administration Building Thursday evening to address people's insurance-related questions and concerns.
Speakers offered strategies for obtaining adequate insurance, spelled out Jones's recently enacted insurance regulations, and highlighted reforms to California FAIR Plan property insurance (CFP) which is available to residents who do not qualify for voluntary homeowners insurance. After these presentations, the floor was opened to attendees.
Many fire victims said they believed they had adequate homeowners insurance but quickly found they were underinsured when disaster struck. Lack of information and confusion were common themes in audience comments. "The way it was explained to us by our insurance agent was that once we bought our expensive companion policy we were well-insured. The wrap-around plan covered everything that California FAIR Plan did not," recalled a resident, who wished to remain anonymous. "Obviously that wasn't true, and we were paying for two insurance policies."
Jones and Deputy Commissioner Tony Cignarale suggested homeowners know the specific form of insurance they have and exactly what it covers. For instance, Guaranteed Replacement Coverage covers the cost of home replacement in case of total loss over the limit agreed to by the insurer, while straight Replacement Cost Coverage will replace one's home but only up to the amount the insurer agreed to pay. Actual Cash Value Coverage will only pay fair market value of the structure, and this value is much lower than rebuilding costs.
Owners should also understand various categories within their policies, Cignarale went on. He discussed structural coverage that assures consumers have enough money to completely replace their homes in case of complete destruction, and demand surge protection that covers increasing costs when demand goes up and prices follow suit. Finally, consumers need to assess personal property, he said.
"We highly recommend doing a home inventory now and looking at it every year," said Cignarale. The insurance department's "Home Inventory Guide" was available for meeting attendees. "You may have a really fine, expensive set of chef's cutlery, but if you don't document that, you may end up with common flatware," said Jones.
Jones's recent regulations, he explained, further protect consumers by enforcing consistency and providing clarity and accuracy in home replacement cost estimates. To combat underinsurance, the regulations hold insurers and brokers to a standard that ensures they provide consistency in estimates.
Estimates must include "all of the costs that many of you after the fire had to encounter to replace your homes," said Jones. These costs include building materials, deconstruction, debris removal, architecture fees, planning and permits, and other items often forgotten until rebuilding is necessary. Insurers must supply copies of estimates to consumers. The estimates must include 16 or more components — a plethora of property detail from square footage to kitchen style. Brokers must also take a three-hour training on replacement costs to ensure thorough, accurate written estimates for customers.
Jones reported that within weeks of the regulation's inception, the insurance companies filed suit against him, arguing he was infringing on their First Amendment rights.
Many people affected by the fires were unaware they lacked adequate coverage or funds to rebuild. "We were fortunate enough to get a construction loan, but many of our neighbors are not in a position to do that and have had nothing but delays," said Kathleen Johnson. "They've spent every dime of the money they've been able to collect, and they're still short."
Finally, Senior Staff Counsel Christopher Citko discussed the CFP reforms. CFP covers many residents, at least partially, in the devastated neighborhoods. One point reiterated throughout the meeting was CFP's existence as California's property and fire insurance of last resort. CFP provides basic fire insurance but is not as comprehensive as insurance in the private, voluntary sector.
California has 100 companies that sell homeowners insurance. "I know there are some limitations, especially in the higher risk areas, and that will narrow that 100 down greatly," said Jones. However, all present were encouraged to shop around for adequate coverage.
Many residents expressed frustration with the inconsistency over who is able to get private coverage and the lack of benefit received by those who must stay with CFP. "I was one of the first people to get all the way through and able to negotiate a voluntary market plan with an East Coast company, and I was charged no brush charges," said Claire Gottsdanker. "My ex-husband, who happens to live on the three acres next door, has not been able to negotiate a voluntary market plan, and he has gone back to FAIR Plan. He is charged exorbitant brush charges, above what he had previously with FAIR Plan, which is making his policy almost unaffordable … "
The announced CFP changes included efforts to inform consumers about other homeowner insurance options, implementation of an insurance comparison chart as well as other Web site updates, and mailings about reducing brush and wildfire charges for policy holders. CFP expanded fair rental value and building code upgrade limits, or amounts paid out, while implementing an automatic opt-in for inflation guard to protect against growing costs.
CFP representative Mike Harris was present to answer questions, but confusion over CFP was palpable. "I understood when the State Legislature created the California FAIR Plan, the intent was that the major insurers shared the risk in these high fire areas," commented a resident, who wanted to remain anonymous. "I did not understand that the intent was to essentially leave a whole group of consumers drastically underinsured."
Harris was happy to report that CFP's business has decreased by 16 percent in the area. This means people have found voluntary coverage or other insurance options. "We really don't want the business; however, we're there in case you can't find anything," said Harris.