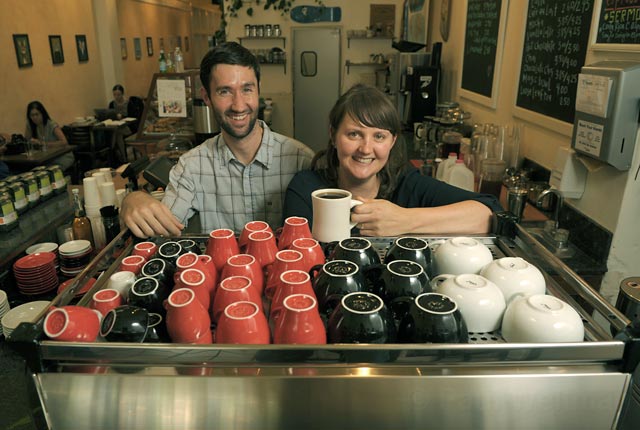 Coffee House
The French Press
1101 State St., 963-2721
It took the readers a while to discover what Independent staffers have known for at least two years; namely, the French Press. The espresso shots are blissfully muddy, like Turkish coffee made in an ibric. The regular coffee is anything but. When it comes to a cuppa joe, Julia Mayer and Todd Stewart have raised the barista.
Finalist
Starbucks
Tea Selection
Vices & Spices
3558 State St., 687-7196
Co-owner Blue Booth, who began this business 36 years ago and was soon joined by Henry Wildenborg, thinks this is a great time to drink tea: "It's like coffee was back a decade ago. All of a sudden a whole bunch of new teas are available." Like Golden Monkey, for instance, from Yunan, China, which Booth describes as being low tannin and beautiful. Or Pouchong, a tea that is somehow magically between a green and a black tea, semi-fermented, and seasoned with coconut extract. Do you see why the readers, discriminating hedonists all, love this place? It fits them to a tee.
Finalist
Coffee Bean & Tea Leaf
Happy Hour
Enterprise Fish Co.
255 State St., 962-3313
"That's easy," said manager Eliana Britton, when asked why the readers picked this intentionally funked-up former laundry that serves fish as a great place to get happy. "We have one-dollar oyster shooters, ahi poke, steamed clams, steamed mussels, calamari, chicken sliders, and more and all under five dollars," she said. Mix that with great wine and beer prices and you get a recipe for happy customers hooked on getting happy.
Finalist
Arch Rock Fish
Beer Selection on Tap
Zodo's Bowling & Beyond
5925 Calle Real, 967-0128
With just the bewildering statement that there are 40 beers on tap, you might not understand how specifically promising that might be. Examples. Guinness, black with a creamy head; Modelo Especial, hoppy from Mexico; Rolling Rock, Spenser for Hire used to drink it; Fat Tire, you know, for the kids; Figueroa Mountain IPA, well, whatever — I saw a rattlesnake up there once; and, finally, Lost Coast Tangerine Wheat, just the name gives us amber waves of which to dream. But all of this would be nothing, if there wasn't a bowling alley, too. Zodo's, the Dude would do more than abide here.
Finalist
Brewhouse
S.B. County Brewery
The Brewhouse
229 W. Montecito St., 884-4664
"We hope that people are voting for us because we make really flavorful beer," said Pete Johnson, the brew master of this popular hangout, restaurant, and brewery. "We've been open here since 1984," said Johnson, "and though we always talked about making beer, we didn't really get started with that until 1998." Johnson said the IPA is their biggest seller, though he's pushing the Oktoberfest brew now that October is here. "It's great that we won," said Johnson, "because the people who buy the beer here really care about it."
Finalist
Telegraph Brewing Company
S.B. County Winery White Wine
The Brander Vineyard
2401 N. Refugio Rd., 688-2455
"We're really best known for the varietal sauvignon blanc," said Megan Cutler, assistant tasting room manager at Brander. In fact, they currently have seven varieties of the varietal, and the owner, Fred Brander, who is one of the original pioneers of Santa Ynez winemaking, was once dubbed the King of Sauvignon Blanc by one of the more knowledgeable wine magazines. Their most popular brand is the Santa Ynez Valley model, which is made from a blend of grapes grown around the valley, selected by Brander and his assistant Fabian Bravo. (I know, great name.) "We like to make the wine very true to the varietal," explained Cutler. "Fresh with light acidity; refreshing and clean; something light and crisp." It's good to be king.
Finalist
Santa Barbara Winery
S.B. County Winery Red Win
Jaffurs Wine Cellars
819 E. Montecito St., 962-7003
Like Brander's hold on the sauvignon blanc varietal, Jaffurs has seven types of syrah, and the most popular is simply titled Santa Barbara Syrah. (See above: the coincidence is kind of weird.) Craig Jaffurs's staff is nearly delirious about winning, breaking into loud hoots of pleasure as the news spread across the Montecito Street warehouse and winery. "We like to make it clean and full of fruit," owner and winemaker Jaffurs said. "And powerful and fun."
Finalist
Carr Vineyards & Winery
Restaurant Wine List
Wine Cask
813 Anacapa St., 966-9463
It's not like the old days, explained wine director Branden Bidwell, when the Wine Cask restaurant wine list was basically the contents of the Wine Cask store. In the meantime, the restaurant got a new owner, and then was re-opened by original owner Doug Margerum. "So our wine list is only 16 pages as opposed to the 90 or so it used to be," said Bidwell, who claims that the quality is still quite high, though nowadays the focus is stronger on our-vicinity varietals. "You can still get all the big Napa wines and imports," he said, but noted that people's wine-drinking habits have become more moderate than they were in the '90s when every table had a $300 bottle on it. They've also been exploring serving wines directly from casks at their little bistro Intermezzo next door, and are excited about the readers' support and the shape of wining and dining evolutions to come.
Finalist
Opal Restaurant and Bar
Place for Wine Tasting
Kalyra by the Sea
212 State St., 965-8606
Australian-style wines served in Santa Barbara in a room that makes the South Seas seem to be right outside the window. "We try to take the nob out of wine snob," said Kalyra co-owner Martin Brown, who really insists that they want to make it fun again. A $10 pouring fee provides you access to whites, reds (including an Argentine varietal torrontés that originated in Spain), and the famed dessert wines, ports, and ice wines. A step up from the touristy beachside bar scene and a great way to feel right here and down under simultaneously.
Finalist
Carr Vineyards & Winery
Wine Shop
The Wine Hound
1221 Chapala St., 845-5247
It's full, official trademarked name is The Winehound: The Hunt for Remarkable Wines Made Easy (TWTHRWME, for short). But that doesn't make them elitists. "We always appreciate fine accolades," said Dennis Ferguson, who claims his official title is "I sell wine." Ferguson is particularly proud of the many values available at the store, including close-out sales of vintages that can sometimes knock the price of a good $20 bottle of wine down to $5. Wondering whether the high end was available, we asked if we could race in and buy a Chateau D' Yquem. "Normally you could, but somebody just bought it," he said, noting many other boutique and rarer vintages and labels on hand. But ultimately, it's a place for the avid oenophiles of any price bracket. "We have great wines and a great staff and we're interested in promoting the love of wine."
Finalist
East Beach Wine Company
Martini
Harry's Plaza Café
3313-B State St., 687-2800
"That's awesome," said manager Heston Turville, who admits that there is some leeway available in the definition of martini, ranging from gin or vodka questions to the classic with an olive or the nouveau stuff like lemontinis. "A lot of it probably has to do with the fact that we are one of the biggest pours in town. But on the other hand, our bartenders have been doing this for a long time and our patrons are very particular. We're just happy we won."
Finalist
Lucky's
Margarita
Carlitos Café y Cantina
1324 State St., 962-7117
In 1978, the Lopez-Hollis family completed the evolution of a former hamburger stand into the perfect party and dining spot across from the Arlington and just uptown enough to be respectable. Though many of the dishes, including the mole, are justly praised, it has been margarita central for a long time, too. Carlitos plays host now to Fiesta crowds, it has become one of the traditional stops, but it also beckons people as far south as Los Angeles to drive up here, sip a frosty mindbender, and maybe dance in the streets on any normal weekend. Lucky for us, we live here and, thanks to the readers, are reminded annually where to go when we hear blenders fizzing in our minds.
Finalist
Blue Agave
Stiffest Drinks
Joe's Café
536 State St., 966-4638
Joe's pours stiff drinks. Might as well say, rivers flow into the sea; the Beatles wrote some hit songs; Chicago Cubs fans live on hope; Archie can't make up his mind between Betty and Veronica; it takes money to make money; Fox News is neither fair nor balanced. But mark ye this verily, Joe's pours stiff drinks.
Finalist
Harry's Plaza Cafe
Neighborhood Bar
The Neighborhood Bar & Grill
235 W. Montecito St., 963-7600
"I can't believe it," said the ecstatic Neighborhood owner Dave Burkholder. "That makes it a three-peat." The big bar on the corner of Montecito and Bath down by the waterfront is winningest for more reasons than its easily suggestible name. "I think our secret is that we try to stay affordable; it's a simple, fun, and affordable bar," he said, adding that he gets a lot of repeat business because people think of it as an everyday kind of place rather than a special occasion. "We're very thankful for the votes. From this moment on, we're determined to win it every year. So next year is our next challenge."
Finalist
The Brewhouse