Health Food/Nutrition Store
Lazy Acres Markets
302 Meigs Rd., 564-4410
"We are absolutely happy to win," said store manager Jason Dew. "If anything, I would guess it's our consistent quality that keeps customers coming back. That and the fact that we are always doing our best to be a part of this community, and we have been for the last 20 years," said Dew.
Finalist
Whole Foods Market
Fresh Fish Market
Santa Barbara Fish Market
117 Harbor Wy., Ste. A, 965-9564
"Of course we are happy to win," said S.B. Fish Market sales manager Janie Foley. "I think it's our friendly service that makes people vote for us. We always say, though, it's because we have the best quality fish and the support of the local fishermen."
Finalist
Kanaloa Seafood
Produce/Greengrocer
Tri-County Produce
335 S. Milpas St., 965-4558
It's nice that so many of our readers' choices have long histories. Tri-County Produce, according to current owner John Dixon (he co-owns it with his father, Jim), was first built in 1950, when a man named Harry Bowman served up the veg. Sometime later (the dates are lost in antiquity), Virgil and Marie Elliot took over the big, barn-like warehouse, open to the elements, full o' green, then John and his father bought the place in 1985. If you've been around a while, you may have never noticed any difference. It's always been great, and, what's really cool, it even has one of the original employees, Roke Fukamura who graduated from S.B. High and went to work for Mr. Bowman back before Eisenhower. "We also have the freshest and the best produce at the best prices," promised Dixon. "I know because I price check five other stores regularly. Thanks to the readers," he added.
Finalist
Farmers Market
Ice Cream Shop
McConnell's Fine Ice Cream
201 W. Mission St., 569-2323
McConnell's exists in a land beyond careful fears and health concerns, and somewhere near pure nostalgia — even when we are eating it consciously in a celebratory present. Its buttery texture coats the roof of your mouth in ways that can only send the heart messages of life in a danger zone — which is always the best in life. The icy undertones, however, are matrices of remembered pleasure that break open in the mouth releasing little poignant stories, Proustian rebirths. A childhood summer hides inside Elberta Peach and Peppermint Stick, soft and deep decadent evenings lurk near the Chocolate Burnt Almond, while the jolt of hoped-for inspiration bursts from gritty, sweet Turkish Coffee. Some things on our lists are not just products of Santa Barbara. Rather, they are ways of defining what it means to live in this city. McConnell's is not just a long-held pleasure; it's frozen sweet memory brought back to life.
Finalist
Cold Stone Creamery
Frozen Yogurt Shop
Yogurtland
621 State St., 564-8680
"Sweet," said Yogurtland owner Eui Oh, who opened the sprightly frozen dessert buffet store with spouse and Westmont grad Amanda Oh four years ago, and then proceeded to take top honors for the next three years in a row. "We are very happy to win," he said. "I think it is the unique flavors and that they are all real," he added, explaining that the Oatmeal Cookies has real cookies in it. "The Fresh Strawberry has real strawberries." (What about the snozzberry?) That plus the freedom: "People can serve themselves as much or as little as they want," said Oh. "It's very sweet that we won."
Finalist
McConnell's Fine Ice Cream
Bakery
Jeannine's Restaurant
3 locations
Eleanor, Alison, and Gordie Hardey started a little bakery on Carrillo Street near Roy (best late-night eats) 27 years ago. "You know we still have some of the same customers that we had back then," claimed Eleanor. "We definitely have the same baker, Francesco. It's a mom and pop shop and we definitely have our hands full trying to keep up with Starbucks and Coffee Bean & Tea Leaf. But I can't wait to tell my 81-year-old mother we won. She's going to be very happy."
Finalist
Renaud's Patisserie & Bistro
Doughnut Shop
Spudnuts
220 W. Carrillo St., 899-2779
3629 State St., 569-3719
With two locations in Santa Barbara, Spudnuts has something like a beachhead here for a franchise that goes back to World War II, based on a recipe that goes back to Germany. Hmmm. Actually, there is no parent company anymore, according to Wikipedia sources, but that doesn't mean our little cluster of sinker-vendors has been orphaned. A recipe that includes potato flour aside, the bottom line is the doughnut itself, a food that ought to have enjoyed the pinup, comfort-food role that cupcakes have had for the last five years. Delicious Spudnuts: Not Just a Corporation Anymore.
Finalist
Eller's Doughnut House
Bagel Shop
Jack's Bistro & Famous Bagels
3 locations
"We're ecstatic," said Jack's office manager Charla Marshall upon learning that they had won best bagel without resorting to a shmear campaign. She claims that it all rests in the power of the bakers who at any given point have about 10,000 bagels ready to bake. The popularity of bagel varieties seems equally distributed, Marshall said, varying from the plain (young customers) to the specialty models chockablock with cheese (a favorite of the older sophisticated set). Secret ingredients? Nice try, but the formulas are kept under keys and lox.
Finalist
Ultimate Bagels
Juice/Smoothie Bar
Blenders in the Grass
12 locations
What is their secret that keeps them winning for all these years? "Uh, we make good smoothies," said the loquacious Keric Brown, one of the three owners who started this tiny chain — now 12 strong — almost a dozen years ago in that hotbed of franchising birth, Isla Vista. "It's what we do," added Brown. "We use good ingredients. Oh, and we make it thick."
Finalist
Backyard Bowls
Cheese Selection
C'est Cheese
825 Santa Barbara St., 965-0318
Though they started the store eight years ago "when we were young," according to co-owner Kathryn Graham, they still feel there is so much more to learn. "I always wonder if I know enough," she said, trying desperately to keep up with the diverse worlds of gourmet treats underneath the small roof: cured meats, wines and, of course, cheese. Along with spouse Michael, though, she is very grateful to see their little place, which has 10 employees, weather all the vagaries of recent economic tides: the lunches, catering, gift boxes, and tastings that they do have helped. But mostly it's their passion that has seen them through. "We're very, very happy," Kathryn said.
Finalist
Lazy Acres Market
Goleta Restaurant
Beachside Bar-Cafe
5905 Sandspit Rd., Goleta, 964-7881
Australia-born Peter Crick has been there since the Beachside took over after the Scotch & Sirloin's demise in 1987. Some of the kitchen staff have, too. The chef, Carlos Ramirez, is a newcomer, only been there 12 years. And of course, the owners Larry Store and Dave Hardy have had it since the beginning. "It's that consistency that people like," said Crick, who also admires the owners' willingness to invest in equipment and maintain the building through all the months of hot sun and hammering surf the food-with-a-view place has weathered. "The customers come in and they know that the people waiting on them care."
Finalist
Hollister Brewing Company
Carpinteria Restaurant
Sly's
686 Linden Ave., 684-6666
An unintended spin-off restaurant from Montecito's prime celebrity-watching watering-hole, Sly's has become an upscale family place, adding comfy elegance to Carp's main drag, Linden Street. The bar is getting lots of press for its self-conscious attempt to emulate the great shaken-not-stirred havens of yesteryear like Harry's in Venice — can you say champagne cocktail? The mustachioed chef who gave his name to the eatery has a reputation for meat mastery dating back to the heyday of the Reindeer Room at Santa Claus Lane, and it's now heightened into a sophisticated take on comfort food. Sure the abalone and lobster are great, but the short ribs are a revelation. A boon to the homies and much worth the pretty drive south.
Finalist
The Palms
Isla Vista Restaurant
Freebirds World Burrito
879 Embarcadero del Norte, Isla Vista, 968-0123
In some ways, little Isla Vista out-sophisticates its bigger neighbors by many a mile. First off, there are the standard late hours, making the city perfect for after-concert dining. Next there is the fine variety, from pizza to pho. But maybe best of all is the long-reigning Freebirds, which used to be a half step above Taco Bell and now is almost fully authentic in its ingredients: the carnitas will compete with anybody. Pick your own combination of savory meats, beans black and brown, jalapeños, cilantro, avocado, tomatoes, onions, and, of course, salsas that summon respect. There's nearly always somebody eating there — but even long lines move fairly fast.
Finalist
Silvergreens
Montecito Restaurant
Montecito Café
1295 Coast Village Rd., 969-3392
Our own food editor George Yatchisin raves about the goat cheese pancakes with gravlax. Everybody loves the coconut cake, which is often gone before the late diners arrive. (It's that good.) Most of us know it as the reasonably priced fine dining experience of Coast Village Road, not far from more famous places like Lucky's and Molly's where the celebs hang. Let them. The rest of us will settle for gravlax and coconut and some change rattling in our slow economy pockets.
Finalist
Lucky's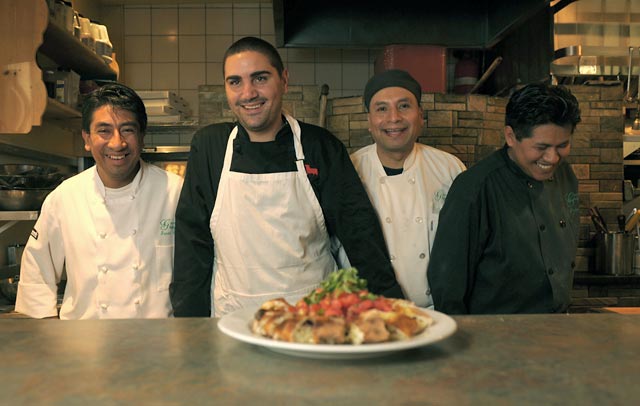 Santa Ynez Valley Restaurant
Trattoria Grappolo
3687 Sagunto St., #C, 688-6899
It's a high tribute to the chefs that an Italian restaurant serving the usual menu of antipasto, pasta, and main courses could go head-to-head with some of the most famous and adventurous chefs in California and win Best Restaurant in Santa Ynez so many years in a row. But it is fine Italian food, and it is also, as the chefs like to say, a destination and a locals hangout. (It doesn't hurt that some of the locals are rock stars and movie goddesses.) Leonardo Curti and Daniele Serra may not be household names, but they are magic in the kitchen.
Finalist
Los Olivos Wine Merchant & Café
Appetizers/Tapas
Milk & Honey
30 W. Anapumu St., 275-4232
These are a few of my favorite things: Brussels sprouts sautéed with Spanish olive oil and sea salt; grilled heart of romaine topped with balsamic reduction; lemon garlic butter all sautéed with tiger prawns; pulled pork in tomatillo cream sauce with nice cilantro rice. When the dog bites, when the bee stings, when I'm feeling sad, I simply remember homemade molten chocolate cake with raspberries and whipped cream, and then I don't feel so bad.
Finalist
Alcazar Tapas Bar
Breakfast
Cajun Kitchen
5 locations
To tell the truth, it's not very Cajun. Oh sure, it has gumbo, red beans and rice, something called Bourbon Street Chili, po' boy sandwiches, and omelettes with andouille sausage in them. But I gar-un-tee nobody approaches you with Louisiana argot and you can't hear zydeco coming from the kitchen. It is good, though, in all of its gloriously convenient locations from Isla Vista to Ventura, serving nicely spiced, no-nonsense food with a good emphasis on what's for breakfast. And that means go-ood since it first opened in the bad old '70s, with a nice crowd always gathering to eat the corn bread and let the good times roll.
Finalist
Jeannine's Restaurant
Sunday Brunch;
Hotel/Motel (Falling in Love category)
Four Seasons Resort — The Biltmore Santa Barbara
1260 Channel Dr., 969-2261
A busy year for that graceful old bastion of California elegance, the Biltmore in Montecito — a little controversy with its neighboring pool across the street, a lot of stress with a high-profile wedding that made the paparazzi more than just an Italian word — and all handled with continued charm seemingly oozing out from its beachfront and shaded locale. It's still number one in many a mind here, and public information person Gena Downey is happy to hear it, after all that hard work: "It's really exciting to get Santa Barbara's vote for our Sunday Brunch for so many years. And we are especially thrilled and honored to receive Best Hotel this year. Our employees work hard to try to deliver the very best experience, whether you're staying overnight or just stopping in for a drink, so it's great to know that we're doing a good job!"
Finalists
Sunday Brunch:
Tupelo Junction Café
Hotel/Motel (Falling in Love category):
Canary Hotel
Late Night Eats
Roy
7 W. Carrillo Blvd., 966-5636
Roy's reputation as a late-night eatery distracts the balanced critical eye from the ton of other fine qualities it has. Like the food. "We changed things up just exactly a year ago," said owner Roy Gandy, whose legendary entrée into the S.B. eating scene was his super-affordable prix-fixe three-course meals, which attracted a lot of young boho types, who, when well fed, tend to stay up late. This in turn pushed Roy's hours out and the whole thing began to look like a Night Owl spot, of which there were few back then, rather than a bargain gourmet experience. "We made everything à la carte," said the restless, cool, still-works-in-the-kitchen owner, "and it's worked out great." Dishes are now priced from about six bucks to somewhere around Andrew Jackson. Make no mistake, though, Roy doesn't mind the stay-up-late rep, "We serve dinner from six to midnight," he said. "That's our deal."
Finalist
The Blue Owl
Salad Bar
Chuck's of Hawaii
3888 State St., 687-4417
It's an odd thing for a steakhouse to be famous for, but Chuck's, that bastion of the upper State Street experience since the early 1960s, invented the veggie smorgasbord in this town. By most critical accounts, Chuck's salad bar is simple: great greens, sparky sweet tomatoes, crisp cukes, and a few frills more from artichokes to garbanzo beans. But something tells us that it can't be the historical value of the place that keeps the salad bar fresh in readers' memories year after year, it must be the pleasures of the graze, and, when contrasted with a thick piece of prime cow flesh, a lovely thing to eat.
Finalist
Lazy Acres Market
Sidewalk Café;
Veggie Burger
Natural Café
4 locations (in Santa Barbara County)
"I can't really tell you any of our secret ingredients for the veggie burger," said Megan Carmody, assistant manager at the restaurant downtown on State Street. "It's a secret. But I can tell you that, like with everything else, we try hard to strike a balance between tasty things and healthy things. We walk a really fine line." People are just naturally drawn to outdoor eating, continued Carmody, for good people-watching and healthful al fresco munching benefits. But even after all these years, the place has a fine taste for winning the readers' polls. "It's still really exciting to get the votes," she said.
Finalists
Sidewalk Cafe:
Fresco
Veggie Burger:
The Habit
Chinese Restaurant
China Pavilion
1202 Chapala St., 560-6028
In business now for six years, Peter and Lisa Chen have turned the little corner Chinese place on Anapamu into the most comfortable and delicious gourmet experience you can get — with take out, too. It's not just the improved recipes and the wider variety via the Chens' Chinese menu, which is also served up in English, but it's also the hard work both of them have put into the place. "Our kids know that every Saturday and Sunday, Peter is down there fixing the dim sum," said Lisa, who is proud of the resulting scene that has developed there on weekend middays. "Maybe our regular business slowed down a little due to the economy," she explained, "but in the meantime the weekend dim sum has more than made up for it. It's a great feeling to know our customers appreciate all our work," she said.
Finalist
Madame Lu
Indian Restaurant
Flavor of India
3026 State St., 682-6561
This year marks the 20th anniversary of the city's most faithfully appreciated Indian restaurant on upper State Street serving Punjabi home-style food to happy mouths. "It's the customers," said owner Raj Joshan. "The customers are so nice. They are very generous and they honor us with this every year. You know we may not even be the best, but we try very hard to be the best."
Finalist
Spice Avenue
Italian Restaurant
Ca' Dario
37 E. Victoria St., 884-9419
"It's fantastic," said owner Dario Furlati. "It makes me happy, it fills me with gratitude, it's like winning the lottery." According to Furlati, 30 percent of his business is repeat, from regulars to fanatic customers who must have their table, dish, and time constant or they become a little peeved. But he loves that. "You know, it's like walking into a party every night," said Furlati. "I appreciate every one of my customers."
Finalist
Pascucci
Mexican Restaurant;
Salsa
Los Arroyos
3 locations
In an even dozen years, this eatery has gone from a tiny walk-in on Figueroa Street to a three-site chain — the latest at Camarillo's outlet stores — with corporate offices and secretaries who screen the calls. More power to them, because the flavors of Los Arroyos have done nothing but improve in the last half-decade. The variety of salsas may not scrape against any Californian's idea of the exotic, but they complement the subtly arrayed dishes to perfection from halibut burritos and ensalada tropical to old-school favorites like tender chili verde and chicken sopes. ¡Que viva Los Arroyos!
Finalists
Mexican Restaurant and Salsa
Los Agaves
Seafood Restaurant;
Clam Chowder;
Bloody Mary (Drinking category)
Brophy Brothers
119 Harbor Wy., 966-4418
"We're just having our 25th anniversary this year," claimed John Bennett, son of Sue Bennett, who together run the harbor establishment that is the winningest business in Best Of history — they usually take three categories. "We just signed a lease for 25 more, so I'll be 60 when we renegotiate," he said. Besides the tide of good news, Bennett is excited about the restaurant's plan to take over the tiny Minnow Restaurant, which they bought this year and will attempt to upgrade the menu while maintaining the low prices of a little al fresco café, which shares a kitchen with the big clam bar above. "But the most important thing is that I want our friends to know what a gift the community has given us with this award. My mother knows it and she revels in it."
Finalists
Seafood Restaurant and Clam Chowder:
Enterprise Fish Co.
Bloody Mary:
Tupelo Junction Café
Sushi Restaurant
Arigato Sushi
1225 State St., 965-6074
Since the dawn of time, say the New Wave Music epoch, sushi restaurants have been the hipster's haven, the rocker's resort, and the sybarite's cynosure. For most of those years, Arigato has ruled the roost here in a town that harbors at least a half-dozen other respectable raw fish provisioners, mostly because they have ceaselessly adapted their creative side while never neglecting the basics — immediately sweet fresh fish. From the oyster with a quail egg shooter to sashimi concocted from blue fin belly doused with truffle oil, the jaded amongst us can hardly ever be bored. At the same time, we've never found a disappointing bite from the octopus or salmon nigiri kingdoms. The constant line outside (they don't take reservations) bears witness to the hipness and the flavors and the fact that Arigato abides in the hearts of food lovers here.
Finalist
Sakana Sushi Bar & Japanese Restaurant
Thai Restaurant
Your Place Restaurant
22 N. Milpas St., Ste. A, 966-5151
According to the readers, the original is still the greatest. Your Place is the virtual inventor of Thai food in Santa Barbara, first educating the town about pineapple fried rice, chicken stir-fried with basil, and Panang curries in 1985. It's been going strong ever since, winning the category since the time when video stores ruled every corner and cell phones looked like World War II walkie-talkie sets. "I think it's our consistency," said Kris Lertchareonyong, who is a proud member of the Bangkok-bred family that moved here back then and has kept people spiced-up nicely ever since.
Finalist
Zen Yai Thai Cuisine
Vietnamese Restaurant
Saigon In & Out
3 locations
Proprietor William Lam's restless spirit of innovation is matched by his impeccable good taste. Perhaps a bit over-extended with four places and now is back to three — uptown, State Street, and Milpas — making a hearty and exquisitely complex bowl of pho never more than a 10-minute drive away. Lam's restaurants have a soulful dark green mood and the clean flavors his food matches. His menu expands but never ceases to add pleasures. From the rice noodle dishes, the gloriously herbed salads, and the intensely delicious egg rolls, Lam provides comfort to regions of our soul we may not have known needed it.
Finalist
Noodle City
Steak House
Holdren's Steaks & Seafood
512 State St., 965-3363
6920 Market Place Dr., Goleta, 685-8900
If anybody wants to check the veracity of the Buddha's conception of the joys of the middle way, he or she might do well to price check Holdren's menu against its biggest competitor in Montecito (Holdren's is about $10 less on average) and the relatively blue-collar joint run by the gal from that meat-carving family on Cota (they cost about $10 more.) The readers seem to love this safety zone between conspicuous consumption and value-seeking. Or maybe it's all the other aspects of the steak house with its old-school charms on State Street, including goodies like crab-artichoke dip, horseradish crusts, and the scary-sounding bottomless mimosas and Bloody Marys served at Sunday Brunch. It's a cut above and below, and long as the mesquite grill blazes, nobody is beefing.
Finalist
Chuck's of Hawaii
Sandwich
South Coast Deli
3 locations
Perhaps some people find the term "sammie" endearing; perhaps they don't. No matter what you think about the nomenclature, the overwhelming tide of critical reaction is positive. With the addition of a spot on Carrillo Street, this three-fold favorite serves up sandwiches that are big, inexpensive compared to the going rates, and brightly flavorful. Big beef lovers will no doubt appreciate the roast beef with horseradish, but chicken and veggie lovers will find much to appreciate here including a Tabasco mayonnaise turkey sandwich that lifts the quintessential bland meat into piquant possibilities. Most enjoyable concept award, however, goes to the three-way pork sandwich, which combines roast loin, ham, and turkey. Not for oinkers only.
Finalist
Panino
Barbecue
Woody's BBQ
5112 Hollister Ave., 967-3775
3400 Calle Real, 845-6914
Woody's is the same now as it ever hath been, according to Gino Stabile, who worked there for eight years before he bought the place back in 2005. "I think it's that consistency that people like," he laughed, adding that the only changes he has made was to take out the real bar and replace the salad bar. "You can't change anything here or else the Woodyites, that's what I call the old customers, will get mad at you." It's got a funky, cluttered environment of knickknacks, they serve beer and sodas in mason jars, and there's a big bathtub for washing up, but Woody's style of cooking is what he means, and Santa Barbarans have voted the Goleta eatery best barbecue for 26 years in a row. "It's a friendly, comfortable atmosphere, and your kids can run around and be safe; it's not going to bother anybody."
Finalist
Killer B's BBQ & Bar
Burger
The Habit
4 locations (in Santa Barbara County)
From its humble yet memorable beginnings as an Old Town Goleta grill, The Habit has now spread in 46 ways down to Los Angeles and over into Phoenix. It's not hard to guess why. The burger, flame-grilled, served with grilled onions and a compact, flavorful bun, is always delicious and well-balanced in the hand and on the palate. Reasonably priced and reasonably fast, S.B.'s clear favorite hamburger makes food addiction fun.
Finalist
In-N-Out Burger
Burrito
Super Cuca's Taqueria
3 locations
Advertising itself as a taqueria, of course, does not automatically rule out great burritos. Au contraire, in this case, the townsfolk — and especially the youngsters on a budget — prize the magnificent size and miniscule price of burritos that can be as exotic as shrimp or as heartily traditional as the rich meatiness of carnitas, a slow-simmered and then fried take on pork shoulder that elegantly enhances rice, beans, salsa, and sour cream. Only the young should properly attempt devouring one whole, and they've been restless awaiting the chance once the new Isla Vista place opens.
Finalist
Freebirds World Burrito
Pizza
Rusty's Pizza Parlor
8 locations (in Santa Barbara County)
Let's do the numbers: You can get 12 slices with three toppings for less than 20 dollars at any of eight locations hereabouts. There are 21 toppings to choose from: anchovies to zucchini (oops, that's the alphabet). They have been in business here for 42 years and you can reach any one of the pizzerias with one phone number. Your total is 96. Oh yes, and they've been voted number one pizza in town for a zillion years in a row.
Finalist
Giovanni's
Restaurant for Dessert
Sojourner Café
134 E. Canon Perdido St., 965-7922
"I think the real reason people vote for our desserts is because the menu is so varied," said longtime Soj baker Sara Campbell. "We run the whole gamut from one end to the other, from reasonably healthy desserts to completely decadent. With that much variety, you're bound to find something you like. But seriously, we love what we do here, and we think that creates positive feedback, which in turn helps us to love what we do here all the more. I would hope that when you love what you are doing, it's going to translate into the world."
Finalist
Fresco Café
Restaurant with a View
Boathouse at Hendry's Beach
2981 Cliff Dr., 898-2628
And what a view — though within living memory this choice spot of state-owned beach was a cheesy hamburger stand, followed by a breakfast joint that happened to sling a pretty good Bloody Mary in its '80s-elegant bar. But you should see what they can do today. We're talkin' beer-steamed clams with chorizo and herbs; macadamia nut mahi mahi; Coquilles St. Jacques (the '80s were cool); and local sea bass topped with roasted-tomato beurre blanc. It's about time the Pit got a fancy-eating place, and dining as the sun sets when winter waves are crashing is formidable fun.
Finalist
Brophy Bros.
Stellar Service
Palace Café
8 E. Cota St., 963-5000
Whether you just dropped by for a Cajun Martini and popcorn shrimp, or, as most folks do, plan to spend a long evening topping your Louisiana Soft Shell Crabs with Paneed Veal Acadiana, and of course, the famed bread pudding with whiskey sauce, you will find the help here is awesomely helpful without an ounce of condescension or annoyance to be found in the lot of them. And, since it's a team-waiting strategy, you'll probably meet the lot of them, and be happy that you did.
Finalist
Bouchon