Briefs
JWCH Gives L.A. Hospitals a Place to Send Homeless
Fourth in a Series Looks at L.A.'s Oldest and Largest Medical Respite Program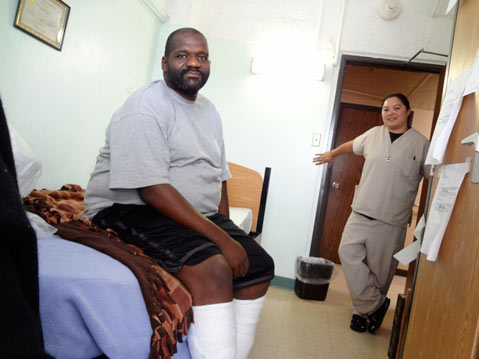 Curtis Jasper has come a long way since December, when he was living on the streets of Los Angeles, all but crippled by multiple ulcers on his legs. For eight years he tended his ulcers by himself on the streets, changing his dressings in bathrooms in public libraries and restaurants — any place he could find running water and soap. Emergency room nurses at Harbor-UCLA hospital helped him here and there, but the ulcers only worsened. Finally the pain became unbearable, he said.
On January 2, Jasper was admitted to Harbor-UCLA hospital and kept for 10 days. When he was deemed stable enough for discharge, he could have been turned back to the streets, like most homeless people. He could have been relegated to caring for his wounds in unsanitary sinks again. Instead, on January 18, Jasper was discharged to the JWCH Institute's Recuperative Care Program in Bell. There, he was given a clean bed in a small dormitory with other recuperating homeless men, 24-hour access to registered nurses, and weekly checkups with a physician. His dressings were changed regularly, his medication tracked and made available to him at the appointed times, and he was able to rest.
I met Jasper in August. He was sitting at the edge of his bed at JWCH's Recuperative Care Center in Los Angeles, at the corner of San Pedro and 6th Street. It was mid-morning when the program's manager, Dee Saupan, RN, gave me a tour of the place. Jasper let me check out his small room. His legs were still bandaged up, but he was happy about the progress he was making. And with no family to lean on, he was clearly grateful to be there.