Briefs
Carpinteria Councilmember Joe Armendariz Arrested for DUI
Lost Control of Car on Highway 101 and Crashed into Tree; Suffered Serious Injuries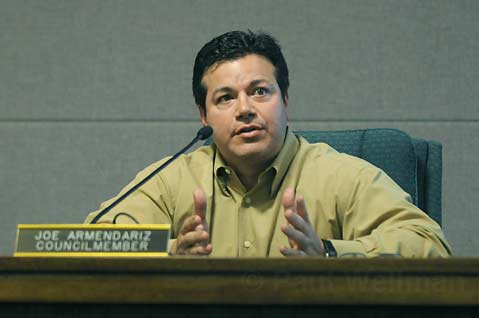 Joe Armendariz, Carpinteria's outspoken and conservative city councilmember, was arrested late Saturday night for driving under the influence by the California Highway Patrol after losing control of his gray Volvo while heading southbound on Highway 101 near Padaro Lane and crashing into a tree.
Armendariz sustained sufficiently serious injuries in the crash to be taken to Cottage Hospital. According to CHP accident reports, his car's front end was severely damaged. No passengers were in the car.
CHP spokesperson Jeremy Wayland said alcohol was involved in the crash but said test results are still pending. Wayland said Armendariz continued going straight when the road curved. He said the councilmember was conscious and cooperative when authorities arrived.
This marks the second time in recent years that Armendariz was involved in a serious alcohol-related accident. In April 2006, Armendariz was arrested for driving drunk after he rolled his Lexus off Sycamore Canyon Road and into a culvert. Armendariz was alone in the car and suffered minor injuries.
In addition to serving on the Carpinteria City Council, Armendariz acts as executive director of the Santa Barbara Industrial Association and Santa Barbara County Taxpayers Association. Armendariz declined to comment on the incident, referring all calls to his attorney Joshua Lynn.
Lynn said Armendariz suffered a neck compression fracture in the accident and is significantly bruised. He was in the hospital for not quite 48 hours.
Of Armendariz's suspected DUI, Lynn explained: "Nobody's more disappointed than Joe Armendariz himself. He's battling a very serious disease. Alcoholism is a demon and it requires his immediate attention, and he's taking immediate steps toward his own recovery and eliminating alcohol from his life." Charges have not been filed yet, Lynn said, declining to comment on reports that Armendariz's blood-alcohol content (BAC) at the time of the incident was 0.16 percent.
"He's a public figure," Lynn went on, "and regardless of what you think about his politics, we're hoping that his long history of public service will elicit a degree of compassion for what he's going through."
Senior Deputy District Attorney Lee Carter said if Armendariz is convicted of his second DUI, the councilmember could be looking at a maximum of one year in county jail. Carter also explained that a person's diver's license is revoked for a full year if he or she is found guilty of driving under the influence for a second time. The one year can be extended, however, if the person is found to have a BAC over 0.15 at the time of arrest.