Briefs
Man Killed When Truck Hits Tree Off Las Positas Road
Road Closed Between Cliff Drive and Portesuello Avenue This Morning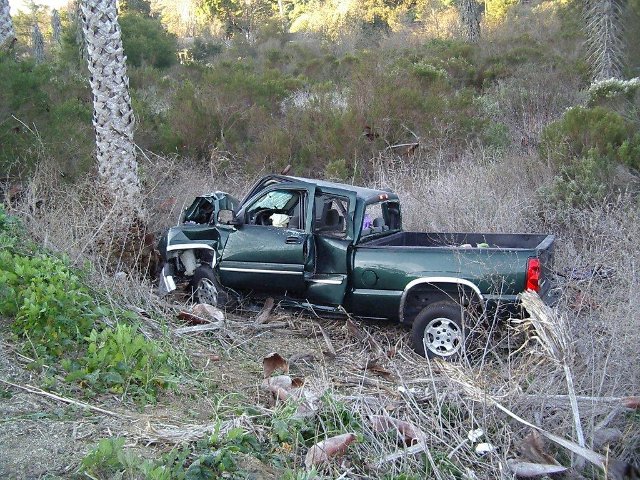 A man was killed shortly after 6 a.m. this morning when his truck slammed into a palm tree off Las Positas Road near Elings Park. The driver, traveling alone, was heading south on Las Positas when he veered off the right side of the road for unknown reasons.
Authorities closed the stretch of Las Positas between Cliff Drive and Portesuello Avenue as emergency crews responded. It appears one lane is now open to traffic.
The cause of the accident is under investigation. The name of the victim is being withheld until his family is notified.
[UPDATE, 3:30 p.m.]: The Santa Barbara Police Department has identified the victim of this morning's fatal accident as 29-year-old Audelio Lopez. According to Sgt. Mike McGrew, Lopez was on his way to work at the Boathouse restaurant when his 2004 Chevrolet Silverado pickup truck drifted off Las Positas Road for unknown reasons, traveled down an embankment, and crashed into a palm tree. The impact caused major damage to the front end of the truck, killing Lopez.
A resident driving southbound on Las Positas Road at around 6:15 a.m. called 9-1-1 when she saw the tail lights of the truck, which was emitting smoke. McGrew said the vehicle came to rest in the 1200 block of Las Positas Road, halfway between the Eling's Park entrance and Cliff Drive. Emergency crews declared Lopez dead at the scene.
The cause of the accident is under investigation. Lopez is survived by a wife and two small children.