Film & TV
Harmonic Convergence
Music Docs, Live Soundtracks, and More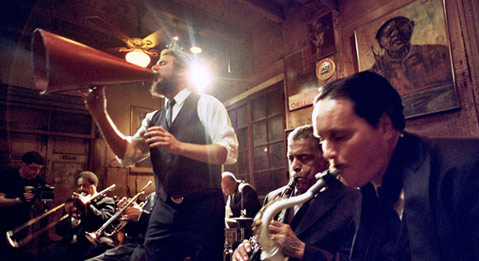 Much of the cinematic fodder we'll soak up over the 11 days of the SBIFF is detached from personal contact, but something special this way comes with many of the music-related films. Music being an intrinsically live medium, as well as a canned one on record and on screens, we cross-reference the experience of having seen these very artists up close and personal, and take away a taste of deeper human resonance from the connections. Take, for a ripe example, one of the fine — and journalistically fair — documentaries screening this year, Under African Skies, chronicling Paul Simon's return to South Africa last summer, 25 years after his Graceland adventure (and controversial misadventure) there — and just shortly before Simon put on a powerful show at the Santa Barbara Bowl last fall.
Happily, a local musical cultural connection continues and extends back in SBIFF annals. In 2010, when Neil Finn showed up for the premiere of his film The Sun Came Out and played a show with his band at SOhO while here, it imparted a fleshly real-time presence in town. When the Brian Wilson film Going Home (really not much more than a record company electronic press kit–style mash-up, but interesting enough) played at the Lobero in 2009, we could channel the memory of hearing Wilson put on a fine show on that very stage, and ditto with the Charlie Haden documentary Rambling Boy, screened at the Lobero, where Haden has appeared with many a project over the decades, including Pat Metheny's 80/81 project and Old and New Dreams in the '80s. (In 2010, incidentally, the festival hosted another new documentary on the other prominent jazz world Charlie hailing from Southern California, Montecito's own Charles Lloyd.)
In another example of the live-meets-lensed music experience in this year's "Cinesound" sidebar of the film festival program, the frequent Santa Barbara visitors Preservation Hall Jazz Band will play their proudly older-than-old-school trad jazz at Campbell Hall on Wednesday, February 1, around the same time SBIFF presents the world premiere of the quirky doc Live at Preservation Hall: A Louisiana Fairytale (Tue., Jan. 31, 7pm, Lobero; Wed., Feb. 1, 10:30pm, and Sun., Feb. 5, 1pm, both at Metro 4). Adding trans-idiomatic intrigue to the package is the fact that My Morning Jacket's Jim James will show up for a couple of those events, in synch with the film's focus on a collaboration with MMJ and the Pres. Hall in that 50-year-old French Quarter haunt and tourist hang in New Orleans. The film itself is a charmer, although we keep wondering what MMJ has to do with seminal jazz impulses, other than a long tendril to American Southern music roots of yore.
Most everything you wanted to know about the one-man band turned bandleader and loopmaster Andrew Bird, from onstage and on-tour work to life back home on the farm, is laid out in the intriguing documentary Andrew Bird: Fever Year. The Norwegian film Sons of Norway (SØnner av Norge) is, rather than a music film per se, a funny and poignant feature fiction film. But proto-punk lines the sonic walls of the movie, which is about the coming-of-age of a young teen timed with the arrival of punk. Reformed Sex Pistol John Lydon (aka Rotten) makes a clever cameo and fuels the film's theme of anarchist bliss and peril.
Other music news at SBIFF includes a music film triple bill, with The Brooklyn Brothers Beat the Best, Rhino Resurrected (about the beloved, now defunct record store in L.A.), and Music Man Murray, with record store visionary Murray Gershenz in the house.
Speaking of the harmonic convergence of film and music, and the historic cultural safe house that is the mighty Lobero, one of the most alluring events of this year's festival happens on Saturday, February 4, at 8 p.m. when Santa Barbara-bred indie faves Garden & Villa meets a screening of the silent classic Faust. Here, the band we know and love joins in on the practice of performing new live scores to silent films. Popcorn and beer would be snacks of choice.