Film & TV
Wizard Heist
An Interview with Director Max Sylvester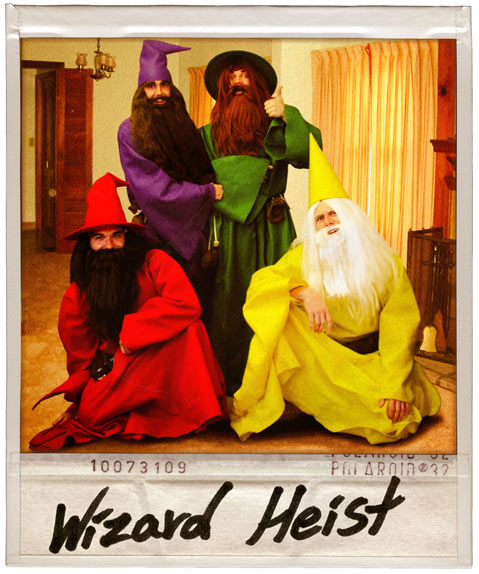 Wizard Heist is a bank robbery film about pulling off one last score, perhaps the most clichéd story plot of all. But director Max Sylvester, a Santa Barbara native, adds a magical twist: the would-be robbers are a foursome of aging wizards, and the resulting 10 minutes of filmmaking turn out to be a hilarious, tongue-in-cheek whirlwind of fun.
He recently answered a few of my questions via email.
Where'd this story come from?
I had two separate ideas floating around in my head for a while. One idea was about a group of coal miners who possess telekinetic powers yet still labor with their hands, work 60 hours a week, and gripe about their domestic lives. The other idea was more of an urge really — I had been wanting to stage a duel between two wizards that would incorporate all sorts of low-tech, Georges Melies-inspired special effects. Eventually the two ideas melded together and, from there, it wasn't long before I mixed the genre inspired elements into the fold.
Clearly, this was a lower budget shoot. Was that due to finances or did you intend to shoot it in a more DIY style?
The entire budget went towards costumes and special effects. One thing that would have been nice would have been to shoot this on a better camera (we shot this with what is considered an antique camera, Canon HV30, by today's standards) and have a couple more lights to play with. Still, a higher budget probably wouldn't have made much of a difference. The strength of this film is in its absurdity.
It really shows that flashiness isn't necessary to do something memorable. Has that idea been lost in today's filmmaking world?
Actually, I consider this film to be rather flashy. Sure, it's a bit dirty and rough around the edges but I tried to infuse it with as much momentum and vitality as I could. It's certainly not just a tidy collection of beautiful pictures.
Tell me about the special effects.
We accomplished the bulk of the special effects with jump cuts, flash-pots, fishing wire, and acting in reverse. By far the most troublesome to get right were the reverse shots — for one shot, we had an actor acting in reverse while interacting with multiple objects being puppeteered by folks operating fishing poles outside the frame. From the beginning, we strived to do as much as we could practically because practical effects are always funnier than digital. That being said, we did have to lean on a computer once or twice but even in those instances the CG was complimented by some sort of practical effect.
Who did costume and set design?
Miles Garrett (who plays Falchemi, the Purple Wizard), Cindy Freund, and I designed the costumes out of felt. We sought to make each costume different in terms of the cut and hat design. One element of this was the decision to exaggerate each wizard by outfitting the taller wizards with more form-fitting robes and pointy hats while the shorter wizards were given flaccid hats and frumpy robes.
There's a lot of riffing on movie cliches, like the one-last-score plot. Is there a deeper message here about filmmaking in general?
The deeper message, if in fact there is one, would be the same as the telekinetic coal miner idea: essentially, this is a film about people who possess loads of talent, ability, and promise, yet moronically choose to not utilize any of it while going about life the hard way.
What's next for you?
I'm working on graduating from SFSU and finishing up what I hope will by my last short film for a while. A year from now, I plan to be in pre-production on one of two feature film ideas I'm developing.
Wizard Heist screens as part of the Santa Barbara Shorts II collection on Thursday, February 2, 2 p.m, at the Lobero Theater and again on Friday, February 3, 10:40 a.m. at the Metro 4.