Food & Drink
Pedal Down to Handlebar Coffee
Coffee Roasting Company and Café Opened in November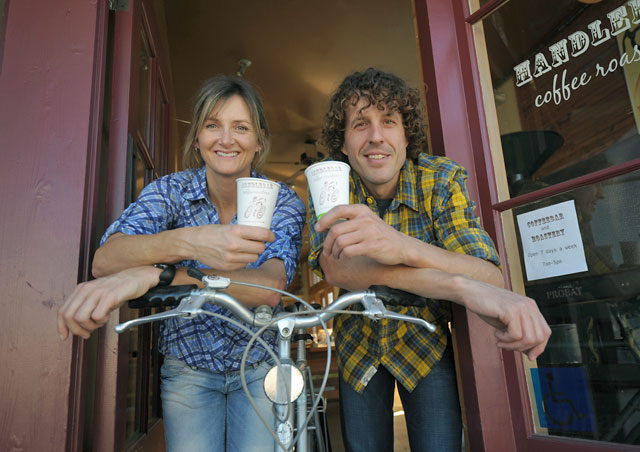 For an education in coffeehouse culture, you could do worse than touring Europe repeatedly on a bicycle seat. That's exactly what Aaron Olson and Kim Anderson did for the past decade as professional cyclists, sipping in the hot drinks and café atmosphere in between races in Spain, Germany, and France, where Anderson won the 2009 Route de France Féminine, the women's version of the Tour de France.
"Bicycling culture and coffee just go together," said Olson recently from behind the counter at Handlebar Coffee Roasters, the café and roasting company that the couple opened in November of last year on East Canon Perdido Street. "We took ideas from all of the cafés we went to."
Though Olson is originally from Eugene, Oregon, and Anderson hails from Colorado Springs, they found Santa Barbara through participation in the Amgen Tour of California and decided to start living here in 2008, thanks in part to the great training routes on Gibraltar and Figueroa Mountain roads. A couple of years later, they got a good deal on a slightly used, German-built coffee roaster, which they've named "Hercules," and started churning out 25-pound batches of browned beans that were soon applauded by a small batch of customers.
When Three Pickles vacated its original sandwich spot to move into Jimmy's Oriental Gardens next door, the skinny slot was a perfect fit for Handlebar Coffee Roasters, and it was a good fit for the neighborhood, which, among other culinary adventures, features Our Daily Bread Bakery, C'est Cheese, Sojourner, and Julienne. "I like to call it the 'Gourmet Ghetto,'" said Olson, while passing an espresso fresh from his handmade Marzocco machine over the register.
With roasts happening every two to three days, the Handlebar menu is ever-changing, with beans from the Americas, Africa, and beyond jumping on and off the shelves constantly. They also offer pastries from Renaud's Patisserie — the almond ones go super-quick — bagels from the I.V. Bagel Café, and small-batch steep-ables from Smith Tea. To perfect their pouring, Olson and Anderson both attended a weeklong barista training in Portland and are now able to fine-tune their espresso pulls while enjoying the constant feedback loop that comes from running your own roaster.
"Machines can make something consistent, but humans can always make it better," said Olson, explaining why Handlebar's more intimate process will always beat out the Starbucks of the world. "And it smells incredible."
4•1•1
Handlebar Coffee Roasters is open 7 a.m.-5 p.m. seven days a week (but opens 8 a.m. on Sundays) at 128 East Canon Perdido Street, Suite A. See handlebarcoffee.com.