Courts & Crime
Masked Gunman Robbing Parking Lot Kiosks
Three Incidents Since Early January; Police Have Little to Go On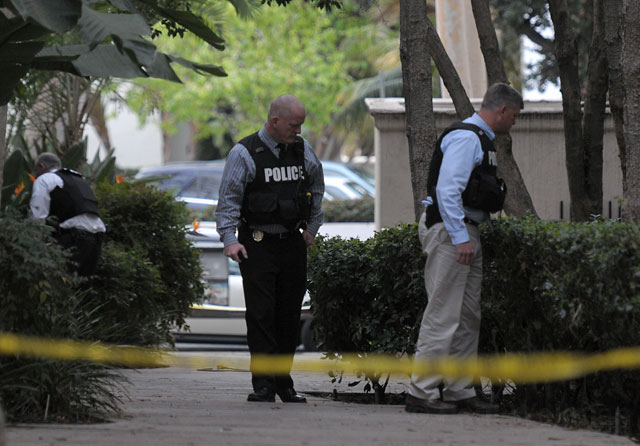 Since early January a masked gunman has robbed three city parking lot kiosks in downtown Santa Barbara. In each case, say police, the male suspect acted alone, approaching the kiosk operators with a handgun and snatching money from their registers. He fled on foot each time, and on two occasions was witnessed by drivers leaving the lot. Police haven't disclosed how much money was taken during the incidents.
The dates, times, and locations of the robberies are as follow:
– Tuesday, January 3, 3:59 p.m., City Lot 2, 900 Chapala Street
– Friday, January 20, 8:40 p.m., City Lot 4, 1100 Chapala Street
– Tuesday, February 21, 4:01 p.m., City Lot 7, 1100 Anacapa Street
Police describe the suspect as of medium height and medium build with light to medium skin complexion. There is no video surveillance in the kiosks, but police say they have recently increased patrols around the downtown lots. No one was hurt in the confrontations. During this week's robbery, scanner chatter indicated the suspect was initially wearing an orange construction vest before shedding it as he ran from police. Anyone with information on the incidents is urged to contact Detective Bryan Jensen at (805) 897-2335.
While police say they're taking the proper steps to identify and apprehend the gunman, the mother of one of the robbery victims said she's concerned how the city's Downtown Parking Department is handling the problem. In an email to The Santa Barbara Independent she claimed that, after the first robbery, supervisors didn't inform kiosk attendants of the incident or hold any kind of formal meeting. Communication was virtually nonexistent, she said.
The mother, who wished to remain anonymous, said she continues to fear for her daughter's safety and doesn't think Downtown Parking is doing what it needs to do to make its employees feel secure. Her daughter was the victim of the second robbery, she said, and was nearly ready to return to work until the third took place. Now, she's rethinking her job choice entirely.
Victor Garza, Downtown Parking superintendent, said he and his supervisorial staff have assured attendants that their safety and well-being is a top priority. Garza said he has gone over protocols in handling any robbery, telling his 100 employees to cooperate and immediately relinquish register cash when confronted. "We're mainly telling them that nothing is going to happen if they cooperate," Garza said. "We don't want them to be heroes, just to be aware of their surroundings."
The three robbery victims, like all city employees, have access to paid counseling if they choose to participate in it, said Garza. "We think this is a very unusual situation," he went on, noting the last armed robbery of a downtown parking kiosk occurred over 10 years ago, "and we think that police will catch the guy eventually."