Visual Arts
Victor Hugo Zayas: Mi Obra
City Portraits in Paint and Guns
Like his name, the paintings of Victor Hugo Zayas recall the passions of late 19th century art: his oils are bold, romantic, luminous and seemingly in motion, alive with an astonishing energy. The pigment is layered on in thick, wavelike swirls of deep contrast and color so saturated that it appears wet, as though the paint had not finished drying. (It has: the canvases in this show—landscapes, cityscapes, still lives, and figures—are selected from 20 years' of the artists' work.)
Born in Mazatlan in 1961, Zayas came to the United States in 1979, receiving BFAs from United States International University and Art Center College of Design in Pasadena. For over 20 years, he has lived and worked around Downtown LA. Painting on rooftops at night, and in Elysian Park and along the Los Angeles River by day, Zayas has captured a wide range of expressionist scenes of the city swathed in fog, smoke, and light. Many of these paintings recall Turner's darkest Thames riverscapes, rendering an emphatically urban world as a darkly enchanted landscape, a kind of industrial pastoral of constant change and rough vitality.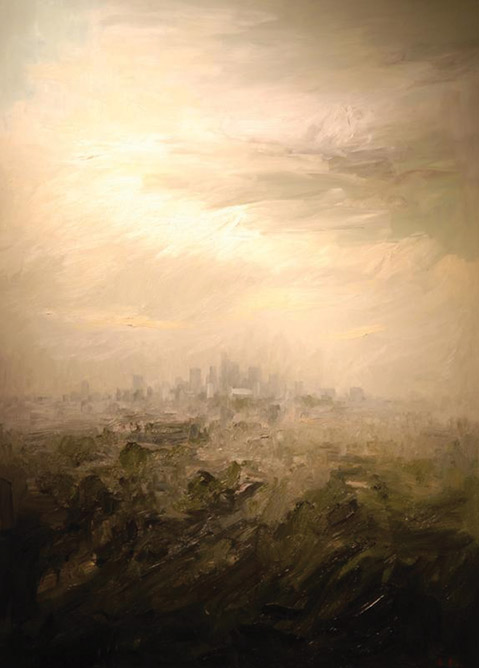 Nearly a decade ago, Victor Hugo Zayas was offered studio space in South-Central Los Angeles at a rent he couldn't refuse. There he found himself painting in one of the most dangerous neighborhoods in the US, an area riven by gangs and violence. In response to the need that she saw there, his then-girlfriend opened a community-oriented café in his studio space. Zayas himself turned down a teaching position at Art Center and instead asked the school to fund him to start the Maestro Fine Art Program in 2005, teaching art to 50 local kids.
Officers of the LAPD soon took note, and came in to offer their encouragement. They included Charlie Beck, then a division commander and since 2009 LA's chief of police, who befriended Zayas, discussing with him the possibility of making art from some of the guns that the police department was collecting off of the streets in its Gun Buyback program. It took four years. Then, earlier this year, two tons of the guns, shredded and crushed down into a mass of twisted metal, were delivered to the artist's studio.
He began welding and assembling, wondering, "How do I take something negative and make it positive?" Gradually, portraits began to appear—visages, and profiles, often of people he knew. From Francisco Goya on, Zayas said "the idea of making a portrait of violence is a tradition." Yet, he asked himself: "How do I make portraits out of metal? Portraits have an energy—how do I capture it?"
The results are arresting: flowing coagulations of twisted metal gunbarrels, revolver cylinders, and shafts, looking at first like improbable trees. On closer inspection, faces emerge from the wreckage. They are equal parts the Terminator and Alberto Giacommetti—eerily realistic and oddly touching. In Victor Hugo's hands, the guns have become bodies, fluid, vital, and alive. No longer capable of taking life, they've been transformed into something life-affirming—the faces of friends and loved-ones. Like the proverbial transformation of swords into ploughshares, this is a patient, deliberate, and necessary alchemy, a demonstration of art's power to transform consciousness and lives.
Guest Curator Gregorio Luke saw this power demonstrated at an event for relatives of crime victims at which a photograph of one of Zayas' gun sculptures was shown. He was worried at first about the crowd's reaction. "These are people who have lost brothers, sons, daughters, parents. No amount of longer sentencing, no number of increased arrests, can heal their hearts. How could a sculpture not seem trivial?" Yet, when the image was unveiled, "The energy in the room completely changed," he said. "I felt a transformation in the content of the conversation. I never realized art could be so meaningful."
4•1•1
Victor Hugo Zalas: Mi Obra at the Laguna Museum of Art through April 29