Briefs
Selma Rubin Passes Away
Celebrated Activist Was Almost 97 Years Old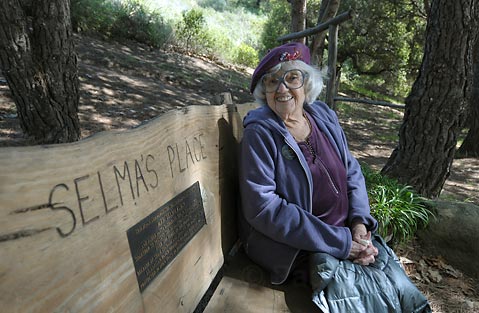 The Santa Barbara Independent has learned that activist-extraordinaire Selma Rubin passed away last night. As we continue to gather information about her death, we would like to share this link to Nick Welsh's 2010 interview with her.
Here is a link to a video of Rubin speaking at a celebration of her 95th birthday.
: :
Representative Lois Capps just issued this statement about Rubin's passing:
"Today, Santa Barbara lost one of its true heroes, and I have lost a dear friend and mentor. Selma was a shining example of a woman with the enthusiasm and passion to excel and the vision to turn her dreams into reality. Her tireless efforts have made our community a better place to live, work, and raise a family. I know of few people who gave as much to their community as Selma did. Her lifetime of service — fighting offshore oil drilling, preserving the Gaviota Coast, or encouraging women to get involved in their government — will live on for generations in the countless people she helped along the way. I will deeply miss her friendship, her wisdom, and her enthusiasm for life."
: :
Dave Peri, one of Rubin's longtime friends and confidants, said she was an "amazing woman" who had the ability to meet common ground with anybody. "People who were close to her had just as much respect for her as those she worked with," he said.
Since news broke of her passing, people have called Peri nonstop to offer their condolences and ask what they can do, he said. His best answer, explaining she was never a fan of cut flowers, is to donate to an organization Rubin felt passionately about and was most recently involved with, Santa Barbara County Action Network (SBCAN). The memorial service date will be announced soon.
: :
A number of Rubin's many friends and fans have posted messages on her Facebook page. Here are some of those thoughts:
Megan Alley — It was a pleasure. Your legacy lives on.
Jill Johnson — There will never be another quite like you, Selma. You will be so terribly missed.
Tania Israel — Selma – Thank you for your hard work and inspiration. And the hats — thank you so much for wearing the hats.
Sara Peri — 🙁
Michael Summers — Thanks for your work and for inspiring so many to make Santa Barbara the wonderful place it is today. Rest in peace …
Antara Hunter — Selma, I always enjoyed working with you and seeing you cruising around town in your red car and big hats. Your presence will be missed here. RIP friend.
Jonathan Humfrey — Selma, I have been so blessed to have you as a friend. I will miss you. You live on in so many ways. Thank you.
Eric Zimmerman — Happy trails Selma! It was an honor to know you and THANK YOU for your 97 years of dedication, passion and inspiration.
: :
Hannah-Beth Jackson also forwarded her thoughts upon hearing the news:
"I have been blessed with the opportunity to honor Selma on several occasions with a few of the numerous awards she received during her lifetime. To try to capture the fullness of her work and the expanse of her reach was virtually impossible. From the numerous organizations she founded, to the boards on which she served tirelessly for well over half-a century, to her constant vigilance on issues of fairness, equality and justice, Selma was the essence of everything that our progressive world view embraces.
"Selma was unwavering in her beliefs about preserving our environment, protecting civil liberties, aiding those less fortunate than most, demanding equal rights, justice and opportunity for all, regardless of race, religion, gender, sexual orientation or any other potential barrier that we, as humans, create to keep others from being treated with respect and dignity.
"Her tools were simple: You simply didn't want to cross Selma. The glare could be wilting, but the sharp admonishment was never in doubt. Simply put, Selma was a force of nature; one who lived by example and set the bar high. But she never asked more of anyone else than she did of herself. She entered every cause with passion and complete commitment. If you didn't have that to give, then she wasn't interested. Justice was a full-time effort, even if it meant getting arrested — which she did, for sticking to her principles and protecting the earth that she so studiously protected."