Sports
Basketball Fever
UCSB and Westmont Women's Teams Head to Championships
SCISSORS AND SLINGSHOTS: Those are the implements, real or figurative, that Santa Barbara's basketball champions are taking to women's national tournaments.
The scissors go with the Westmont College Warriors. They have a legitimate chance to be cutting down the nets at the conclusion of the NAIA Division 1 National Championships in Frankfort, Kentucky. They are one of the four top-seeded teams in the 32-team tournament after besting Azusa Pacific, the defending national champion, in the Golden State Athletic Conference. The Warriors (29-3) face Arkansas's Lyon College (20-11), on Thursday, March 15, in what could be the first of five games in six days.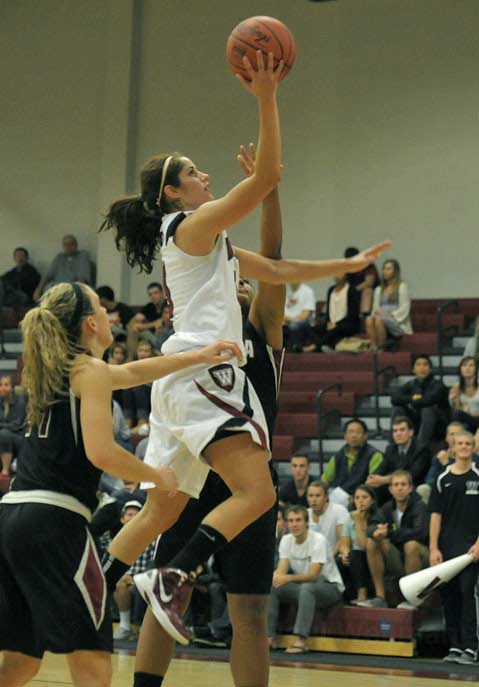 The slingshots go with the UCSB Gauchos. Coach Carlene Mitchell said it will be "David versus Goliath" when her team takes the floor on Sunday, March 18, against top-ranked Baylor in the NCAA's Big Dance. The Gauchos eked out a winning record (17-15) by taking the Big West Tournament and are considered the least of the 64 teams by the NCAA. Baylor (34-0), whose 6′8″ junior Brittney Griner has been deemed "the best center in the world" by ESPN, has visions of a 40-win season.
WINGING IT: Westmont has a strong inside presence with 6′2″ junior Tugce Canitez, who may be playing for Turkey in the Olympics this summer, and 6′2″ senior Lisa Peterson. But they are not a one-dimensional team. "If you sag inside, we'll make you pay from the three-point line," senior Katie Kittle said. Kittle and first-year guard Aubrey Lincoln are paired as "wing men" in Westmont's lineup. They support and prod each other. The 5′4″ Lincoln is a feisty player who is relentless on defense. "I admire Kobe Bryant because of his focus and determination," Lincoln said. She added that Kittle's all-around game is like Bryant's. Westmont coach Kirsten Moore agreed: "Katie's such a diverse player. She can shoot the three and attack the rim."
BABY ON BOARD: For the first time in her seven years as coach of the Warriors, Moore and her team cut down the nets not just once but twice — when they clinched the GSAC title at home and then beat Azusa Pacific in the conference tournament final. "It doesn't get better than that — to win in a come-from-behind fashion in front of our faculty, staff, students, and the community," Moore said. It's a big year for the coach. She is pregnant with her first child. What might she name it if the Warriors win the nationals at Frankfort? When the late Jim Valvano took North Carolina State to an NCAA title in Albuquerque, he said he would name his firstborn son Al B. Querque.
THREE ON ONE: UCSB's Mitchell contemplated putting a triangle of defenders around Baylor's Griner. "The other two would have to guard four players," she said. Hmmm. There's another possibility. "Let her score 60 points and try to shut down the others," Mitchell said.
HEARTY AND SMARTY: Gaucho center Kirsten Tilleman will be battling Griner in the paint even though she gives away seven inches to the Baylor star. "It's going to be fun no matter what happens," she said. "It'll test our heart. We might not be physically big, but we can be big in other places." Tilleman, who was named MVP of the Big West Tournament, is dealing with other challenges. Although a junior on the basketball roster, she is a graduate student at UCSB's Bren School of Environmental Science and Management. Next week she will take a final exam in "environmental biogeochemistry."
BEARS TO GAUCHOS: After Baylor won the 2005 NCAA women's title, two of its players transferred to UCSB — Emily Niemann, who hit five three-pointers in the championship game, and Chisa Ononiwu. After spending her redshirt year as a cheerleader on the bench, Niemann turned her back on UCSB and basketball, moving east with her partner and changing her name to Emily Nkosi. Ononiwu had two productive seasons with the Gauchos, highlighted by a 20-point effort in their 75-71 loss to No. 3 Maryland. By the way, Sunday will mark the second time UCSB will face an Associated Press No. 1 team. On December 28, 1996, Connecticut came to town and held off a spirited Gaucho effort, 87-76.
ABOUT THE MEN: UCSB and the rest of the Big West Conference hope that Long Beach State fares well in the NCAA tournament. College basketball lifer Stan Morrison told a Santa Barbara Athletic Round Table gathering that the 49ers are "one-through-five, the quickest team in the country," and that guard Casper Ware "can play tennis by himself." Morrison, a former coach at three universities and athletic director at UCSB and UC Riverside, spent some interesting times on the NCAA tournament selection committee.
TRUE CINDERELLAS: If you want to see a heartwarming basketball scene, head to UCSB's Thunderdome Sunday, March 18, at 9 a.m., and watch the beginning of the 12th annual Special Olympics Basketball Tournament. Thirty-five teams of differently abled athletes from Santa Barbara and surrounding counties will be competing.