Food & Drink
Bringing Back BYOB
Popular Wine Dinners Restarting at Max's Cucina on Upper State Street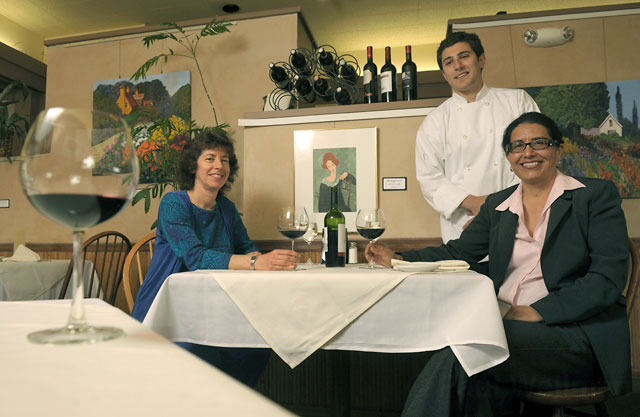 One of Santa Barbara's most simplistically innovative wine ideas returns next month when the BYOB Wine & Dine series emerges from a hiatus and takes over Max's Cucina (the nighttime moniker for the restaurant at 3514 State St.). Here's the lowdown.
NEW LOCATION: After four years and 47 events at the now-defunct Spiritland Bistro, organizer Leslie Thomas is moving her event to Max's Cucina, that upper State Street spot known more for breakfast but now serving Italian dinners. "My first thought was: What restaurants could use some visibility and would really get a lift from this kind of event?" said Thomas, who said Max's offers really nice, reasonably priced food and an "extremely personable" owner. "Most people know Max's," said Thomas. "The name recognition is there, but the association with wine is not there."
SAME FORMAT: "It'll pretty much be a carbon copy," said Thomas, who's been working with Max's owner Henrietta Forystek to bring together seasonal food, regional wines, and a sense of community. "I want to put the local spin on everything like we did before." That means every attendee brings a bottle of a particular varietal or style and then spends 45 minutes chatting and sipping before sitting down to a three-course, family-style gourmet dinner as a winemaker discusses the grapes in question. The only difference is that it will be on Sundays starting at 6 p.m. now, rather than 6:30 p.m. on Wednesdays.
ON TAP: Max's first tasting will feature Consilience winemaker Brett Escalera and "Paso Robles vs. Sonoma County Zinfandel" as the focus, which was the most popular event ever held in the past. "I think it's because we grow and produce so little of it in Santa Barbara," said Thomas, who also knows that the May 20 event will be petite sirah with a Jaffurs representative and expects sparklers, rosé, and maybe even viognier to round out the summer.
CRAZY CROWD: "It's a really bizarre mix of people," said Thomas, with attendees ranging from neophytes and people who think they know wine but don't to connoisseurs, collectors, winemakers, and tasting-room staff. "We have everything from people in their twenties to people in their eighties, and everywhere in the middle."
MORE INFO: Full menu for the April 29 event will be posted April 1 at maxsrestaurantsb.com. For tickets, call Max's at (805) 898-9121.