Arts & Entertainment
Chamber Pop Act Cuddle Magic Heads to Biko Garage
East Coast Music Makers Headline Isla Vista Co-op on May 4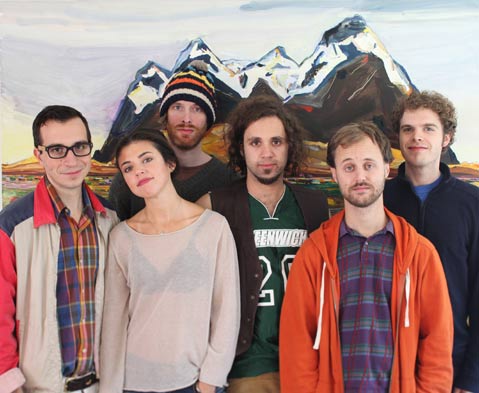 What do you get when you mix six classically trained musicians together in a pop band? If you're lucky, something resembling Cuddle Magic. Derived during its players' collective stint at the New England Conservatory of Music, the band combines an ambitious mix of chamber orchestrations, lo-fi folk ruminations, and experimental pop flourishes, resulting in a sound that falls somewhere in between Joanna Newsom's harp-fueled songbook and twee-minded acts like The Moldy Peaches and Castanets.
Founding members Ben Davis and Christopher McDonald officially formed Cuddle Magic as students back in 2007. As multi-instrumentalist Alec Spiegelman recalls, "Ben and Christopher had in mind a particular sound world for the music they were writing — unamplified voices, finger-picked guitar, piano, clarinets, strings — and those timbres and strategies quickly became an inspiration for others in the group to contribute songs and ideas."
Nowadays, though, the band relies heavily on collaboration, with all of Cuddle Magic's six members contributing parts and ideas. "All of us are writers, and everyone's got their own methods," explained Spiegelman, a fact that looms large over the band's most recent release, Info Nympho. Recorded live with all the players in one room, the album is both energy-filled and stylistically diverse, with instruments, voices, and song forms twisting and turning from one moment to the next. Lead track "Disgrace Note" finds Davis speak-singing over a plinking toy piano and soothing violin swells, while "Moby Dickless" offers a neat mix of Casio tones and vaguely hip-hop inspired beats, as well as a heavy helping of guy-girl harmonies.
"[We shoot for] some sort of blend between complexity and simplicity, acoustic and electricity, strange and familiar," said Davis. "We take something that should sound weird and out of place and make it sound like a pop song — almost."
This Friday, May 4, Cuddle Magic brings its stylistic grab bag of material to the Biko Co-op Garage at 8 p.m. for a show in support of Info Nympho. And if we're to take Spiegelman's word for it, the show promises to be as musically rich as it is fun-loving. "I want listeners to realize that music can be serious and funny at the same time," he said. For info, visit sbdiy.org.