News
Type Sets and Skill Sets
Boys Camp Program Lets Young Offenders Learn on the Job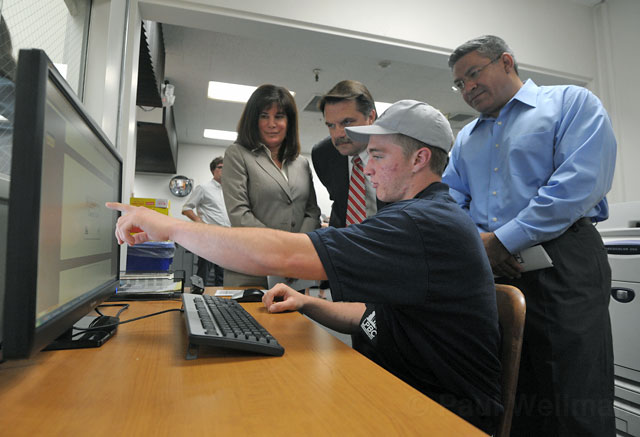 David was hard at work at his new job Monday afternoon, feeding pages of the Board of Supervisors' agenda through a massive copy machine in the basement of the County Administration Building. The color copies were then organized and stapled before being sent upstairs to the clerk for the following day's meeting. It was a task efficiently performed by the quiet worker.
But David is not a county employee. In fact, he's only 17.
And a delinquent.
And up until a few months ago he had no experience in reprographics.
But now, David is part of an innovative county program that should save the County of Santa Barbara money and ​— ​more importantly ​— ​empower youth from the Los Prietos Boys Camp with skill sets that will put them in a position to be successful going forward in their lives.
Teenagers, having committed a variety of crimes from robbery to assault and battery, end up at Los Prietos as an alternative to Juvenile Hall. At the camp off Paradise Road five miles east of Highway 154, the boys are enlisted in a rigorous, disciplined program of school in the morning and activities in the afternoon; some chop wood while others learn how to repair computers given to poor families.
In an expansion of that curriculum, a group of boys are now learning the ins and outs of graphic and text reproduction as workers at the Los Prietos Business Center. But they are doing more than just pushing a "print" button. They're receiving vocational training in a professional environment for graphic design, machine operation, customer service, inventory management, quality control, and budgetary review. "I'm learning new things I can take with me," said David, who's from Santa Maria and hopes to eventually go to college and study art. Both the Business Center's name and logo were created by the first group of young men to occupy the workspace.
The program is the result of a vision 2nd District Supervisor Janet Wolf had last year after watching boys from the camp give a presentation to the South Coast Gang Task Force. Wolf recalled asking them what they would like from the gathering of public officials. "We need a job; we need a skill," she remembered a participant telling her.
The reprographics department – which has been open for decades – was shut down by the county last July because the operation became unsustainable in recent years. Officials thought the revenue it generated by providing services to county departments would offset expenses. But budget troubles, increased labor expenses, and private-sector competition ​— ​not to mention the increased ability of individual departments to produce their own copies and bound documents more easily ​— ​forced the county to mostly privatize the reprographic services.
The closure's timing was poor, Wolf noted, as the county was just paying off the purchase costs of the printers and the other equipment. But, as General Services Director Bob Nisbet ​— ​whose department was previously in charge of reprographics ​— ​put it Monday, "With every cloud, there is a silver lining." Wolf met with Nisbet and former probation chief Patty Stewart, and, "The rest, as they say, is history," said Nisbet.
The print shop had been used by a variety of county departments, which paid for the costs out of their internal budgets, and the hope is the departments move away from outsourcing contracts with private print shops and go back to the county's reprographics program in the basement. A group of six teens will be there Monday through Friday, from 1:30-5:30 p.m., with someone overseeing their work. As they graduate from Los Prietos, they will be replaced by other young men, selected through an application and screening process.
The center began as a pilot program in January as teens began to learn the tricks of the trade. So what did they do after they got the skills down and waited for business to start rolling in? They created Mother's Day cards for all the boys back at the camp.