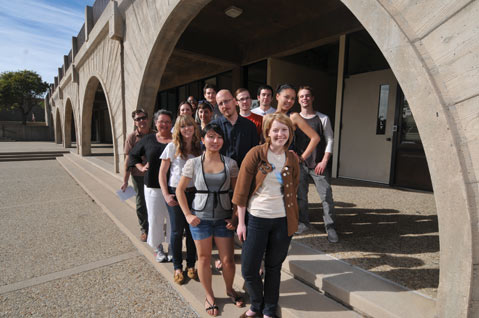 ODE TO A TOWER: True Confession: I was a pre-teenage KCSB-radiohead. Growing up in Santa Barbara and being an avowed culture addict from toddlerhood, I naturally fell in love with the local radio dial, the stuff of radio stations KIST, KMUZ, KACY, KTYD, and their commercial ilk. Suddenly, there was the oasis of KCSB-FM (91.9, www.kcsb.org), a beacon of otherness and alternative viewpoints on many levels, including the all-important one of music from far beyond the timid, corporate-approved realm of commercial music and mass culture. That's where I learned to love jazz and experimental music of the classical, rock, and other kinds and was essentially taught to never settle for what gets doled out by "official" cultural sources.
KCSB was my subversive training ground, and I became a card carrier, also hosting my own show for five years in the '80s (supposedly a jazz show, but freely ranging). Such blathering nostalgic springs to mind in light of an awesome milestone in Santa Barbara's cultural/broadcasting history: KCSB's current 50th-anniversary year.
Two weekends back, I joined the throngs of alumni, a truly multigenerational and multi-sartorial bunch, for a dinner beneath UCSB's Storke Tower. At the tower's base, fittingly and symbolic, KCSB has grown up — while staying stubbornly young at heart — into one of America's more truly independent left-of-the-dial radio stations at a time when NPR and other homogenizing public radio forces threaten to strip the "community" out of the community-radio equation. For anyone who surfs the dials when traveling — or virtually, on the net — it's easy to admire KCSB's breadth and uncompromising spirit. Just in terms of its admirably diverse jazz programming, KCSB boasts more wide-ranging jazz programming than the Los Angeles dial (where the most powerful noncommercial station, KCRW, wallows in its so-called, branded "eclectic" mantra but ignores jazz, a great American music desperately needing airwave TLC).
But we digress, according to our personal passions and causes. At the Tower alumni dinner, we heard words of sage advice from Elizabeth Robinson, the faculty advisor, commentator, program host, and general source of inspiration at the station for 20 years, but soon hanging up said hat. "We want to acknowledge the fullness of what we're doing," she said. Citing the tendency of college stations to sell out to public radio networks and "corporate vultures," she noted that "one of the things we prize is localism. Not many stations remain as free-form as we are." Hear, hear.
Earlier in the day, current office manager and pro-free-radio majordomo Ted Coe told me about the station's origins and how it was started by Bill Harrison (present, sporting a Mohawk) a half century ago. KCSB moved from a semi-legit dorm-room project to the UCen and finally to its Storke Plaza home base. There was much fond remembrance of the late technical guru Steve Sellman, who kept things up and running, including morale.
A strange cross-era gamut of memories pulled at me as I ran into members of the KCSB-connected karass, including Marta Ulvaeus, Phil Colaprete, David Hefferman, Stanley Naftaly, Tim Owens,and Colter Frazier. Regrettably, I didn't get to meet the dude from Smooth Beatz, a blissful noise show and my favorite new program of the past year. The desire to seek out the alternatives among us can be a lifelong condition and affliction.
KCSB not only inspired me to consider the alternative, so to speak, but to actively seek out, selectively embrace, eat, drink, and possibly even be the alternative.
TO-DOINGS: The classical concert season sighs to an end with this weekend's closers, including Camerata Pacifica (Hahn Hall on Fri., May 18) and the sound-and-site-enhanced Quire of Voyces at St. Anthony's Chapel (2300 Garden St.) this weekend. Recent fond "serious" musical memories include Camerata Pacifica's stunningly fine Bright Sheng world premiere and a grand performance in Solvang, America's premier Danish community, by the Copenhagen Royal Chapel Choir for Boys and Men, on a tour which otherwise included only major American cities. Solvang, needless to say, is more than a tourist hamlet.