Food & Drink
I Left My Liver in New York City
One Man's Whirlwind Food & Drink Blast Through Big Apple
In early March, I traveled to New York City for a mix of business (face time with editors in my freelance world) and mostly pleasure (hang time with my best buddies from high school/college).
What ensued was an overly extended weekend, loaded with restaurants, bars, entertainment, and all the associated fun that can be legally had in this city that truly doesn't encourage all that much sleep. Somehow, after six days and five nights of gourmet revelry, my bank wasn't completely broken, and my body managed to survive relatively intact.
Here's a cheat sheet on how we did it.
Wednesday
Taking the red-eye from Los Angeles, I arrive at JFK at the crack of dawn and then take the SuperShuttle through rush hour traffic. It takes more than two hours to reach 42nd Street, but since I don't have anywhere to be until 11 a.m., I take in the scenery.
Guy & Gallard: Had some time to kill before a New York Times meeting, stopped by this chain coffee/pastry/lunch spot on 40th Street across from the Times Building. Coffee was hot; croissant was fine. guyngallard.com
New York Times cafeteria: Iced tea was great (and actually had it again the next day for another meeting), and they've got a funny conveyor belt system for dirty dishes that, while presumably used by some of the smarter journalists on the planet, still confuses many of them.
Koreatown: My banker friend, a UCSB grad who lives in the East Village, took me out to an amazing lunch in "K-town" at some place without an English name on 34th Street. The spread was mysterious to both eyes and tongue, mixing sour and spicy with grease and fresh/fermented veggies. Thoroughly satisfying.
The High Line: Ready to walk off that K-town gut bomb, I walked from my friend's pad in the East Village across the island and onto the High Line, a former railway that's been converted into a walking and people-watching paradise. I wound up walking the whole thing, and then all the way back to the East Village. Feet sore. thehighline.org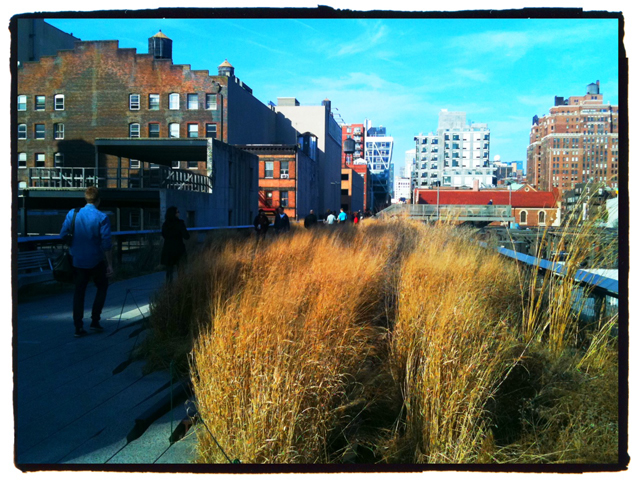 Finnerty's: With a bit more time to kill in the East Village, I had a beer at this bar dedicated to San Francisco teams and felt right at home. We'd return one night to watch UCSB play Cal Poly in Big West tournament basketball. finnertysnyc.com
Oceana Restaurant: Taken by my Time Magazine editor to this spot across from the Time-Warner Building by Rockefeller Center that was apparently quite a secret until we got there. Packed, but found seats at bar, and drank Rioja wine alongside excellent tuna-shrimp sliders. Still not sure how they made those meats mix together so well. oceanarestaurant.com
Momofuko Noodle Bar: For a late dinner, I made the first of a few trips to David Chang's many N.Y.C. spots, just two blocks from the East Village pad where I was couch-surfing. Too long of a wait at Ssäm Bar, so we walked down the street to Noodle Bar instead. Didn't order the fried chicken ahead of time, but ramen, pork buns, shrimp buns, and more, all amazing. momofuku.com
Thursday
Friends had to work, but I didn't have a meeting until lunchtime, so I subwayed to Brooklyn and met another friend, this one also a UCSB grad who is now an airline pilot. From Park Slope, we walked all the way through Brooklyn, down into DUMBO, and then across the Brooklyn Bridge, where we got caught up in a protest with no coherent theme, signs touting everything from ending genital mutilation to anti-rape to rights for women in Ghana. By the time we passed it all, we were in Manhattan; we looked back to see the first poster: International Women's Day, so the smörgåsbord of causes made a bit more sense.
Mile End: At this Brooklyn hot spot known for smoked brisket, it was too early for lunch, so we both went for the smoked meat hash, which featured plenty of that brisket and more. We also got to try the smoked turkey on the way out. Definitely worth a lunch return . mileendbrooklyn.com
The Ear Inn: Post-protest parade, we walked nearly to the Hudson to seek out this hidden gem, billed as the "oldest working bar in N.Y.C." Lotsa lunchers, but we stuck to ale. earinn.com
Qi Bangkok Eatery: Lunch with former News-Press reporter Jeff Gordinier, who now covers food for the New York Times after celebrated career at Details magazine. (I wrote about his book years ago here.) He took me to this popular Thai place across the street from the Times building. Had a Chang beer, plus some sort of curry noodles. Good conversation about state of media and life in New York, Santa Barbara, and everywhere else. qirestaurant.com
Flat on Mulberry: To save money but experience Manhattan like it was our own backyard, my friends and I used airbnb.com to locate a sweet spot on Mulberry Street in the heart of Little Italy. That meant passing through the cheesy tourist mecca of waiters trying to coax you into their pasta-plopping seats every time we came and went, but the views from the fourth-floor flat were unrivaled: To the north, the Empire State Building rose above the clatter, and to the south, the emerging World Trade Center and financial district decorated the skyline.
Random Pizza Place: As we all arrived to the flat, a couple of pizzas were ordered and devoured, so we'd have enough time to cab it up to midtown for Sleep No More.
Marshall Stack: After being on our feet for three hours of Sleep No More — well, two of us did that, while the rest spent some time in the theater bar, itself a worthwhile show — we were thirsty, so we trekked down to the West Village and began hitting bars. This was the first, though nothing much comes to mind. http://nymag.com/listings/bar/marshall-stack/
Fat Baby: In search of a bit more lively scene, two of our crew went into this club and immediately turned around. fatbabynyc.com
Verlaine: Ah, that's more like it, we all agreed, dropping onto the couches of this lounge and sipping on fine cocktails. There were ladies a'plenty, but being mostly married men, we just kinda looked at them from afar. verlainenyc.com
Happy Ending Lounge: It was getting late, so this recommended spot was next on tap. Because it looked more like a Chinese grocery store than a bar from the outside, we had to triple check we were at the right place, and then wandered past the security pat-down into a hardcore reggae-dancehall scene, the dreaded ones with Caribbean accents far outnumbering the straight-hairs. The beats were solid, the beers cold, and on the way out, the bouncer dropped the best inside tip of all night: late-night Chinese grub at Wo Hop. happyendinglounge.com
Wo Hop: What grunts New York more than a basement Chinese restaurant open till 4 a.m.? Lucky for us, it was also ridiculously tasty and seemingly authentic, with recipes more tied to Old World ways than stateside chop sueys. Bonus: We got to see the cooks eat their own meals at the end of the night/morning and know what to order next time. wohopnyc.com
Friday
The all-star team in full effect, on tap for this first full day of vacation, was a mix of fun and serious, thanks to a World Trade Center visit.
Bluebird Sky: Just around the corner from our pad lives this coffeehouse café where we mixed up breakfast and lunch, with ample amounts of joe. bluebirdskynyc.com
The Spring Lounge: One of the oldest bars in Nolita, or North Little Italy, this dive was perfect for a round of Bloody Marys. The clientele made it clear that you could come here at any hour and not drink alone. Read a Yelp bit about it here.
9/11 Memorial: We fulfilled our patriotic duty to remember the attacks of 9/11 by reserving a pass for the new memorial in advance. It is a chilling but masterfully done place to reflect, even if the museum part was completely stalled due to budget woes and politics. 911memorial.org
The W's Living Room Bar and Terrace: As you might expect, the 9/11 Memorial should be followed by a stiff one, so we went to the closest place we could find: a stylish second-story bar in the W hotel. Good Old Fashioned, but not cheap. here
Red Rooster: The culinary highlight of our trip was going to be a dinner at the Red Rooster in Harlem, the place where Chef Marcus Samuelsson has turned soul food into finer dining. But when we arrived, only the staff stood together in a huddle, and it was clear that there'd be no dinner for us tonight, despite special reservations. It turns out that it was about to be the site of the after-party for the Bruce Springsteen show going down at the Apollo just up the street, and we were supposed to be on that list. But we never even thought to check. redroosterharlem.com
Lenox Lounge: While licking our rejected wounds and plotting the next move, we had drinks and fried food at this Harlem staple. Live jazz almost convinced us to stay and pay for a full dinner in the next room. lenoxlounge.com
Russian Tea Room: Back to midtown, where we secured reservations at Ma Peche, we killed some time at the Russian Tea Room, where Moscow Mules and White Russians ruled the day. russiantearoomnyc.com
Ma Peche: Another David Chang establishment, again with a pleasing mix of raw bar, Asian, and American nouveau stylings. Lots of sake consumed, but much more food.
momofuku.com/restaurants/ma-peche
Penny Farthing: Back to drinking in the East Village at this lively and large bar. Began watching the UCSB-Cal Poly basketball game here. Went to Finnerty's afterward to continue that game. http://www.thepennyfarthingnyc.com/
13th Step: Watched the second half of UCSB game in this crowded, belly-to-belly bar. nycbestbar.com/13thstep
Angel's Share: Things got interesting when we had to walk through some secret doors in a Chinese restaurant to reach this clustered spot, where a massive painting hung diagonally over a low bar. Due to the size of our party — they only take parties up to three people, and we had six — we were outright rejected. Made vow to return. See N.Y. Mag's look at it here.
Decibel: In keeping with the sneaky Asian theme, we ducked into this sake bar and drowned more giant bottles than were necessary. Very colorful spot, if cramped and confusing. sakebardecibel.com
Katz's: Someone had a great idea to finish off the evening with a visit to this pastrami paradise. I waited in the long line, then just asked for a slice to try. Very busy in the middle of the night. katzsdelicatessen.com
Saturday
In full swing by Saturday morning, we start hard, go late, and get stupid.
Essex Restaurant: As some of the oldest people in this twenty-something brunch babylon, we're smart enough to realize that they aren't even checking on whether you are turning in tickets for your two free Bloody Marys. So we get busy, and with a long wait, are in prime form by eating time. essexnyc.com
The Breslin: The middle of the day passes fast, thanks in part to the three bottles of Santa Barbara County wine I brought (Grassini Family Happy Canyon cab, Jaffurs Upslope syrah, Evening Land Sta. Rita Hills pinot, for those keeping track). But we make it to the Breslin for dinner somehow, and everyone enjoys the retro cocktail, whiskey, meat-heavy hipster vibe. thebreslin.com
Ace Hotel: Truth be told, I didn't make it in this place, having taken on the moniker Mr. Mumbles after a long day. My good friend, that night named Dr. Hiccups, and I took the early cab home, stopping for a brief time at the aforementioned Spring Lounge. acehotel.com/newyork
Sunday
A bit groggy in the a.m., many of us needed some greasy grub to keep on moving. Turns out Little Italy ain't great for breakfast, but we managed.
Firefly: Most definitely a sports bar and nightclub more than a breakfast bistro, this place served up a passable steak and eggs, which was all I needed to keep on keeping on. fireflynyc.com
Brooklyn Bridge and Walk: After some of our crew departed, three of us walked across the Brooklyn Bridge and then endured a ridiculously long and useless stroll toward Williamsburg, which took us past the projects and probably the most boring parts of New York state. Once in Williamsburg, we just wanted to go back to Manhattan. N.Y.C. Subway Map
The Diner: Back on the country's most expensive cement, we needed lunch and settled into sunny seats in The Diner, which sits in the heart of the Meatpacking District, surrounded by style-conscious hordes. The upscale but amazingly not overpriced diner food was solid. A pink sangria went well with the sunshine. thedinernyc.com
The High Line: Walked it again, found people sun-bathing en masse. thehighline.org
Blind Tiger: By mid-afternoon, it was beer time again, and we settled into one of the best ale bars on the planet. Not only is the name cool and the taps varied, but the scene was full of what might be best described as normal people, not exactly the type you expect to see drinking in the middle of the West Village on a Sunday. blindtigeralehouse.com
Tertulia: A week after we came home, this Spanish gastropub was nominated for a James Beard Award for best new restaurant. It deserves the accolades, thanks to serving delicious and distinctive food that's true to its Iberian roots but empowered with modern techniques. It puts fun in eating and keeps it relatively affordable at the same time, with an engaging and informative waitstaff to make it all the smoother. tertulianyc.com
Angel's Share: Two of us broke off from the group to try and get into this place again. After some confusion on how many were in our party, we were rejected again. Next time.
Linen Hall: We had some beers here but don't recall anything of real significance. linenhallnyc.com
55 Bar: Lightning struck when I recalled that former Santa Barbara jazzman Nate Birkey had invited me to a gig at this dark Prohibition-era bar that night. We trekked over, paid the cover, and listened to Birkey while consuming more than the required two-drink minimum. A quintessential New York experience. 55bar.com
Monday
The day to go home. I booked an afternoon flight so that I could do a work meeting or two that morning, but good thing I never set one up, as I was pretty beat.
Veselka: Why not end the weekend and start the week with a Ukrainian breakfast? Try the sausage. veselka.com
Ssäm Bar: With my flight not until the afternoon, we hit up a third fiefdom of the David Chang empire for a beer and conversation. I milked a milk stout, realized that the Faces' "Ooh La La" might be one of the coolest songs ever, and watched Jake Gyllenhaal sneak in and out. momofuku.com/restaurants/ssam-bar
Newark Airport: For a change of pace, I flew out of Newark, which was quite easy to get to on the train. Slept plenty on flights home, reached Santa Barbara around midnight, ready to go dry for a week.