Briefs
Mayor Protests Parking Lot Power Grab
State Proposal Would Require City to Auction Off Downtown Lots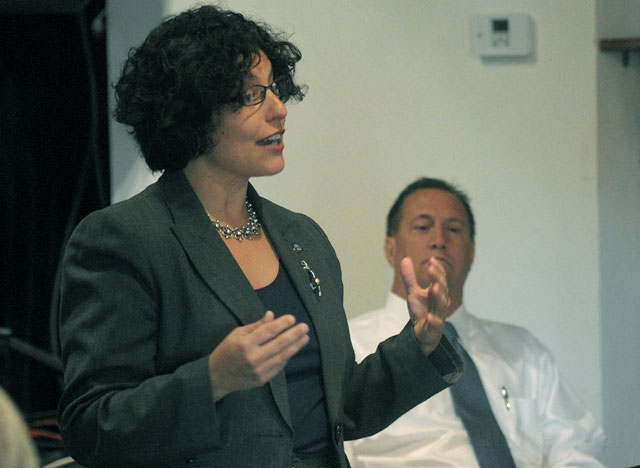 Santa Barbara Mayor Helene Schneider sent a letter strenuously objecting to a last-minute proposal by the California Department of Finance that would require the City of Santa Barbara to auction off all its downtown parking lots. The proposal, added as an obscure trailer to the proposed budget, is part of the state's ongoing effort to shut down all redevelopment agencies throughout California and reconvey their assets to new owners. "I cannot express to you in strong enough terms how much we object to this newly inserted provision," declared Schneider in a letter sent to Assemblymember Das Williams, State Senator Tony Strickland, and to Joan Buchanan, the chair of the Assembly Budget Subcommittee on State Administration.
Schneider argued that the creation of the downtown parking system has been part of a 50-year and multimillion-dollar effort engineered by City Hall — in conjunction with private property owners. At the very least, she argued, the parking lots should be transferred to another governmental entity, preferably the City of Santa Barbara. "To declare these public parking lots as not serving a governmental purpose and force the sale of them to a private entity could be detrimental to the long-term economic vitality of downtown and upend 50 years of sound community planning," she wrote.
The parking lots are the cornerstone of longstanding efforts to maintain the economic viability of downtown Santa Barbara, initiated in the 1970s in response to the economic threat then posed by La Cumbre Plaza. Certainly, without downtown lots 2 and 10, there would have never been a Paseo Nuevo mall. The Department of Finance currently finds itself scrambling to respond to two overwhelming problems. The first is to administer the instantaneous and simultaneous dissolution of more than 500 redevelopment agencies, undertaken by the governor and the Legislature in response to the state's ongoing multibillion-dollar budget crisis. By eliminating the redevelopment agencies, the state estimated it could increase revenues that otherwise were getting short-stopped by the redevelopment agencies of city and county governments to the tune of $1.4 billion.
The second is that the state's budget hole is considerably deeper — $7 billion more — than originally estimated. Santa Barbara's Community Development Director Paul Casey said he only discovered the new proposal on Thursday. The language would require cities to divest themselves of any redevelopment agency assets not deemed a "government purpose," and parking lots were explicitly excluded from the "government purpose" definition. By contrast, schools, roads, libraries, and police stations could be construed as serving a "government purpose." Casey said he's not sure where the idea came from and how much support it has, but added, "We're taking it very seriously." He said he hopes that the Democrat majority controlling the statehouse will have second thoughts "The Legislature has already stopped redevelopment agencies from funding anything new," he said, "but my frustration is now they're trying to claw back what we've already done."
Assemblymember Williams, who has argued that redevelopment agencies siphon off funds that otherwise would have gone to education, said the new proposal goes too far. "I draw the line at selling off existing assets," he said, adding that the lots have been essential to the city's economic vitality. "This is an issue I'm going to take to the top, immediately and with great urgency." In addition, Schneider and Casey expressed opposition to plans to take the $5 million of affordable housing money set aside by the city's redevelopment agency and give it to the state, whose shortfall has grown in recent weeks from an estimated $9 billion to $16 billion. Schneider termed the "sweep" of such funds "very bad public policy." If the state government is going to mandate cities like Santa Barbara do more to allow the development of more affordable housing, she argued, it "shouldn't take away the most effective tool we have to deliver in that mandate."