Dance
Free Breakdance Workshop
Everybody Dance Now! Hosts Event at Peabody School June 9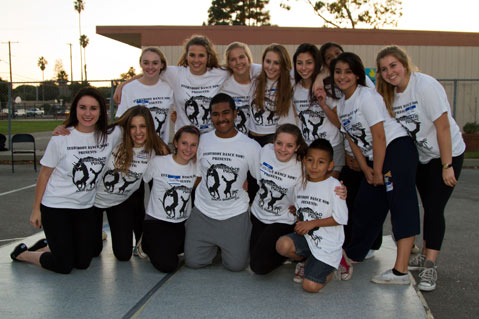 It's a Tuesday afternoon, and I'm scheduled to meet with the executive director of a national arts organization. I'm a few minutes late. I scan the crowded café for someone who might fit the bill, but every table seems to be occupied by college students absorbed in their laptops. I'm clearing off the last free table when one of these young women approaches me, hand outstretched.
Jess Davis isn't even a college student; she's a senior at Laguna Blanca School. She's also the director of Everybody Dance Now! (EDN!), a nonprofit that provides free dance programs for young people across America. I can't help but express surprise that EDN!'s executive director is also a full-time high schooler. "I work about 25 hours a week," Davis says, and she settles into the chair across from me, sweeping her long brown hair over her shoulder. "It's what I get to do when I finish my homework."
Since its foundation here in Santa Barbara in 2005 by then-14-year-old Jackie Rotman, EDN! has remained a youth-run organization focused on reaching kids who might not otherwise have the opportunity to pursue dance. High school and college students are responsible for everything from teaching classes at schools, youth centers, and homeless shelters to writing grant proposals, sending out press releases, and hosting national training sessions. To date, EDN! has 30 youth leaders running 12 chapters across the United States, and the organization still continues to grow.
This Saturday, June 9, the Santa Barbara chapter of EDN! will offer a free community breakdance workshop at Peabody School. It's the third such event they have offered in S.B., and Davis hopes it will be the largest. The inspiration for the workshop came when Rotman traveled to Africa in 2010 and discovered Breakdance Project Uganda, an organization that, like EDN!, uses dance as a platform for social change.
"Instead of using a traditional teacher/student model, they embrace the idea that everyone can learn and teach," Davis explained. So far, EDN! has used this model to offer workshops at Harding and Franklin elementary schools on Santa Barbara's West- and Eastside, respectively. This time, they're hoping to draw participants from both sides of town.
"We believe dance is more than just a hobby; it's also a powerful force that can bring people together," Davis said. In order to illustrate the kind of unity EDN! hopes to foster, she described a scene from their first breakdance workshop, where she watched a 4-year-old teach hip-hop moves to a professional breakdancer and State Assemblymember Das Williams.
This Saturday's workshop at Peabody School is free and open to the entire community. City Councilmember Grant House will be in attendance, along with area breakdancers, EDN! students, and instructors. No dance experience is necessary, and participation by all is encouraged, but onlookers are also welcome.
Aside from special events like this one, EDN!'s Santa Barbara chapter offers 15 classes each week at Title I schools, low-income housing units, homeless shelters, and youth centers. These classes have served more than 2,000 young people in the S.B. area since the organization's founding. There's also a performance troupe for the most dedicated students. For Davis, giving young people a chance to perform in settings like retirement homes or at fundraisers is crucial to the mission of EDN!
"A lot of our kids are on the receiving end of philanthropy," she explained. "We like to flip that and give them an opportunity to give."
Even for Davis, who says she's always been interested in community service, the opportunity to serve had to come from somewhere. She's grateful, she said, to Rotman and others who mentored her to lead. As she prepares to graduate from Laguna Blanca and head to Claremont McKenna College in the fall, she's committed to continuing to foster youth leadership, both at EDN! and beyond.
4•1•1
The Breakdance Project takes place this Saturday, June 9, from 2-5 p.m. at Peabody Charter School (3018 Calle Noguera). Participation is free and open to everyone. To learn more about EDN!, call 252-3297 or visit everybodydancenow.org.