Arts & Entertainment
Jenny Lewis at the Lobero Theatre
Special Guests Abound During Tuesday Night Performance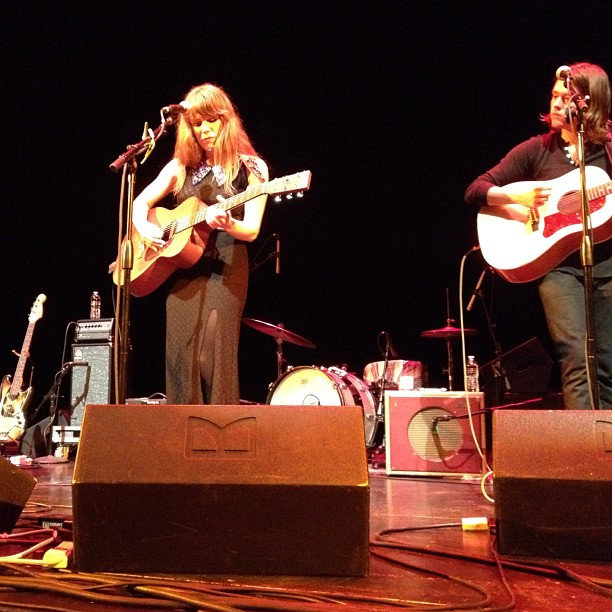 Over the years we've seen Jenny Lewis wear a number of hats. In the last '90s she was the tiny girl with the big, heartbroken voice at the helm of indie act Rilo Kiley. Seven years later, she came to us as an angelic, Marianne Faithful-channeling alt-country powerhouse, boasting her own band and a set of identical twin backup singers. In the years since, Lewis has returned to (and left) her Rilo Kiley mates, made a raw, rockin' record alongside Elvis Costello, and teamed up with her bandmate and longtime beau to form the almost-too-adorable Jenny & Johnny. Still, while many would argue that Lewis's magnum opus came back in 2006 with Rabbit Fur Coat, her record alongside the aforementioned Watson Twins, few would count her out of the game. And Tuesday's Santa Barbara tour stop proved why.
Armed with an acoustic guitar that dwarfed her small frame, Lewis took to the stage at the Lobero Theatre at just past nine o'clock. Standing alone amongst a sizable collection of gear, she began her set with Rilo Kiley's "Silver Lining." Stripped of its hand claps and ear-tickling electric guitar riffs the song became Lewis's own, and its chorus felt like both an oath and an anthem. "I was your silver lining, but now I'm gold," she belted with a smirk, a not-so-subtle reminder of her potent voice and mighty stage presence. With the crowd firmly under her thumb, Lewis invited her band, including the Watsons, on stage, joking that she'd found the twins hitchhiking en route to the show.
What followed was a 20-song set that spanned Lewis's more-than-decade-long career. Rabbit Fur Coat cuts like "You Are What You Love," "Happy," and "Melt Your Heart" made up the majority of the show's first half, and the harmonies hit by Lewis and the Watsons rang through the Lobero with a resounding richness. Mid-way though we got a collection of new tracks, including the ominously upbeat "You Can't Out Run 'Em," which Lewis wrote for and dedicated to her late father. Later in the set, newbie "Head Underwater" found Lewis at the piano and channeling '70s AM radio greats with gusto. The set closed with the one-two punch of Rilo favorite "Portion for Foxes" and a rollicking cover of The Traveling Wilburys' "Handle with Care," with drummer (and opener) Nik Freitas, guitarist Johnathan Rice, and the Watsons assisting on vocals. And the encore still managed to up the ante, with Lewis and the Watsons covering The Shirelles' "Met Him on a Sunday" a capella, followed by the entire band gathering 'round the mike for a choir-style take on Lewis's "Acid Tongue."
For longtime fans, Tuesday's setlist played out like a Greatest Hits collection, integrating new and old without ever dragging. As for Lewis herself, the show seemed like a welcome return to the fold, and a nice, affirming reminder that we're all still waiting anxiously to see where she goes next.