Cover Story
Summer Solstice
Santa Barbara's Annual Summer Celebration Takes Place This Weekend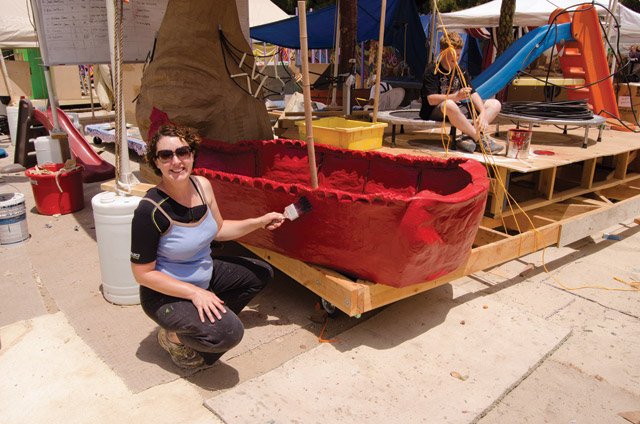 There are big bright-colored flags waving in the wind outside of a work yard along the 500 block of Garden Street, a symphony of power tools playing from within, the sound of chop saws and screw guns broken up only by the tap-tap-tap of a hammer or a quick cackle of laughter. It is a wild and weird and wonderful world behind the fence, a place soaked in color where convention, it seems, is defined only by the limits of your own creativity.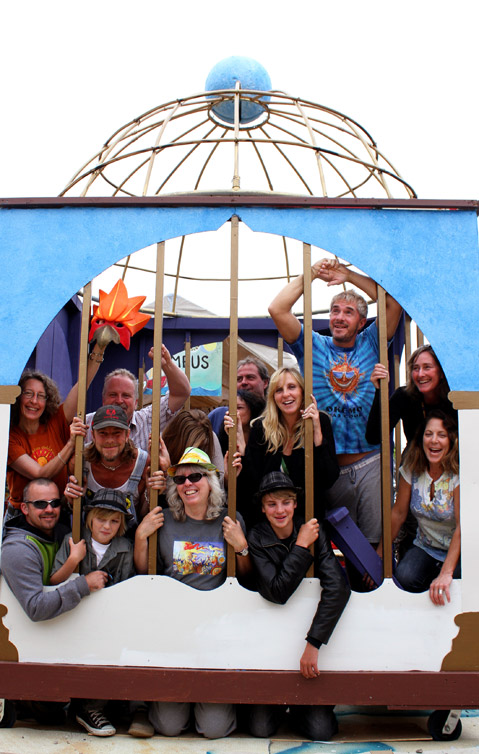 Poke your head in, and instantly the dreamscape takes hold. There is a 40-foot inflatable sea urchin getting his spikes; towers of magic rocks climbing toward the sky in search of a sparkling paint job; a space shuttle hanging out near a fast-forming Wild Rumpus; a long and shining dragon lurking beneath a tent as he awaits his tail and scales; a flying pig holding court with a dodo bird; a monster-sized macaw, Ganesh, peaking out from behind a curtain; and a large roomful of masks and the busy hands of mask makers. A big birdcage (perhaps the hangout spot for the winged piggy and his friends) is having a disco ball installed as a couple of men, standing nearby, chat with perfect seriousness in the shadow of a giant octopus, their conversation punctuated by the waving of paint-stained hands. "The head looks amazing" said the taller man, "but, you know, we had a perfectly good octopus head in storage." "Oh I know," is the response, "and we are using four of those old tentacles, but this new one is so fun."
Such is the way of life at the Summer Solstice Workshop, the seasonal funhouse that opens wide each spring to serve as ground zero for Santa Barbara's annual Solstice Celebration. It is here that a year's worth of hard work, fundraising, organizing, and bureaucratic wrestling comes to a head in a frenzy of unbridled ​— ​if not occasionally unhinged ​— ​creativity. Artists, carpenters, volunteers, and children of all ages come together in this space both day and night to build our town's largest living and breathing art extravaganza, their hard work providing the lifeblood for this weekend's three-day hootenanny in Alameda Park and, of course, the festival's crowing achievement ​— ​the 1,200-person–strong parade that makes its way up State Street, sans motorized floats or commercial seductions, starting at high noon on Saturday, June 23.
"The whole thing is really a great big miracle. There is a tremendous amount of serendipity involved. Each year, I am just amazed all over again," marveled Solstice Executive Director Claudia Bratton last week about the now 38-year-old public party in honor of the year's longest day.
This year, besides having to navigate the typical headaches associated with a largely donation- and fundraising-based festival that is enjoyed by more than 100,000 each year, Solstice organizers also had to, once again, deal with being homeless. Due to ongoing renovation at their regular workshop location a bit higher up on Garden Street, the festival had one very big ​— ​and very troubling ​— ​question mark hanging over them until early April, when, thanks to the late-hour generosity of Alan Macy, they scored their spot at 515 Garden Street. "Basically, by the time we finish cleaning up [the workshop] and moving things back into storage ​— ​you know, when everyone figures the party is over ​— ​we have to start preparing for next year," explained Bratton. "So you can imagine the type of difficulty when we don't even know where our workshop is going to be."
Despite this situation, 2012's edition of Solstice is primed to be the biggest ever. Not only has the vendor space for Alameda Park sold out for the first time ever, but, even more impressively, the parade, according to Artistic Director Riccardo Morrison, is going to feature "the biggest number of big floats that anyone can remember."
In addition to the aforementioned sea-urchin inflatable (yes, it will have a dancing girl inside!), there are multiple other floats more than 200 square feet in size, including a larger-than-life throne set in a sea of sparkling towers and a boogie-inspiring castle that will serve as the mobile headquarters for the throngs of samba dancers, drummers, and capoeiristas that Mariano Silva helps organize each year. "Everything we are building, we don't really know what we are doing until we are actually doing it," said Morrison. "It is this pure creation that develops a life of its own as we move toward the performance. … You can feel the excitement building."
Luckily for us, that excitement ​— ​a whimsical, interactive, and endlessly energized excitement ​— ​is going to be running right through the heart of our city this weekend.
And while there is perhaps no bigger gathering of the arts in Santa Barbara than our Summer Solstice Celebration, it is by no means the only creative thing happening this time of year. Quite the contrary, actually. What follow are The Santa Barbara Independent's handy-dandy picks to help you get out and get your culture on all summer long