Arts & Entertainment
Ben Harper at the Santa Barbara Bowl
Guest Stars Filled the Singer's Set on Saturday, June 30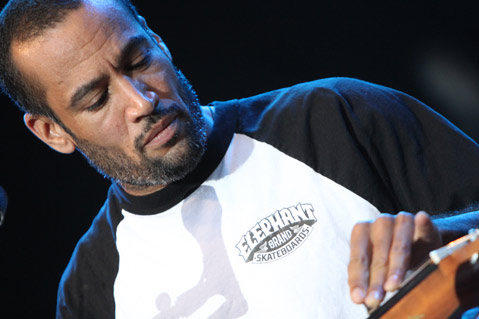 Usually when a band waxes eloquent about their host venue, it feels like a blind shot at courtship from a total stranger. But when Ben Harper took a seat in front of an effuse, buzzing crowd at the Bowl last Saturday and noted simply, "My favorite time of day at my favorite venue in the country," it was hard not to take him at his word. The California-born guitarist, who met a future recording partner and surf teacher named Jack Johnson at the Bowl in 1999, did not mince words between his mostly acoustic set, but the candor of his performance was proof enough of the impact that Santa Barbara has had on his music and vice versa.
Beatific, soulful, and occasionally raucous, Harper mostly avoided the pitfalls of his potentially too-chill genre by dint of an expert, ever-rotating supporting cast. Opening with "Lifeline" and "Another Lonely Day" on lap steel guitar, Harper was soon joined by a backing band — including Dixie Chick Natalie Maines on vocals — for a cover of Pink Floyd's "Mother." After a new jam titled "Masterpiece," Harper and friends gave a nod to frequent collaborators Pearl Jam with a spacey cover of "Jeremy," and, following a brief respite, Harper returned to duel out a rendition of "High Tide or Low Tide" with the Chairman of Chill himself, Jack Johnson.
But while covers and cameos are all well and good, it was Harper's stentorian voice that commanded the most powerful moments of the night. After a climactic, harmony-laden run of "A Better Way," the crowd carried Harper's closing chant for a full five minutes afterward as he stood grinning. His reign was complete, though, when he quieted the entire venue sans microphone with a ranting a capella version of "Where Could I Go" to finish the night.