Arts & Entertainment
ALO Brings Back the Jam
Zach Gill Talks About the Isla Vista-Born Band's New Album Sounds Like This
Though the core of the band grew up together in the suburbs of San Jose, the Animal Liberation Orchestra — or ALO, as they've become better known nationwide — really coalesced in the 1990s on the streets of Isla Vista. Unlike 99.9 percent of bands with such keg-fueled, Del Playa-dependent creation myths, ALO remains intact and thriving, more than a decade since the players graduated from UCSB.
This summer ALO released Sounds Like This, the band's seventh studio album and the fourth one under Jack Johnson's Brushfire Records. As a member of the Isla Vista party band Soil, Johnson got to know ALO while competing for fans with them back in their UCSB days, and eventually enlisted lead singer Zach Gill to play keyboards and other interesting instruments in his own band a few years ago.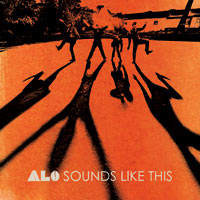 To learn a bit more about the album, I called up Gill last month, as he was down at the Oniracom offices on Haley Street getting his computer fixed, and we spoke about music, hipsters, fatherhood, and more. "I feel like I'm in a good flow right now," explained Gill, who lives near Ellwood and is the father of two girls. "I'm having a great time when I'm on the road, it still feels like it's growing, and my family is not feeling too lonely when I'm gone."
Before we said goodbye, I also planted the seeds to two cover songs that ALO should do one day: the swinging theme song to the old "Spiderman" cartoon and "Ooh La La" by the Faces. Gill knew them both, so maybe we'll all hear them given the ALO treatment one day soon.
What follows is a streamlined and trimmed up version of our conversation.
After a few more studio-oriented albums, this one is kind of like a return to the jam, with longer songs, more improvisation… It is. Part of it was the difference between a studio experience and a live experience. You get into the studio and it's a very closed environment. You can hear everything so perfectly. Also, the times had kind of changed a little bit. There was a new generation of people, and it became less in vogue to jam for a second. With this one, we started the process by saying, 'Let's give ourselves the space to jam. The last few times we cut a lot of that stuff out, but let's let it be in there. That might mean a longer record, but that's okay.'
It's realizing too that we are in changing times — that the context of music and what people are using it for is changing a lot. But the jamming is something we all like and do well, so why be afraid to do it?
That must have been liberating. It was totally liberating and it actually seems to be reenergizing our fans. We've had nothing but a lot of positive responses from all over the country. It also makes it a little easier for us. It's a little more natural for us to do it, and I feel like we cracked some other codes, other ways of recording and writing and using the studio as an instrument.
We haven't had a ton of time in the studio, so a lot of times, you are making these decisions thinking that you have two weeks to make the greatest album you can make. You're holding up the whole history of music as your measuring block, which is a little bit unfair, because we don't have hundreds of thousands of dollars to spend in the studio. But as time goes on, we've gotten more comfortable in the studio. It's just a process unfolding.
It certainly seems that the more studio-minded albums have led to a tighter jam-oriented album, as the songs have strong hooks and some pop elements. Absolutely. It's funny. They're all just pieces of music. It is just longer and has a lot more room. A lot of the time, I feel like the jam interacts with a person differently. It sort of leaves you to your own thoughts. If you've got five minutes of instrumental stuff, you're listening to it, your body is responding to it, there's not a lyrical thing to guide you. It's different than listening to a song where you're engaged in the story, but jamming is still a way to engage your mind. It's not just "noodling." You could say the universe is pretty noodle-y. If you look at all the stars from Earth, it's really noodle-y, but then you zoom in on one star, and, oh shit, it's a blazing sun. So it's like zooming in and zooming out in life.
You guys went through a different recording process too, right? For Roses and Clover we were in a barn in Santa Barbara and it was someone else's space. For Man of the World we were in Jack Johnson's space. So we were going to produce this one ourselves and find our collective voice together. We had the same engineer, and it was his space in San Francisco, but it was very much like we'd gone into a garage in Isla Vista. It had that feel to it, except we had all this nice gear. A lot of stuff was recorded in that San Francisco space and then we ran out of time, but we took the tracks into our own home studios and finished them there, and put them back together in the collective space. None of us had the technology to do that a couple years ago.
For the whole album, we thought of a live show, about how these songs would feel on a New Year's Eve. When everyone is having a great time, is this the song we'd like to play?
I know a lot of your fans have come through your live shows, but there's also a bunch who came via the albums. Do they cross-over? Do they get along? We've always been, well, not schizophrenic, but it can appear that way from the outside. If you showed up to a Jack concert and we played half an hour — a half-hour is difficult for us to do — some people tune in that way, and then maybe they come to their first actual show, and think, "I didn't expect it to be quite like this."
It's like thinking you're seeing one type of movie and it turns out to be another type of movie — like Dusk Till Dawn, that Quentin Tarantino one where it starts like a gangster movie and turns into a vampire one. Some people do not think you should be able to do something like that. You can have only one. Wes Anderson flicks are like that too. You think it's all light-hearted and whimsical and all of the sudden a child dies. Whoa, I wasn't expecting this. That's a little how the ALO universe is. Some people ask, 'Are they a pop band? Are they a jam band?' We're a rock band. Sometimes we play long. Sometimes we keep it short. We're just exploring the perimeters of our universe.
It does seem like people are starting to care less about genres, like if you went to see Bon Iver and he played a punk rock set, people would be stoked anyway. I just came back from Bonarroo, and you see Bon Iver there and then you see Alice Cooper 10 minutes later. The genres all are blending. It's just sort of like good music, you know, which is pretty vague. When you really feel music on a deep level, any genre can do it for me. When it just connects, it really doesn't matter what kind of music it is.
4•1•1
ALO will play songs off their new album Sounds Like This, as well as material from their two decades of music on Friday, August 10 at SOhO Restaurant & Music Club. Call 962-7776 or visit sohosb.com for tickets. Visit alomusic.com for more on the band.