Bottles & Barrels
Rider on the Riesling
Santa Barbara's Graham Tatomer Brings Alsatian Wines to America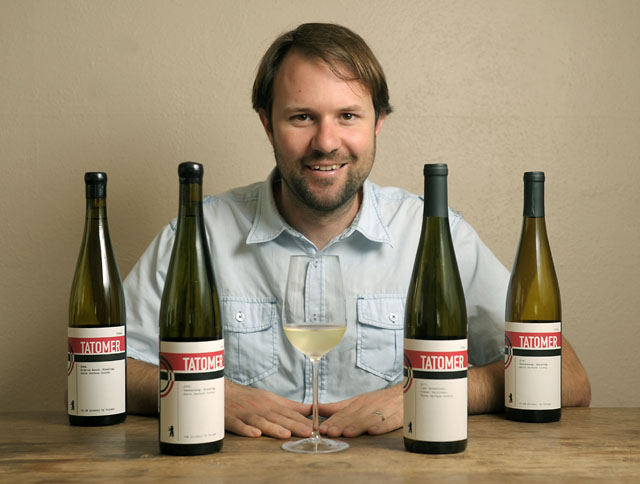 Imagine you're a very young Santa Barbara County winemaker, with years of hands-on experience somehow already under your belt, and it's time to select the grape to plant as the roots of your career. Do you pick pinot noir, the sexy, supple base of the region's most beloved wines? Do you opt for syrah, a powerful, peppery performer whether in the southwestern Sta. Rita Hills or northeastern Santa Barbara Highlands? Or perhaps chardonnay, which can be made in myriad ways, from crisp and steely to luscious and warm?
Those obvious answers weren't for Graham Tatomer, the 33-year-old Santa Barbara native who faced that decision more than a decade ago. Against all evidence of popularity and profitability, the young Tatomer — then just a few years out of Santa Barbara High, where as a student he worked summers at Santa Barbara Winery — chose riesling, that green-brown grape responsible for most of Central Europe's white wines and one of the West Coast's original stars, before sweeter bottlings sank its reputation and cool-climate vineyards were uprooted to make way for pinot and chardonnay. "Wow," he remembered people saying way back when, "that's not California."
Adding weight to his uphill fight, Tatomer also pledged to make rieslings as they were intended, in the Alsatian style: very dry, extra tight, aged mainly in stainless steel, and often requiring years in bottle to mature. "It's difficult to make the commitment to these varietals," admitted Tatomer, whose first wine project in 1999 was fittingly called Katabasis, which describes a difficult but necessary journey of a hero through the underworld of Greek mythology. "There is such a barrier to dry riesling."
Though his wines immediately turned heads — Mitchell Sjerven bought the entire first production, which included the even more obscure wine called sylvaner, for his Victoria Street restaurant bouchon, and in-the-know sommeliers all over the state started buying cases before they were bottled — Tatomer finished his English degree at UCSB, quit his night job at the Wine Cask, and headed to Europe in 2002. Aside from being overwhelmed by founding his own company at age 21,"I didn't really know what I was doing with these varieties," realized Tatomer, so he got a job with Knoll, the small albeit most important winery in Austria's Wachau region.
After helping the family-run operation produce world-class rieslings and grüner veltliners for three harvests and spending some time in San Francisco, Tatomer decided to move back to Santa Barbara and begin his career as a full-time winemaker, again against the advice of mentors Bruce McGuire and Greg Brewer, who both said he could make more money in other professions. "But I just liked the work," explained Tatomer, who now makes chardonnays and pinot noirs for Brewer-Clifton, as well as his own rieslings and grüners as Tatomer Wines. "It seems like a lot of people don't have that feeling."
That job satisfaction shows in his wines, which we tasted through recently at his apartment on West Islay Street in downtown Santa Barbara. Though I'm no Alsatian expert, his were by far the most interesting rieslings I've ever had — indeed, my scribbled notes proclaim them the "most flavorful whites" altogether — full, complex, and way more dynamic from a varietal I assumed was permanently boring, or at most just lean and crisp, with maybe a touch of fruit. Tannic and lip-smacking, the 2009 Kick On Ranch introduced me to the positive side of a petroleum flavor, whereas the 2008 Kick On was brighter, its saline, oceanic qualities reflective of riesling grown in sand. The 2009 Vandenberg Riesling, recently featured in Food & Wine magazine, had prominent peach and honey on the nose with a finish that kept going a full 20 seconds after swallowing, while the minerally 2008 Vandenberg Riesling proved noticeably ashy, "like Humboldt Fog cheese," as Tatomer observed rightly.
The tasting revealed to me the magic that Tatomer discovered when just 21 years old, but he certainly wasn't the first. "It's a no-joke grape," said Tatomer. "It's one of the noblest varieties in the world — the wine of kings and queens for the past 2,000 years."
4•1•1
See tatomerwines.com. Graham Tatomer is the featured winemaker at the Alsatian Whites BYOB Wine & Dine at Max's Cucina on Sunday, July 22, 6-9 p.m. The four-course dinner costs $50 and guests must bring a bottle of either dry riesling, gewürztraminer, pinot blanc, pinot gris, or sylvaner. Call (805) 898-9121 or see maxsrestaurantsb.com.