Arts & Entertainment
Alan Jackson at the Santa Barbara Bowl
Iconic Country Crooner Brought the Party on Saturday, July 28
You're guaranteed to run into three things when you're at a country concert: plaid, cowboy hats, and a whole lot of twang. Things were no different at the Santa Barbara Bowl on Saturday night, when Alan Jackson rolled into town for a rare, classic country show that nearly filled the amphitheater on a beautiful summer night in S.B.
After Craig Campbell cruised through his opening set, with new single "Family Man" acting as the centerpiece, Jackson jumped right into the classics with "Gone Country," just to make sure the crowd knew where they were headed. "I'm here to sing about life and love and heartache and drinking and dancing and dying," Jackson said to the crowd a couple of songs into his show, the last West Coast date of his 2012 tour. And Jackson, sporting a white cowboy hat with a black shirt to accompany his trademark mustache, sure backed it up during his nearly two-hour-long set. He covered the life and the love with his classic "Remember When" and his new "So You Don't Have to Love Me Anymore" and the drinking with "It's Five O'clock Somewhere." And while I'm not sure there was anything about dying, the concert still served as a celebration of the hits for Jackson, with a few newbies from his latest album, Thirty Miles West, thrown in for good measure.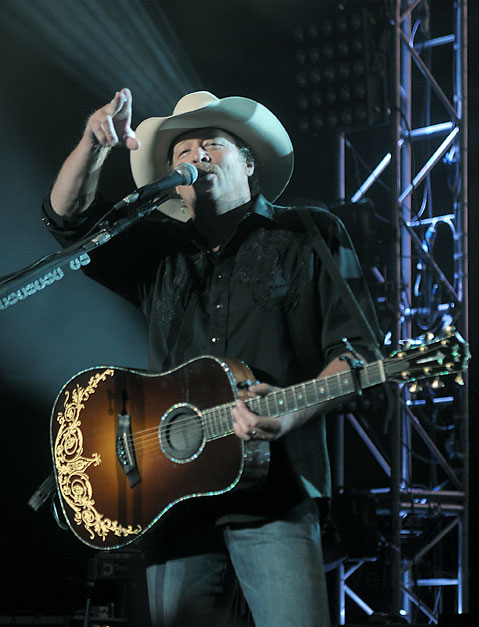 And he didn't stop there. While the Bowl has seen a few country acts pass through, they've mostly been acts that specialize in pop-filtered twang (Sugarland, Zac Brown Band). Jackson's the real deal, though, with a catalog full of material about good ole Southern living. The Grammy Award winner has enough number-one hits to fill a 15-gallon hat, including songs about covered pickup trucks and going down yonder on the Chattahoochee. Saturday's set included plenty of honky-tonkin', country lovin', and classic Jackson singles, like "Country Boy" and "Dixie Highway." As he took a seat for "Here in the Real World," Jackson explained that he was glad to be in Santa Barbara and that this 1990 single was the one that put him on the map. "This song went really good, and I haven't worked since," he laughed.
The 53-year-old Jackson let his nine-man band do most of the musical work, as they often wandered through long interludes as Jackson doused the crowd with hundreds of guitar picks. During his first song of the encore, "Mercury Blues," he even took a time-out to sign hats, a lot of boots, tickets — even an iPhone got his John Hancock. But while the band filled in the gaps between Jackson's occasional guitar strumming, his iconic voice did all the singing, and his Georgia-bred croon did a fine job of getting the well-outfitted Bowl crowd out of their seats throughout the course of the night. n
Set List:
1. "Gone Country"
2. "I Don't Even Know Your Name"
3. "Livin' on Love"
4. "Summertime Blues"
5. "Small Town Southern Man"
6. "The Blues Man"
7. "Who's Cheatin' Who"
8. "Little Bitty"
9. "Country Boy"
10. "Drive"
11. "Where Were You"
12. "Don't Rock the Jukebox"
13. "Here in the Real World"
14. "Chasin' the Neon Rainbow"
15. "So You Don't Have to Love Me Anymore"
16. "As She's Walking Away" (Zac Brown Band cover)
17. "Remember When"
18. "Good Time"
19. "It's Five O'clock Somewhere"
20. "Chattahoochee"
21. "Where I Come From"
Encore
22. "Mercury Blues"
23. "Dixie Highway"